Tuesday, January 5, 2010
Today starts our first great adventure of the new year. We are leaving for Quartzite, AZ to be with our Rving friends John and Tillie Blackmore. Who knows when we will return.
We got off to a late start; 10:45 am, due to the fact we were waiting for the banks to open so Sandy could deposit funds from our IRA for this year. The sun was shining but the weather was very cool. For some reason we had a hard time getting heat to the front of the coach. It got so cold I heated my neck warmer in the microwave to wear over my lap to keep my legs and hands warm.
We are driving across I-20 for most of the trip into Texas where we will pick up I-10 for the rest of the trop. In Columbia, SC, we hit new territory when we pass I-26 to continue on west where we have never had the coach before; we are now on our way to Atlanta, GA.
By the time we get to Atlanta it is dark. You could look up in the sky and see plane after plane stacked up in a holding pattern for Hartsfield/Atlanta Airport. Must have been a popular arrival time. Sandy is following "U-Turn LaVerne GPS for instructions. On the far side of Atlanta, there are signs indicating a bad accident has tied up 2 of 3 lanes of traffic. Fortunately we are able to get off and we depended on our GPS to get us past the problem and back on I-20. She did real well. Sandy said she is worth the price we paid. We continued on to Temple, GA where we fueled up at the Flying J where we spent the night. By the time we sit down to eat it is 9 pm. A long day. We had parmesan chicken with mashed potatoes and green beans for dinner. We logged on to the Internet long enough to give a status report before going to bed. Thank heavens we put heavy blankets on the bed. It's going to be a cold one tonight.
Wednesday, January 6, 2010
This morning we woke up to 21 degrees. Brrrr… But the sun is shining and we are warm. Good start to another day.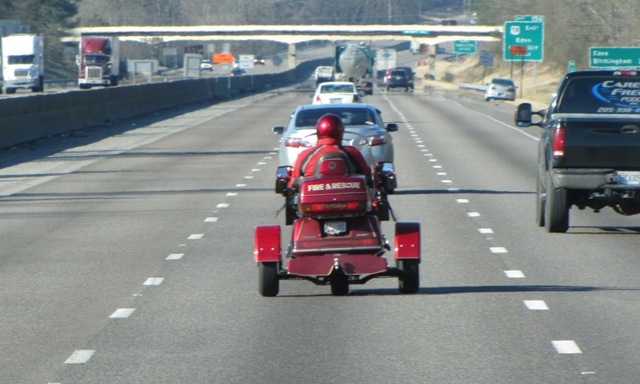 We are just 20 miles from the Alabama state line where it becomes Central Time so we gained an hour this morning. As you can tell we are not early risers. So we started about 9 am and 20 minutes later it was only 8 am. We are gaining time as we drive westward.
Eastern Alabama is beautiful! It is at the bottom of the Appalachian mountains and reminds me of Western North Carolina.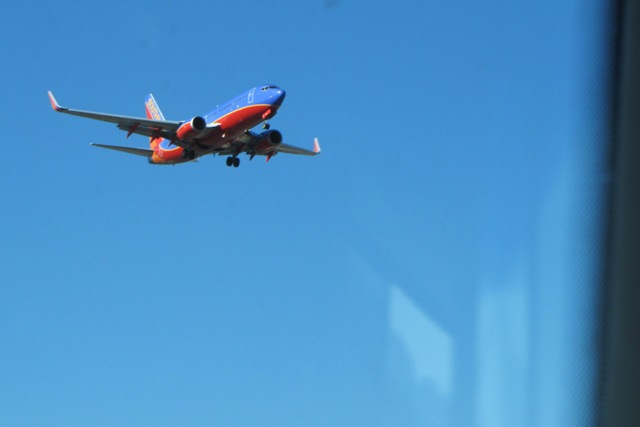 Driving thru valleys surrounded by mountains was very picturesque! We drove thru Birmingham, AL and it looks like the planes were going to use I-20 for a landing strip!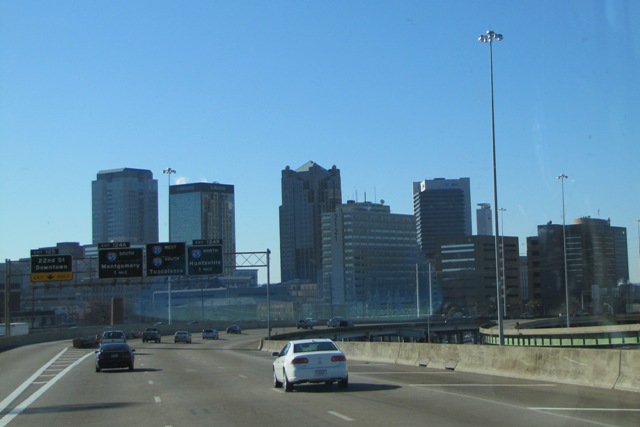 We drove on thru the rest of Alabama, M-I-S-S-I-S-S-I-P-P-I, and Louisiana, stopping late afternoon at a Wal-mart in Forest, MS, where they had 12' high clearances at all entrances to keep trucks out of their parking lot!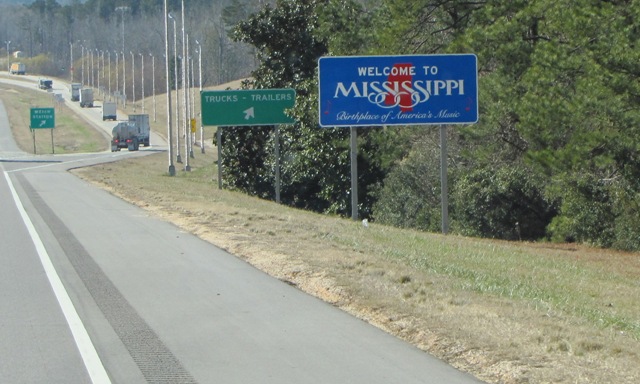 We slowly scrapped under the clearance bar to go do our shopping. When we came out, we tried to run the car again before we left, but our car battery was dead and we had to sit for a while, as Sandy put the car on the charge. After a short time charging, he left the car running for about half an hour so the battery would charge up as we drove down the road.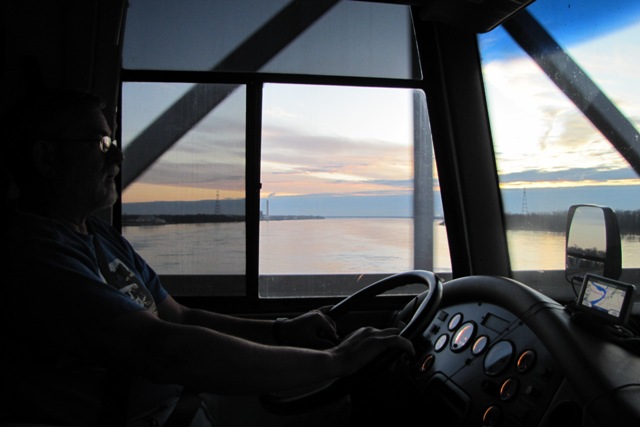 We crossed the Mississippi River right at dusk, I have a picture but it is hard to see anything. There are many casinos lining the riverbank. We drove across Louisiana before stopping in Shreveport for the night. The temperature has been dropping all day and it is very windy. The news on the television is predicting SNOW! Again we stayed at the Flying J. After gassing up we sit down to dinner at 9 pm again. For dinner we had lasagna and salad with a glass of wine. A good ending to a good day.
Thursday, January 7, 2010
We woke up to 36 degrees! We are staying warm in the coach. It's good to have that propane furnace. Nice and toasty. We are on the road again by 8 this morning. We are on our way to get a braking system installed on the car that is similar to a Brake Buddy, but it's built in.
Have I mentioned the road conditions? Georgia has the best roads, smooth and in great condition. Mississippi is the pits! I thought we were going to blow to front tires when we went over a bridge joint. All kinds of things fell in the motorhome including my coffee maker attached to the cabinets! Texas has a zany system of on and off exit ramps. It's like having a duel road system. It's hard to explain on this blog. But there are no fences between the Interstate and these side roads. If you should so choose, you could drive right off the Interstate onto the side road at any point in time. (But it is illegal.)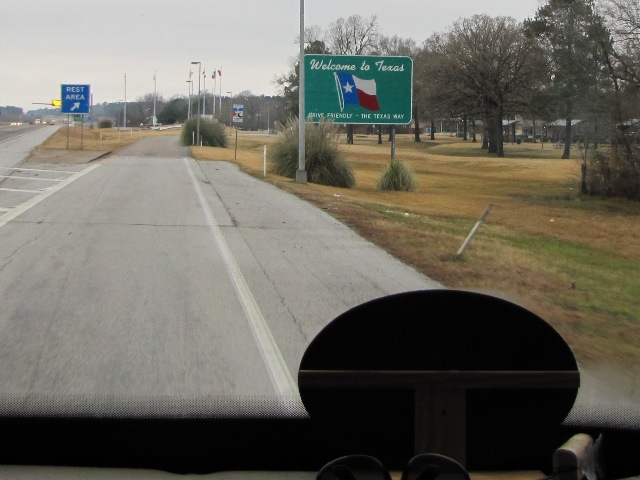 Getting back to our day….. We arrived at the brake shop by 11am. They were able to take us right into the garage. It was still only about 30 degrees! I was able to stay in the coach while Sandy wanted to watch them put the system in. I was going to read, but instead ended up with a delightful 2 hour nap, warm and toasty. We were on our way by 1 pm. We are now ahead of schedule. This wasn't supposed to happen until tomorrow.
Texas is a big state…it's over 800 driving miles. Every mile you can drive puts you one mile closed to the other side.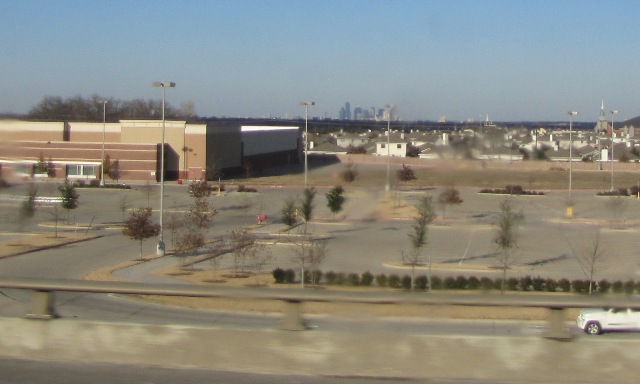 We took the bypass around Dallas-Fort Worth. I could just barely make out the skyline. About ten miles outside of Fort Worth you are on the open plain. It's like driving into nothingness. (Is that a word?) We are now at an altitude of about 1800 ft. And yet it looks like maybe we are only about 50 ft above sea level. There is nothing but open flatland.
Tonight we do something a little different. We stop early, earlier anyways, in Abilene, TX. boyhood home of Dwight D. Eisenhower.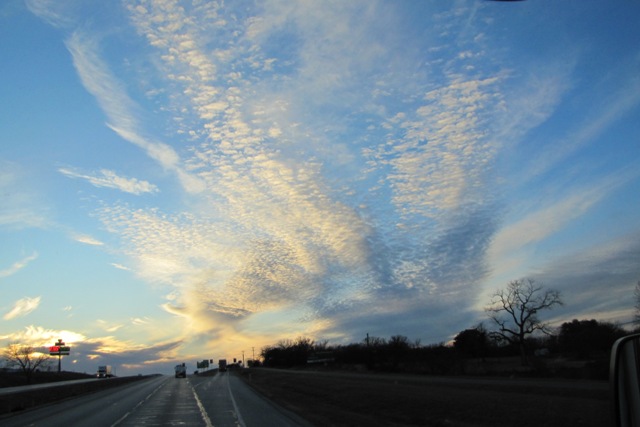 We are spending another night in a Flying J (no surprise there), but we were eating dinner by 8 pm. Whoohoo! Tonight's menu is fried chicken, macaroni salad and coleslaw with rolls, complements of Wal-Mart! The wine was our contribution to the meal. But tonight is going to be the coldest one yet. The weatherman on the TV says it will go to 13 degrees with wind chills of –5! That's a Big BRRRRRRRR! I am more worried than Sandy about everything not freezing. I LOVE PROPANE! It's keeping us nice and toasty. But the hot water is not staying hot for very long. My shower was fine, but Sandy ended up with the coldest shower he's had since bathing in Santeeleah Creek in the 1960's!! Hahahaaha! Thank goodness I was first. It's the first time we have really had time to check our farms on Farmville on Facebook. Not sure how many data bytes we are using on the telephone so for now we are keeping our time fairly short! I am hoping for the opportunity get some real time on there to update our webpage with pictures. I don't like to spend a lot of time on the Internet during the day for fear I will miss something while driving down the road, like the Fire and Rescue picture I got in Alabama! Ha!
Good nite ya'll!
Friday, January 8, 2010
Whoohoo! It's freezing out there! This morning we woke up to 15 degrees and ice on the INSIDE of the windshield! Have I said BRRRRR yet? According to all our instruments, it never got below 53 degrees in our bays down below because they are heated. Sandy used the block heater on the engine this morning before starting the engine and put our little ceramic heater up on the dash since it was reading 45 degrees up by our windshield. We are on the road by 9 am again. During this entire time of our trip we haven't seen any snow, just bitterly cold temperatures. I do hope it warms up soon. Oops, I take that back…we are now passing through Midland, TX. home of George and Laura Bush. (You remember them, don't you?) There is a SLIGHT dusting of snow lying of the edges of the Interstate, but that is all. Our plans are to make it to El Paso for tonight's stop. We shall see where we end up.
This part of Texas is as flat as can be. Reminds me of southern Florida and the sugar cane fields. We have seen cotton fields that have just been harvested, oil rigs and refineries, (but gas prices aren't any cheaper here, ha!) There is sagebrush/tumbleweed pushed up against the fences by the winds, (when you can see a fence) Time now 11:45 am, temperature is now up to a balmy 27 degrees in the glistening, warming sun.
It's almost time for lunch, but just wanted to add that I feel like a world traveler. We have passed thru such places as Cuba, Grenada, and Rome and we haven't left the US!
We are now in the western part of Texas. This is true nothingness! Hills (mountains) are starting to pop up but there is no civilization here, no schools, no stores, not even an oil rig. I wonder if this is BLM land. (Bureau of Land Management)
The air out here is so dry; my hair has static cling, can't do a thing with it. Every time I slide out of the dinette, I get shocked! Guess you could say I'm real hot stuff right now!!!!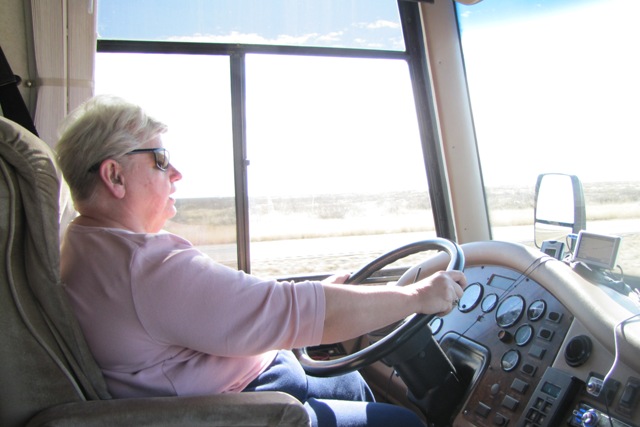 Since there is nothing out here, I took my turn at driving to give Sandy a break and a chance to sightsee at our surroundings of nothingness. I have driven the RV before but never on the Interstate. It's very easy but I still would not want to drive this baby down I-95 unless it was an absolute emergency. I would take a country road before driving there.
Since we are ahead of schedule we stopped in El Paso for the night. We got in about 4:30. We took a ride to get the car washed; it was filthy. An oil cap got left off an oil something or other and our (my) car is sprayed with oil (cringe). We also drove to an auto supply store to get a fuse puller. We have had trouble with the battery going dead from being pulled everyday. While we were out we decided to do SubWay for dinner. By the time we got back to the coach it was still only 7:30. Whoohoo! Lots of time to catch up on Facebook. Just a slight problem…………Facebook wouldn't let me in due to site maintenance! Go figure! So while Sandy worked on uploading to our website I watched a little television before my eyes started checking out the inside of my eyelids.
Saturday, January 9, 2010
These time changes are wrecking havoc on me. Early to bed and early to rise. 7AM….Man, I am retired, no need to get up this early when you are on the road. We left the Flying J about 8:15 am and were able to get thru El Paso without my trouble with morning rush hour. You can see Mexico from the Interstate. It's like night and day.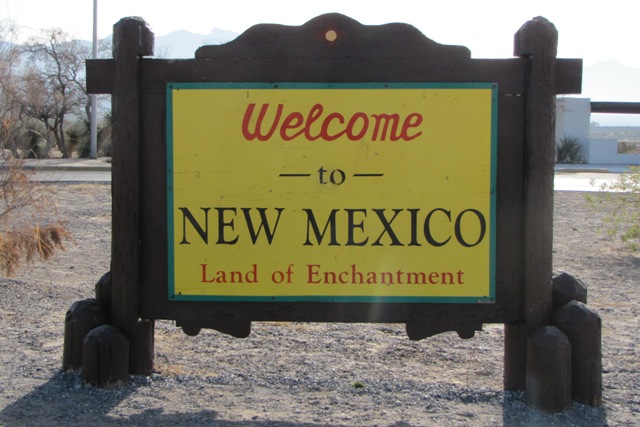 As you look across into Mexico you see houses of many different colors. We crossed into New Mexico about 8:45am and stopped at the Welcome Center for a map and random tourist information.
Just a short drive through New Mexico, only 144 miles; but this is definitely no man's land, pure desert. About 30 outside of El Paso both East and West there are Inspection Stations used by the U S Border Patrol. They are using heat sensors and possible x-ray equipment to check for heat from bodies. Everyone goes thru, no exceptions. We have also seen signs in Texas and New Mexico saying there are prisons in the area. Warning: Do not pick up hitchhikers!!!!!!
We also saw signs saying, "Left Lanes are for Passing Only" Never had enough notice to get a picture of one for Rick!
Just after we crossed the Arizona State line Rick and Becky called. It is snowing in Florida! Man, life is crazy. It was 23 degrees when we awoke in El Paso. Where is this warm weather they keep talking about in the Southwest? The rest stop at the state line was closed! Most travelers have come to expect a stop when crossing state lines for relief. Not sure what Arizona officials were thinking there. At least in Texas I saw oil rigs every once in a while.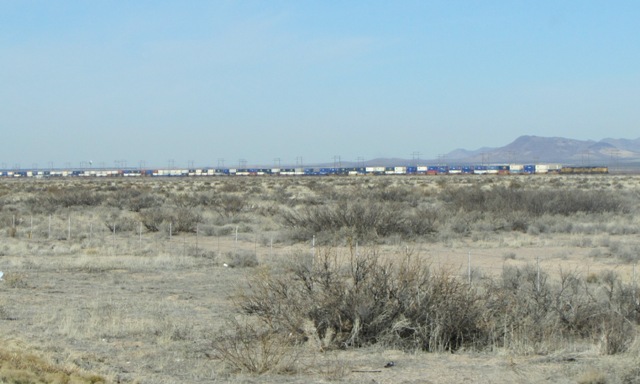 Here there is nothing but railroad tracks and the trains run here like a super highway. Long trains carrying cargo containers double high in lengths of 100 to 200 cars. That was all that was out there.
After finding out that John and Tillie will be in Tucson until Tuesday we looked for a place to stay. We are spending the next three nights at Beaudry RV Resort in Tucson. We got here about 3:15pm.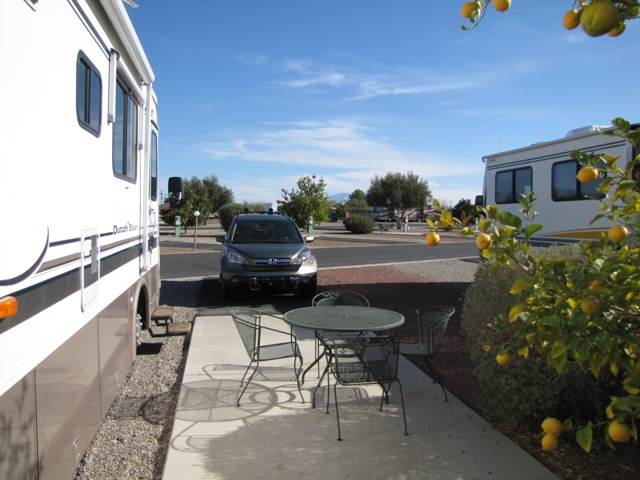 There are lemon, grapefruit and what looks like orange trees planted among the sites that the residents can pick for their own use. It is finally 70 degrees! Hurrah! The sites are paved and come with a wrought iron patio set. No wooden picnic tables and no clothes lines, but it's good to be in warm weather again.
We have eaten so much the last couple of days we took it easy this evening and just munched on chicken salad and crackers. We have been invited to go to the dog races with John and Tillie and their friends. Since it is free to get in, and we have never been to the dog races we decided to give it a try. We know nothing about dog races except the dogs chase a rabbit around a race track. Tillie bought us programs and said to give it a try. Since nobody knows anything about picking the dogs, it was like the blind leading the blind. But we all have fun playing. The very first dog I picked WON!!! With a great payout, $20.20. That was my seed money for the rest of the night. I won some and lost a lot. I broke even at the end of the night. Sandy had a great time figuring out the racing sheet and stats. We all had a great time. We were inside the whole night so we were slightly overdressed! Having been through 5 days of very cold weather I guess you could say we were a little gun shy about not being warm enough.
Sunday, January 10, 2010
After coming home last night, Sandy caught up with his Farmville, and I got caught up in a movie. We were up later than either of us wanted. So this morning we slept in late. We decided to take a trip to Tombstone, AZ today.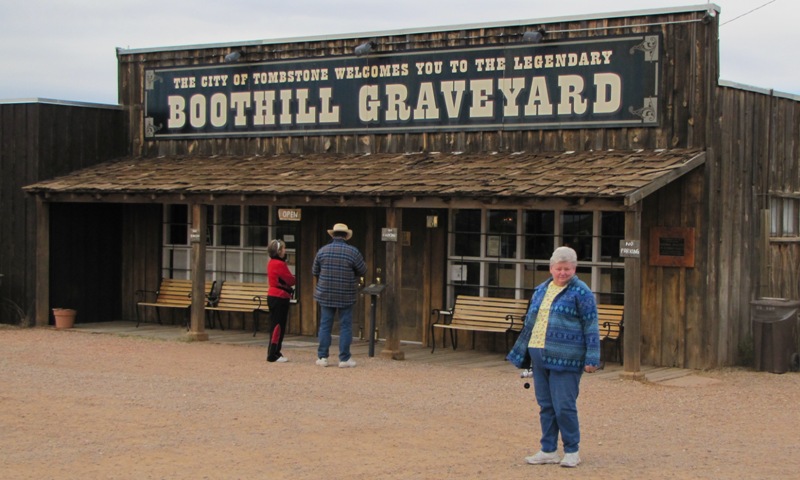 It was a cloudy day and fairly cool, about 59 degrees. Without that humidity that we are used to, that is relatively cool. We visited The Boothill Cemetery, where the Clanton and McLaury's are buried.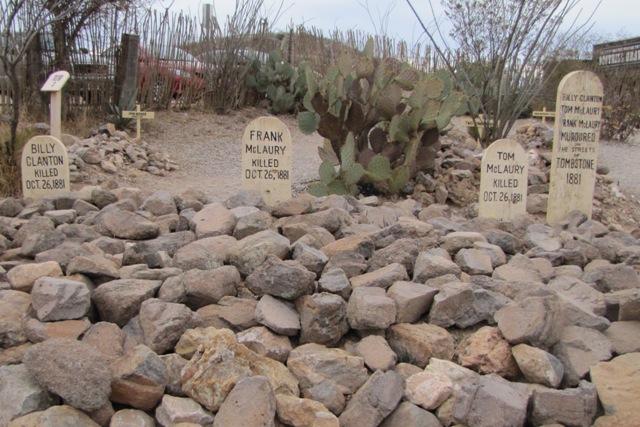 It is an actual cemetery and listed on the register of National Historic Places. Wyatt Earp is not there. He was not even wounded in the fight at the OK corral.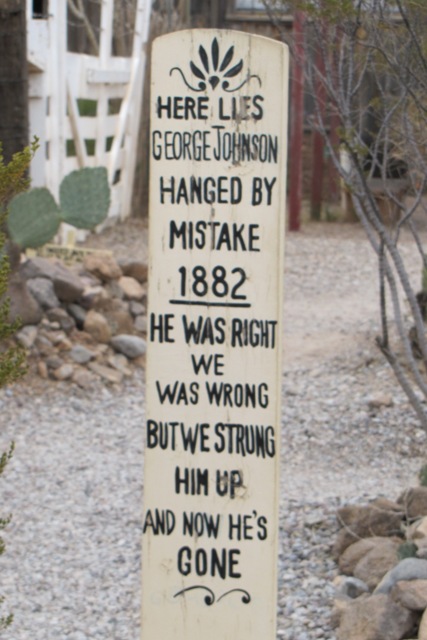 He lived until 1929 and is buried in Los Angeles. We saw a reenactment of of gunfight at the OK Corral. That was very good.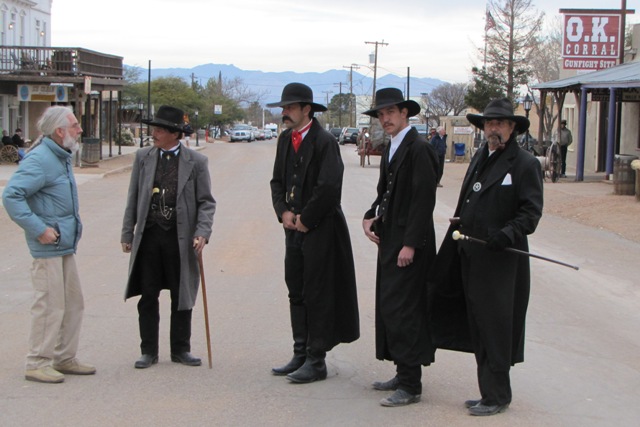 Doc Holiday was a very persuasive drunk! There were stagecoach rides that you could take and get a meal at Big Nose Kate's Saloon. All in all a very interesting day. Coming home we had spaghetti, salad and bread for dinner.
Monday, January 11, 2010
Today was absolutely beautiful.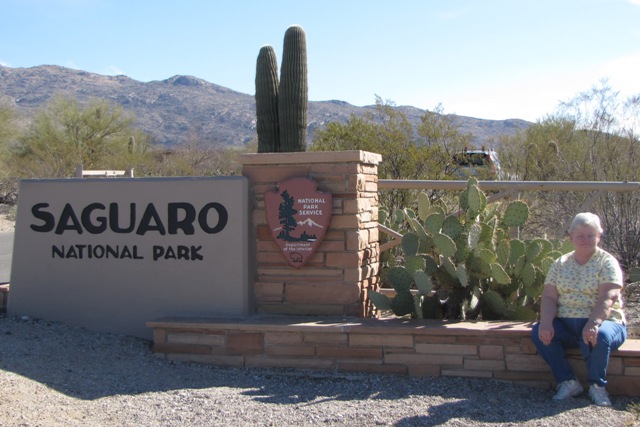 We drove to Saguaro National Park. This is where you will find those tall cacti with the outreaching arms that are about 150 years old.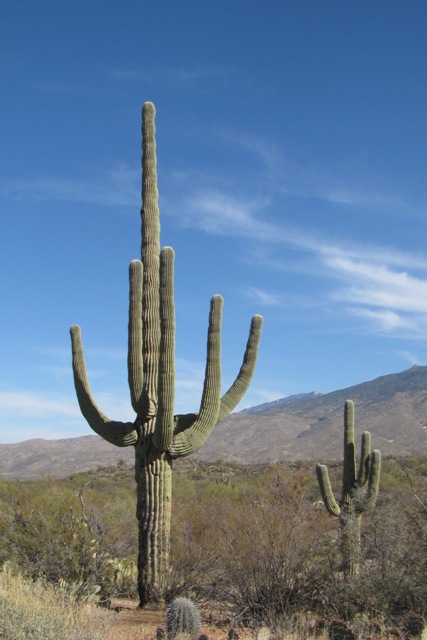 Beautiful country. The park itself is divided into East and West as two separate parks but the price of admission is good for both parks. We got stamps for our Passport of the National Parks, but we forgot our passports. Bummer.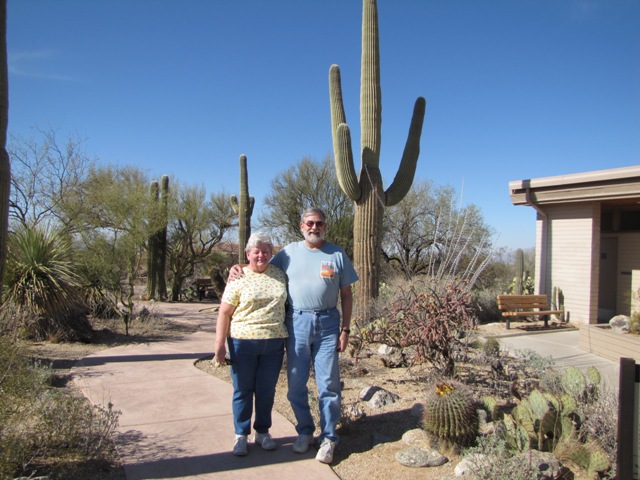 We were invited to Tillie's sister-in-law's house for a German cooked dinner complete with sauerkraut. Sandy scraped his off to the side and ate his anyway. Then the guys played with the Wii, bowling, and golfing, while the ladies played Flip. It was a really fun evening. We are heading out in the morning so we headed home to get some sleep for the drive tomorrow.
Tuesday, January 12, 2010
Happy Birthday Shane
John had to get the rear tire on his bike fixed before we could leave. So we got another one of those late starts; about 11:30. We stopped just outside of Tucson to fill up on last minute food supplies before heading off for Quartzite. John took a by-pass around Phoenix while we drove straight through so I could get a picture of the city. We ended up ahead of him, but not by much. Many of the rest stops have been closed in Arizona, due to budget cuts, which I think is a big mistake. Even the one just inside the state line is closed although there was no actual Visitor's Center there. Our last fill up with diesel is $2.749 at our last stop before our destination. When is it all going to stop. It's crazy.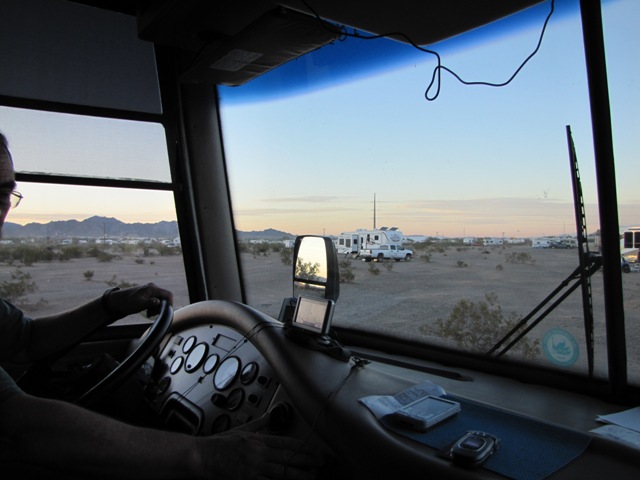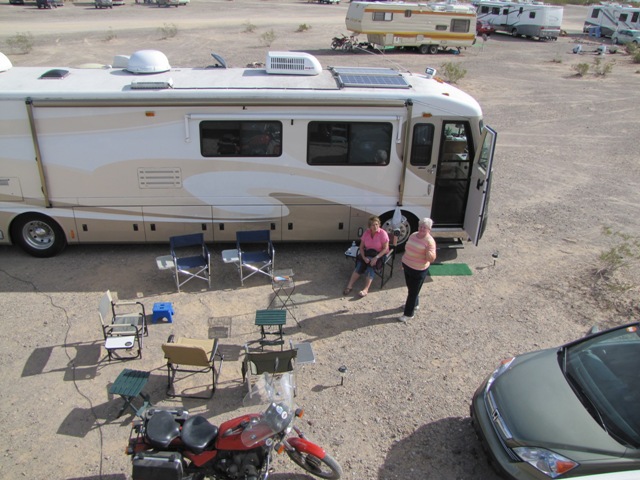 We arrived in Quartzsite about 5:30 pm. The sun was just setting behind the mountains. It's beautiful here. There are motorhomes, fifthwheels, campers and tents EVERYWHERE !!!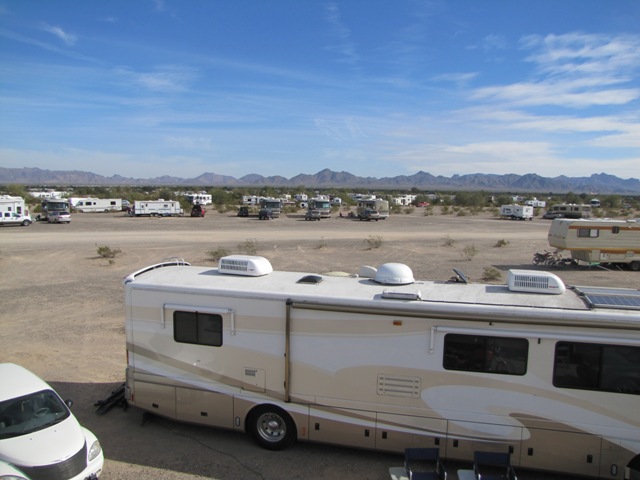 I've never seen anything like it. Park where you want. People have outlined their sites with smalls rocks; and others are pulled up to small trees/bushes for some privacy. There are all kinds of configurations out here. Our meal tonight was leftover lasagna, salad, and bread. We went over to John and Tillie's for an evening of FLIP. Came home and went to bed. We all sat over there yawning, we were all so tired. See ya' tomorrow!
Wednesday, January 13, 2010
Man oh man! Didn't have to get up and go anywhere or do anything today. That lasted until about 11 am. We had go pay for our stickers so we could prove we have a right to be camping in the area. $40.00 for two weeks; that gives you the right to dump stations, trash dumpsters and fresh water fills. We could go to the dispersed area and camp for free, but then you have to find water, sewer and trash on your own. The other thing you can do is pay $180.00 that would allow you to spend seven months here from September through April, but we won't be here that long. I can see why so many people come here for the winters. We took time long enough to go dump and fill up with water before we finally set up camp for the next two weeks, ten days, or for however long we will last.
We ate lunch at a Mexican restaurant before heading out to do some sightseeing.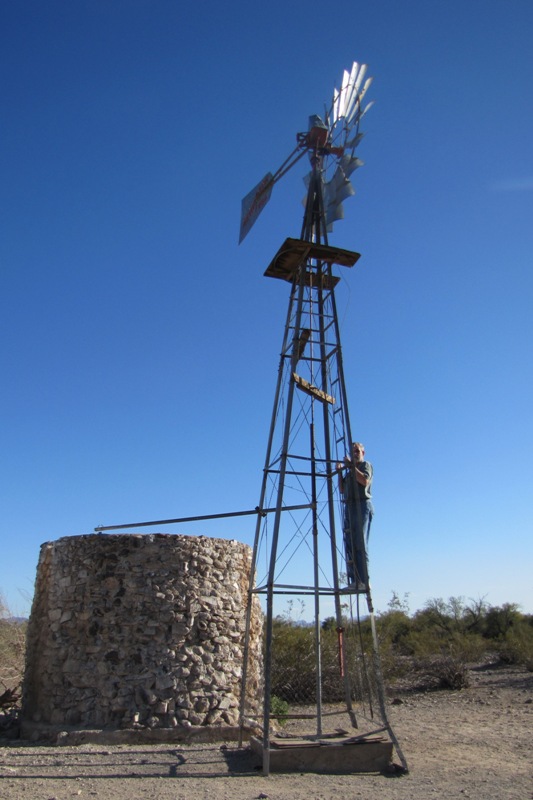 This is some of the flattest land I have ever seen; it stretches out for miles, yet you can always see mountains in the background.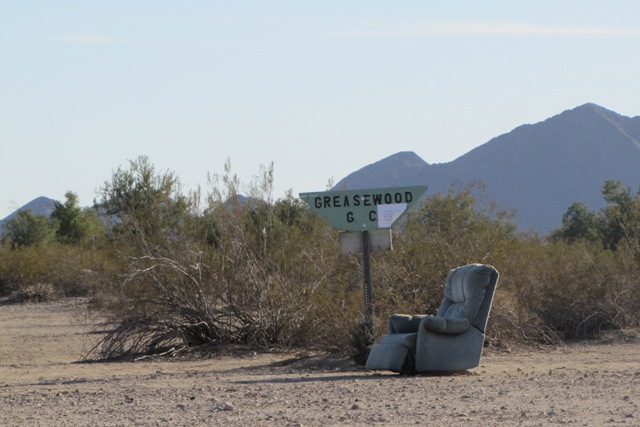 We went off-roading in one area and came across a working windmill next to a corral pen that I would guess can be used by ranchers allowing their stock to graze on the BLM land. We drove across washes that were very, very dry. We finally ended up driving by a desert golf course.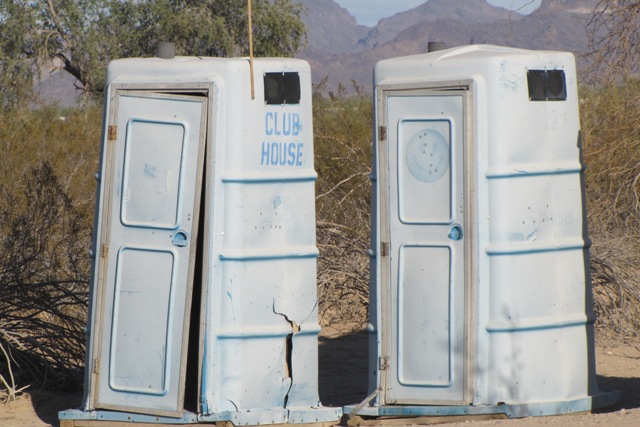 Don't know who put it there, but it is used and I have some great pictures of it. There is NO GRASS. Got pretty warm today; somewhere between 77 and 80 degrees and the sun was shining all day. I think I will be getting a little color in my cheeks while I am here.
Tonight's dinner was salmon and mashed potatoes before we headed over to John and Tillie's for an evening of Rummicube!
Thursday, January 14, 2010
This morning we ride with our friends over to Blythe, CA, so she can go to a Curves gym and we headed to a grocery store. Real civilization, wow! Every time we will cross into California we will be changing to the Pacific Time Zone. We also will keep crossing the Colorado River. That is the first time we have seen water in a river since we cross into Texas from Louisiana. It is so very dry out here. Quartzsite is full of RV's and flea markets. The RV show and the Gem & Mineral Show start tomorrow.
Friday, January 15, 2010
Today I saw on FB that Kristiina and Sam Long had their baby daughter, Savannah Grace today about 12 noon. Congratulations go to Mommy, Daddy and their new baby!!
The RV show did not start today, so we ended up going and walking thru the flea markets. It was a very sunny and warm day. They have everything you could think of here. There is a lot of jewelry, gem shops are everywhere. Solar panels for sale, miscellaneous RV furniture and parts. Later in the day we did some searching of the RV dealers looking for a newer Dutch Star, but there doesn't seem to be one here. We'll just have to keep looking I guess. You just never know when. Some of John and Tillie's friends stop by for Happy Hour, Brenda and Laverne who live up in the Yukon in the summer and spend the winters down here. A very fun couple. Dinner tonight was stuffed peppers, salad and wine, something I haven't made in a long time. Spent another evening playing FliP with John and Tillie.
Saturday, January 16, 2010
RV's are arriving hourly for this RV show. I assume it's the RV show they are here for. Thousands are pouring in everyday. And that's not a misprint!

When we arrived we could see all the way over to the BIG TENT, but now we have been squeezed out by more and more neighbors. The LTVA says RV's must be a minimum of 15 feet apart. But they are getting closer by the hour.
We spent the afternoon at the RV show in the big tent. There is not as much RV related stuff as we have seen in Brooksville in the past couple of years. And the prices are not all that good. It got very hot, there was no place to sit down while we ate our lunch over there. I was so tired on the walk home. John and Sandy took John's BMW motorcycle to go visit a friend; next thing I know they are pushing the bike back to our compound and Sandy's arm is all scrapped up! Seems the bike fell out from under them coming out of a wash! They were very lucky! But the bike wasn't so lucky. The valve seat is broken and it's not drivable now; so John is not a happy camper. I told our friends I was taking a break this evening and staying home. We grilled steaks out together and had baked potatoes and salad with dinner. I got up, moved over to the Lazy-boy, watched a little TV and was asleep by 9:30. Gosh knows I was tired.
Sunday, January 17, 2010
Today we decided to drive up to Parker; there's a Walmart store there, but we are going by way of Bouse. It's up over BLM land and dirt roads. Doing a little sight seeing. Up in the mountain pass we saw a sign about an old-timer's cistern and we went off-roading to try and find it. We definitely ended up in 4 wheel drive until we finally came to a hill we knew we would not be able to get back up so we had to turn around and return to the road. It's amazing some people are dry camping out here all along out on the back 40. You see signs along the road such as, "Watch for animals next 100 miles" , "Watch for cattle". The dirt bakers love this place, passing us at 60 mph creating a trail of dust so thick we cannot see the road and we have to close the vents on the car to keep the dust from getting inside. All the washes are dry as dust around here; they surely do need some rain. Parker is about 40 miles north of us so we won't be making a daily run. How dare they not have one in Quartzsite, where there are only about ½ million Rvers for the winter. We bought fresh rolls at Walmart and had barbecue sandwiches for dinner tonight. Something easy for a change.
Monday, January 18, 2010
This morning Tillie and I headed over to Blythe. She was headed to Curves and then we were going looking for a Mexican market where the prices are supposed to be less expensive than the Albertson's store. The store was very nice and we had a quick stop at the Dollar Store before heading home. Bob and John and a friend of theirs from Yuma, AZ, went to the RV show to check out satellite TV domes and Roadmaster hitches. Bob took the car back over in the afternoon to Roadmaster's and had them do a free check up on the hitch. It needed a new "stinger", the part that fits into the receiver. Check up was free; parts cost $$$. Later in the afternoon, we headed over to the Beal's Outlet Store for the Monday 15% discount, and I ended up coming home with a sweatshirt. J&T's friends, Mike and Leona came as we sat outside in the cold. I finally went in to fix dinner. (Once the sun goes down it gets cold and it feels colder because the humidity here is so low.
Tonight we had a simple dinner.... Baked Potato and Salad. We spent the evening playing Flip with John and Tillie.
Tuesday, January 19, 2010
Today, was a stay home day. I caught up on my soap, "All My Children", just all in all a restful day. Bob and John went back to the show today, Bob to investigate the satellite dish some more and John was just looking. Mike and Leona were coming back for dinner tonight, Spicy Chicken Tacos, beans, pineapple and banana salad with brownies for dessert. Tillie can really whip up a feast for such a small kitchen. Mike and Leona rode over here on their bikes and it started raining so they stayed for a while and we taught them to play FLIP. They went home that night with all our money. It was really pretty windy. They came over through one of the washes, but they ended up staying on the roads going home.. We are supposed to have more rain tomorrow.
Wednesday, January, 20, 2010
Out here on the desert water is very precious. When we arrived and filled our tanks they were about 89% full. With a 105 gallon tank that's about 90 gallons, we still have 29 gallons left after 7 days. So we have used only about 60 gallons for cooking, cleaning, washing dishes, drinking and bathing. As long as you are very careful, you can make water last a long time out here. Dry campers know what I'm talking about, others are probably scratching their heads. You never let water run, you capture water in the shower till it gets warm and use that water for flushing toilets. Paper plates become the norm unless it's a special occasion. I have a hard time fathoming how the early pioneers settled out here not knowing how much rain they would get. I would imagine washing clothes was a real luxury!
Speaking of… today was wash day at the "Madd Jax'' Laundromat over in Blythe. Bob, Tillie and I drove over there. There's only a portable laundromat here in town. It was very busy over there; the snowbirds are definitely here for the winter. We ate lunch at Carl's Jr, which is the Hardee's equivalent out West. Then another stop at Albertson's and Mexican grocery for more food. We are having John and Tillie for dinner tonight. Spaghetti, salad, French bread with dipping oil, and wine.
Today was just beautiful. The weather can change out here very quickly and it was nice to enjoy the sunshine after a couple of cloudy days.
Thursday, January 21, 2010
Today its dump day. We were hoping to get there before it started raining, but no such luck. After 9 days it was time to refuel the motorhome with fresh water and clear the waste from our tanks. The rain was coming down sideways and in sheets. Sandy got soaked doing the hook ups to clear the tanks. When we got back to our site we changed our configuration so that our coach is heading West and driver's window is facing South so we will get much better sun exposure for keeping the coach warmer without using the heat. Sandy still had to set up in that driving rain. It was not letting up. In between the squalls I ran over to J&T's coach. They had the local radio (Lake Havasu – 65 miles) and the NWS came on saying dangerous winds, and tornado warnings!!. We were supposed to go to a show and I didn't want to leave. It was really blowing pretty bad out there and the sky was getting very dark with the clouds. The wind was blowing so bad we could sit inside and watch people stuff get blown all over the place including our coach step and welcome mat laying flat on the ground! Sandy went back and pulled our slide in because the coaches were really rocking and we were concerned for the awnings covering our slideout. We played Rummicube to take our mind off the storm. By the time we had finished the hand the storm was clearing. You could see sunshine coming over the mountains. So we ran home as the sprinkles hung on to eat a meal of leftover spaghetti so we could head out to the music show over at a local RV park. OMG!!!! The roadways were flooded! I mean like the stuff you see on TV where cars get washed off the road. Bob and I drove our own car in case we wanted to leave early. Many of the vendors at the flea markets were definitely flooded out. Some places that had metal building were pushing water out the door with brooms. It was just 2 inches of rain. They are not able to handle that kind of water out here. (Now I know why they are called Washes…everything gets WASHED away.) The show was okay, a lot of country and bluegrass, not exactly my favorite.
Sunday, January 24, 2010
Brenda and Laverne took us up past Parker, AZ today to go to a bar! It is 5 miles up a dirt road in the heart of some mountains. We were beginning to think it didn't really exist when it suddenly popped into view. The first thing I saw was a church! Where was the bar ?? Well, it's all there, all run on solar power and one heck of a band. The beer and wine was ice cold too. They serve burgers and hot dogs up here, but no cheese! Hahaha… Bob wasn't so happy with that idea. The Nellie E Saloon is only open on Saturday & Sunday, High Noon to Sunset! What great working hours. You will have to see the pictures to get an idea of what I am talking about. Can you believe we drove right past the Walmart and didn't even stop on the way home!
Dinner was hamburgers cooked on John's grill. Good eatin'.
Monday, January 25, 2010
Happy Birthday Carol and Amy - Happy Anniversary John & Tillie
Today is my birthday! We drove up to Parker. AZ to go to the bank to take care of business and also went to Walmart while we were there. I saw an old timer who looked like a prospecter with his horse and burro carrying mining supplies. Took a wonderful picture with my cell phone camera but got so excited I forgot to save it! Darn!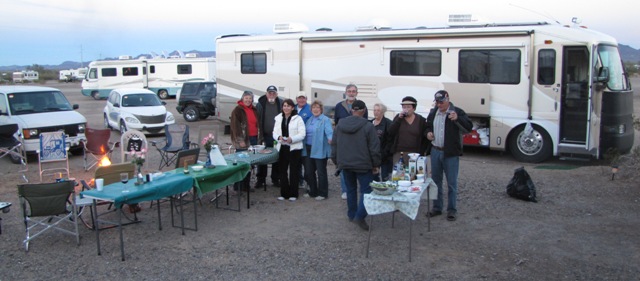 Maybe we'll see him again another day. On the way home Googie and Bob called, they were going to make it all the way in today and needed directions to our campsite.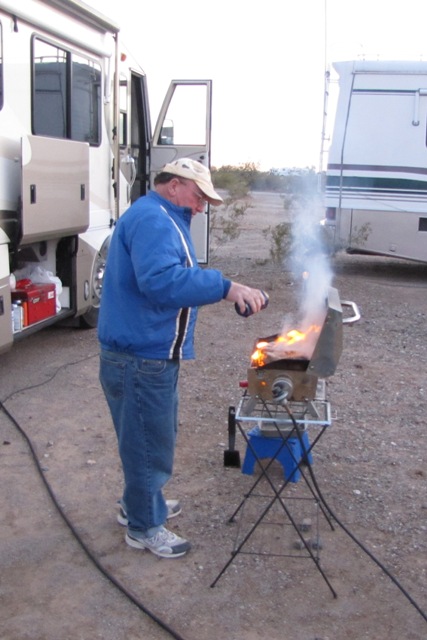 Since today was also Tillie and John's anniversary, we were grilling steaks, baking potatoes and doing a community salad bar where you could fix what you wanted. We ended up with twelve people for dinner.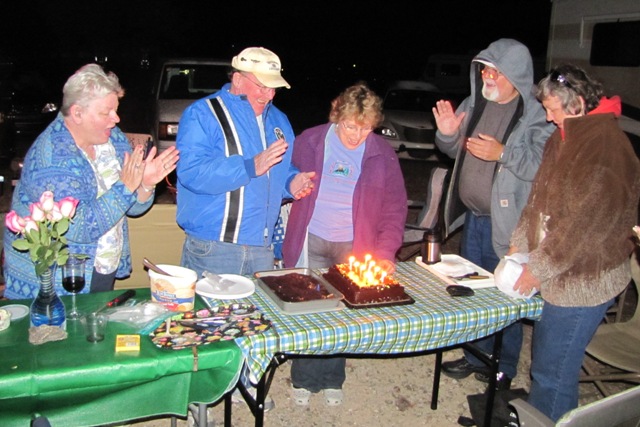 It was great. Bob & Googie, John & Tillie, Ol' Roy & Patsy, Sandy & I, Bill and Linda, and Laverne and Shirley (Brenda) !!! Wisconsin, Michigan, Texas, North Carolina, Washington and Yukon, Canada. Thanks to Tillie, we had pink roses, cards and we all ate together outside. Three tables, very cozy. Now that Bob and Fran were here they completed the wagon circle and cut off a good deal of the breeze that is always blowing around here. So for the record we have a 45 foot 1998 Prevost, a 40 foot 98 American Eagle, a 40 foot 99 American Eagle and a 38 foot 1998 Dutch Star. We had a fire for the first time tonight.
Tuesday, January 26, 2010
Dinner was parmesan chicken, and mashed potatoes. Again heavy hor d'erves and was not real hungry
Wednesday, January 27, 2010
Potatoes, onions and hot dogs ("weinies" Patsy) with ranch style beans.
Thursday, January 28, 2010
We decided to drive down to High Dome Museum with Ol' Roy and Patsy about 50 miles south of here. It was a village created out of buildings that had been torn down and rebuilt here into a town. There was a hotel, bank, livery, saloon, general store, dentist, and so on….you get the idea. There were over 30 silver mines in the area. The last of which was mined in 1973. We weren't there 10 mionutes before I got the bright idea to touch a cactus so see how sharp the stickers were…..LET ME TELL YOU….OUCH! I think it's called the cholla cactus and it sticks to your skin very easily and comes with you when you pull away! Talk about HURT! Some very knowledgeable people there told me to stick in some cold water to easy the sting and to pull it off under water. Thankfully there was a fountain there. I have no idea where they got the wonderful cold water. You have to get a stick or something to pull it off with because nobody else can touch it or they will get stuck also. Then they told me to let it bleed so the poison will bleed out! Fun day !!! By the time we got back they had started happy hour without us!!! LOL!
Dinner was balance brought forward. Chicken and potatoes, onions and hot dogs.
Friday, January 29, 2010
We drove over to Blythe to pick up our mail and check on a package that Daddy had sent, but his package did not arrive. After lunch, Fran, Tillie and I went looking for the Naked Bookseller. I didn't see him at first and when I did, I thought he was wearing a pair of leather pants, but it was really his skin!!! Ewww!!! Dinner was chicken salad and crackers. Happy hour hor' derves was very heavy and filling. Didn't feel like cooking.
Saturday, January 30, 2010
Nellie E. Saloon, Again, with Bob, Fran, Tillie & John, Brenda & Laverne, Patsy & Roy and Bob and me. What a fun afternoon. Dinner was Barbecue chicken, boiled potatoes and vegetable mix with cheese.
Sunday, January 31, 2010
Went to church at Covenant Lutheran Church in Quartzsite. It was packed. Small church, very new and people were very warm. For a very small town this place has a lot of churches. Catholic, Morman, Lutheran, Church of Christ, 2 or 3 Community churches, Baptist, and Methodist. Amazing.
Monday, February 1, 2010
Tillie, Fran, Bob and I went to Blythe to do laundry. While clothes were washing, Fran & Tillie went to Curves. Later in the afternoon went to see Celia's Garden. It was built in honor of the bookseller's daughter who died when she was 8 of heart complications. A garden built in the desert. Very interesting.
Tuesday, February 2, 2010
Wednesday, February 3, 2010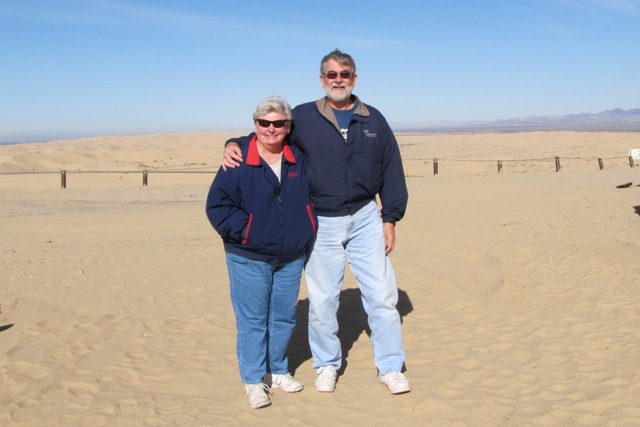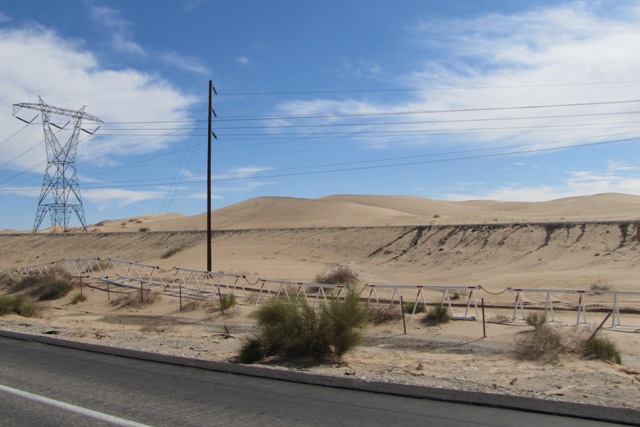 Glamis, Hot Springs LTVA, Holtville, Yuma – yeah!! Sam's Club! Coming back we had a date shake.
Thurdsay, February 4, 2010
Bob and I took our new 4 wheel CRV up the back roads of the LTVA to see how far we could go and if we could get there with our car. We were able to cross the washes even though they were in bad shape after the rains last week. After taking a couple of turns we ended up on a mountain top where we could see westward to AZ 95 and beyond. There is desert all around us. We were about 7 miles up these back roads and my telephone rings! It's a wrong number from someone in Wilmington! Go figure.
That evening we had our last fire here at Quartzsite. Problem was the winds had picked up and was blowing smoke all around. It really affected Tillie's asthma till she could no longer sit outside and enjoy it. All our clothes smelled of smoke from rotten wood. We said good bye to Brenda and Laverne who are from the Yukon and will be staying here until the end of March.
Friday, February 5, 2010
We all drove up to Lake Havasu and camped in Cattail Cove State Park located on Lake Havasu. Hookups with running water and electricity!!!!!!!!! We have died and gone to heaven. Even with hookups I went down to the bathhouse just for the pure joy of letting the water run and long as I wanted and also to have room to turn around in the shower. I stood there for a while just hydrating my skin! We were all able to park next to one another. Bob and Fran didn't drive up with the caravan and we had to wait on them…so hydrating is just as good as any other way to spend the time. (I get side tracked.)
The drive up was only about 60 miles and it was through some of the most beautiful land and vistas we have seen to date. It's amazing to see golf courses where only the greens are green! Or the fact they can build a course among the hills and gullies and valleys where everything is so arid and dry.
Once everyone showed up we drove into Lake Havasu and crossed the famed "London Bridge". Bob and I have been across it once before but this time we are not in a rush and we all got out and took lots of pictures. Then we spent happy hour in a couple of places with our friends. The views continue to be incredible.
Saturday, February 6, 2010
Well, the guys took off hiking down the lake side and the ladies went shopping in Lake Havasu. Try keeping a rein on 4 women in a grocery store! Ha! At one point Patsy and I were in the same aisle when we started a fake cart rage for not moving my cart; it was so funny! Ladies in the aisle thought we were seriously fighting and cleared out of the way as fast as they could. One lady stood there with her jaw dropped and figured we were going to fist-a-cuffs till Patsy told her we were friends and just joking around! LMAO!
Sunday, February 7, 2010
Patsy and Roy left for Laughlin, Nevada, so they could participate in Super Bowl parties in the casinos. Bob and I were going to stay behind one more day for rest and relaxation when Patsy and Roy called and said there wasn't any room at least until tomorrow; problem solved! One more day to relax. Fran and Bob II, went into town to church and T,B,J and C went riding to go find the Parker Dam that we missed on the way up here. It's a nice small dam which they claim is the DEEPEST IN THE World at 378 feet! I don't think so…..!!!! What about Hoover, let alone Fontana! Anyway, we decided to ride up a road that was on the GPS which is on the California side of Lake Havasu. (It's hard keeping up with the time changes every time we cross the Colorado River from Mountain time to Pacific Time.)
We were driving up this old paved road (key word: old)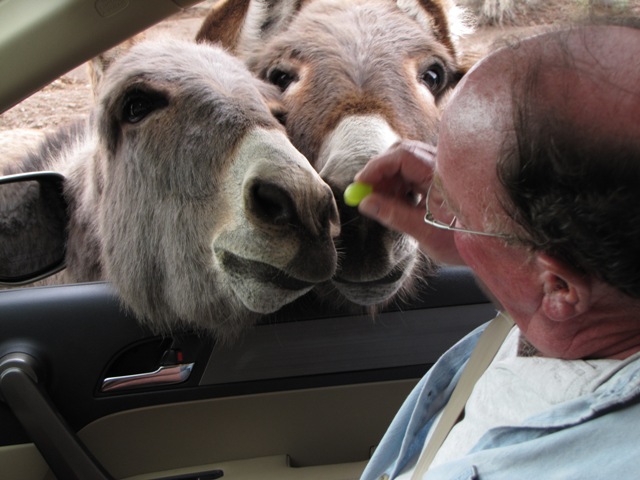 when we drove around a bend and Tillie yelled, "LOOK! STOP! There's a burro!" It was just standing there along side the road eating some scrub and as we drove on we passed another one hidden by a boulder. Did I mention that Bob has finely learned to stop the car FAST when somebody yells, stop ??? We turned around to go back and get pictures of the burros.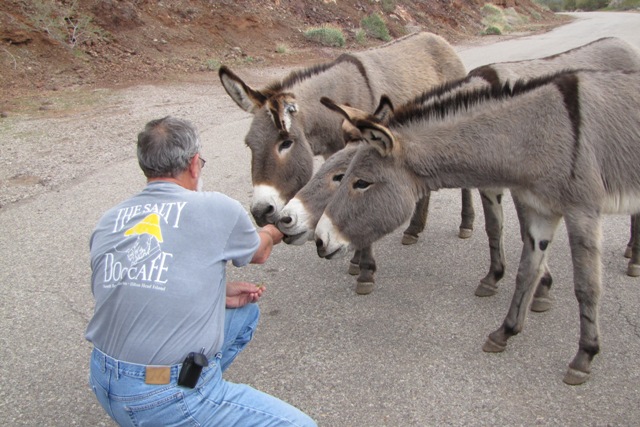 We all got out with our cameras and cell phones. We had some grapes in the car and we used those for food. Then a third one came out of nowhere. They are the most tame looking things with BIG soft brown eyes and a wiry coat. These are wild burros and very skittish but will come near for food.
Back on the road we go, and a couple of more miles down the road we ended up at a full service campground and marina, complete with restaurant, market, motel, everything. In the middle of nowheresville. Never saw a car, truck or boat as we were driving up this road. This is BLM land that is leased to a private entrepreneur (sp).
Back at the campground, out of 4 motor homes we were the only one able to receive the Super Bowl game on TV. Guess where the party was! We had so much food to eat and we really had a great time. The most amazing part was none of the guys are football fans. We all picked a team to win, but nobody had any idea of who was favored, what the odds were on winning, nothing! I picked the Saints to win. YEAH ME!!!!! Too bad I didn't bet any money. Being out here on West Coast time the game started earlier and it was over earlier.
Monday, February 8, 2010
Tillie and Fran went to Curves one last time. Fran and Bob II are leaving for Phoenix so we are parting ways again today with another couple. John and Bob I went hiking up the road, and I walked up to Inspiration Point to get pictures. I can't see many birds here, but the sounds they keep making are very musical. The air is cool, but the sun is shining so brightly that you feel nice and warm. Bob joined me at the top after his hike. WE HAVE FINALLY SPOTTED A ROADRUNNER! Something else to check off of our things we must see while out here. John and Bob I take the time to wash our motorhomes. It doesn't say you can't here and they surely do need it from all the dirt and dust out here. We say our good byes to Bob and Fran and we are off one more, this time for Laughlin, NV, where we will be parking in a casino parking lot for free!
Tuesday, February 9, 2010
Coming SOON!
Wednesday, February 10, 2010
Coming SOON!
Thursday, February 11, 2010
Coming SOON!
Friday, February 12, 2010
Coming SOON!
Saturday, February13, 2010
Coming SOON!
Sunday, February14, 2010
Coming SOON!
Monday, February15, 2010
Coming SOON!
Tuesday, February16, 2010
Coming SOON!
Wednesday, February17, 2010
Coming SOON!
Thursday, February18, 2010
Coming SOON!
Friday, February19, 2010
Coming SOON!
Saturday, February 20, 2010
We were up early today to meet George, a friend of John & Tillie's. He took us to this huge flea market in Yuma, AZ. Spend a couple of hours there. Afterwards we had lunch at a Chinese restaurant then it was off to see a model plane air show. The planes did some amazing stunts and they were huge! It held more interest for the guys than it did for Tillie and I. George left us there to continue the day on our own. We stopped at a little roadside chapel that seats about 12 people. It was built by a farmer in honor of his late wife. Very nice. They will be having an Easter Sunrise service there.
Sunday, February 21, 2010
Today I was determined to stay home and rest up for a change. You need those every once in a while. After getting up early yesterday a girl needs her beauty sleep you know. Tillie did some housekeeping chores and I did a few. Sandy & I drove up to get pictures of Imperial Dam. Since all Dams are closed now, we couldn't get a good angle to get a decent picture. This is where most of the water left in the Colorado River is siphoned off for Arizona, Los Angeles, and farming canals; afterwards, there is not much left for Mexico. We went back, picked up John & Tillie and went looking for Mittry Lake which has free camping for 10 days per year. We found it, but it's not what I would call beautiful. More like buggy to me, and I get enough bugs at home. Dinner tonight was steak, potatoes and salad.
Monday, February 22, 2010
Today we went to Mexico. George has been wintering here in Yuma for several years, and has been to Mexico many times and he was our escort for the day. We had to meet him at 8 am at the Casino by the border. I could not understand why we had to go so early, after all, we are RETIRED! The town is Los Algodones, Baja California, Mexico. The business district is only about 3 by 4 very small blocks!. When you cross the border if you walk more than 500 feet you have gone too far! This place is a mecca for retired Americans and Canadians. If you need dental work or eyeglasses, no problem! Same day service, prices cheap. Booze, very cheap! Perscriptions… no problem. Don't need them down here. Pennicilan, blood pressure, Viagra, Daibetes, what ever, it's here. You just need to make sure you are getting exactly the same medication. You are allowed to take back a 90 personal supply per person. Same with the alchohol, 750 ml per person. Did I say Tequila ??? Yeah!
We also found out why you go into Mexico early. You want to go in and get out as quickly as possible for the lines to get back into the US start lining up very early. Since John was getting a pair of glasses we had to wait on them. By the time we got in line, it was about 2 miles long and it took us two hours to get back in the US!!!! The Mexican police were searching cars and then once back on US soil you had to stop at Customs and declare what you bought. We also had to surrender our Passports and they checked them out and returned them. It took us so long to get through, and we had been invited to eat a turkey dinner with all the fixins' at 4 pm with friends' of George. We barely made it there on time as it was on the other side of Yuma. There we met Leonard, Mary Lou, Joyce and Ron? They are all from Michigan and winter in Yuma. We finally made it home about 8 pm. We played our last hands of Euchre before heading over to our place to prepare for leaving tomorrow. L
Tuesday, February 23, 2010
Today is a very sad day. I am really torn. I want to stay out here with our friends, there is still so much to see and do. But I really believe my daughter needs me at home. I missed the last birth by about 3 hours. I am hoping we will be on time for this one.
We said our goodbyes to John and Tillie, our companions for the last 6 or 7 weeks. The last couple of days have been cool but beautiful. I've even got some rocks to take home as a souvenir. Very quickly we were on our way eastward. We were able to see snow on all the highest peaks as we drove by.
We stopped about 6:30 in Benson, AZ. Tonight's dinner was pizza from WalMart.
Wednesday, February 24, 2010
We woke up to subzero temps (28 degrees) for the first time since we got to Tuscon on Jan. 9th. We were on the road by 8:30 am. For us, that is good timing. We stayed at the WalMart in Benson, AZ. So all we are doing now is driving today. We thought we might drive down to San Antonio and see the Alamo. The weather report said it was snowing in Dallas. But, we received a phone call from our daughter and the doctor told her she will not make another week, so we are now on the fast track home. (to her house, that is.) We drove until about 8:30 tonight, stopping at a WalMart parking lot in Midland, Texas. By the time we ate and showered it was time for bed. We changed back into Central Time Zone, so we lost an hour today. The sunset was georgous. I tried taking pictures from our moving motorhome. Don't know how they turned out yet. Tomorrow is another day. Tonight's dinner was meatloaf sandwiches.
Thursday, February 25, 2010
We are somewhere between Abilene and Dallas-Ft. Worth as I sit here typing trying to catch up on my blog. Things have been so hectic and we are trying to make it in time for the birth of our 2nd grandchild in Clyde, NC. We have at least 1200 miles to go. L The further we drive East in Texas the worse the roads get. I'll have do do a spell check at least three or four times!
THE END