Monday, February 4, 2008 FMCA South East Rally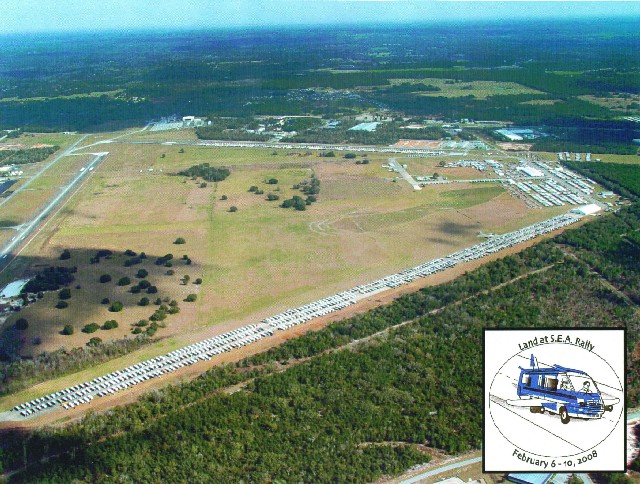 From February 4th through February 10th we were dry camped on an airport runway in Brooksville, FL., with 1700 other motorhomes from all over the USA. We attended seminars, walked by vendors selling everything from micro-cleaning cloths to fine jewelry! Walked through the new 2008 model coaches and ate curly fries and hot dogs.

We attended nightly entertainment in a tent as big as a city block! And most important of all we met so many wonderful people we can now call our friends.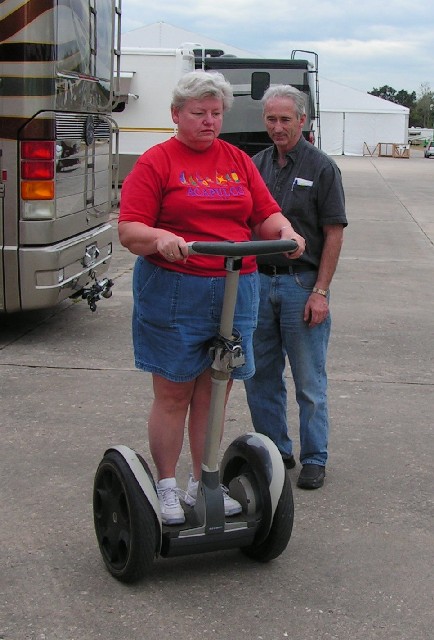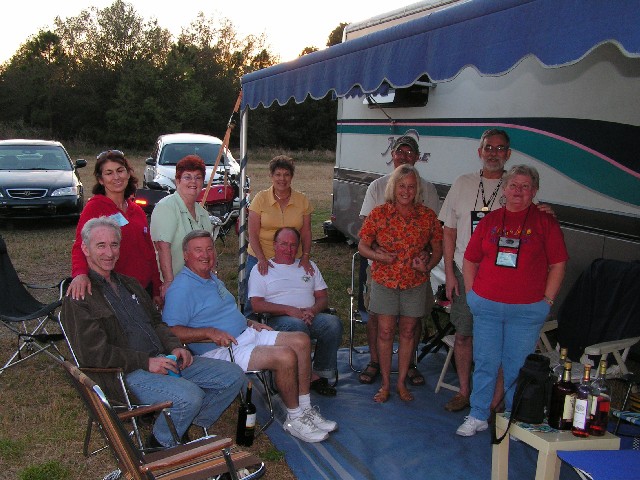 Carol found she could drive all sorts of vehicles.
Monday, February 11, 2008 – Silver Springs/Ocala Area
We are now camping in Silver River State Park campground. The sites are huge and spacious. We can only have an open fire burning from 6 pm. to 8 am.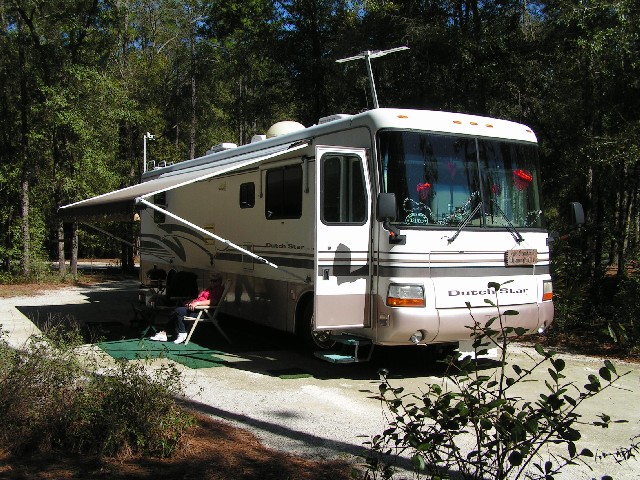 because of low humidity.
We now have water and electric hookups but no sewer. A couple of nights it got down to 35 degrees! Brrr! The bath houses have fans that run constantly, creating a wind chill of 29 degrees! Try taking a shower on those cold mornings!
While here, we hooked up with some of our camping friends that live in Florida. Rick and Becky; Sandra and Joey; and Tommy and Julia. Went over to Dunnellon to visit Mom Talento, a dear friend from Pittsburgh. From here we will be heading to Ft. Desoto, where we'll catch up with some more friends.
Monday, February 18, 2008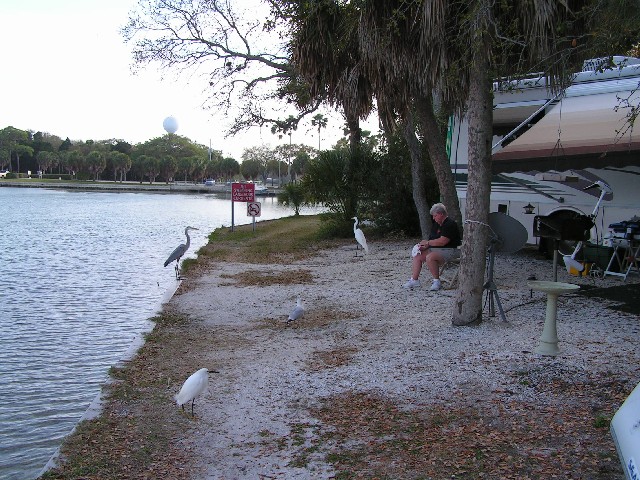 Hurrah, today we have made it to our favorite place in all of Florida. We were not able to get our usual site of 176 and had to move up to 180, but we are still on the water so we will be happy for the next two weeks. Each side has it's own unique qualities.
Thursday, February 21, 2008
The first couple of days were kinda' cool. But it warmed up quickly.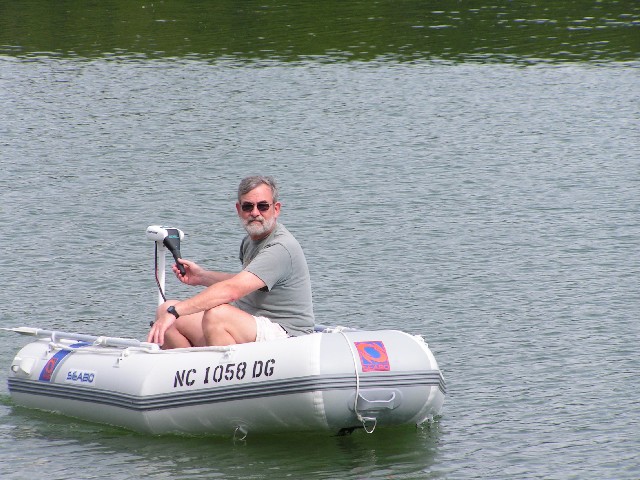 By Thursday night, we had the telescope out and we were watching the last total lunar eclipse until 2010. By Friday, the breeze had died down enough to have our first fire here. Boy, it doesn't get any better than that. Bob got our boat inflated and took it out for a shake down cruise, haha!
There is a lot of wildlife here.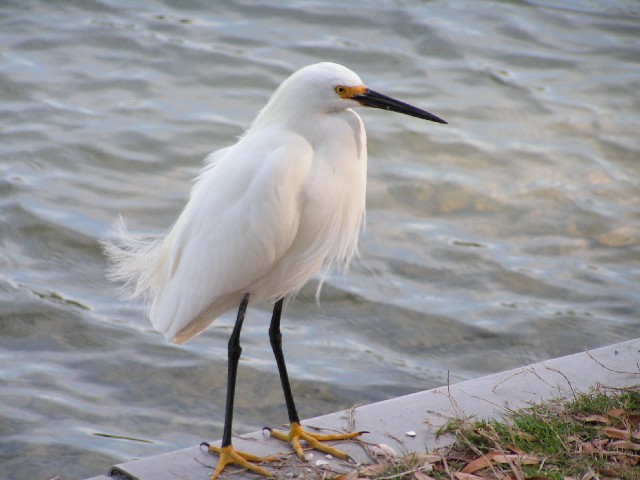 After all, it is a bird sanctuary. Great Blue Herons, Great White Egrets and Snowy Egrets walk by and stop to say hello. The laughing gulls are still as pesky as ever, as well as the raccoons. The squirrels greet us every morning wanting their morning breakfast of peanuts.
We are running into people who have been here with us in years past, starting to feel like old home week.
Sunday, February 24, 2008
We went over to Ft. DeSoto to check out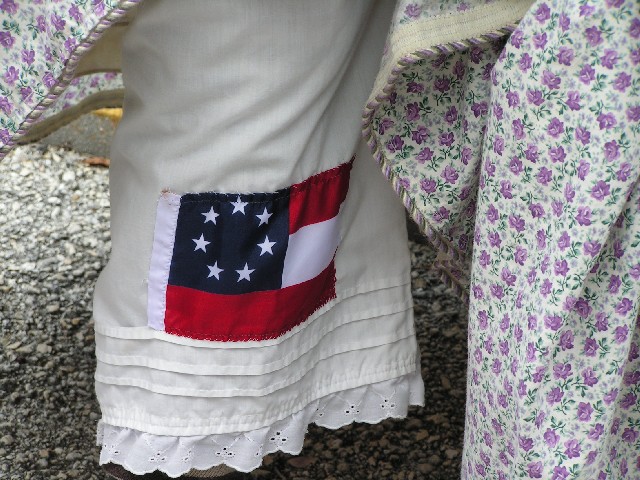 the Civil War Re-enactment, with troops and camp followers dressed in period costume. We then headed back to have a wonderful hamburger cook-out reunion with our friends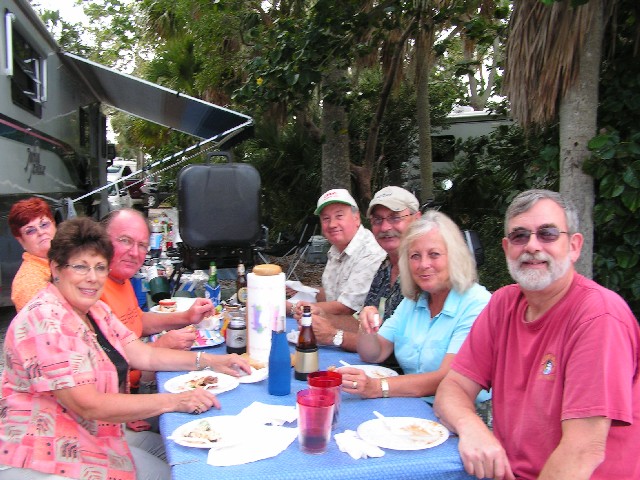 from the FMCA rally who came over for the day. John and Tillie have been here with us and we have spent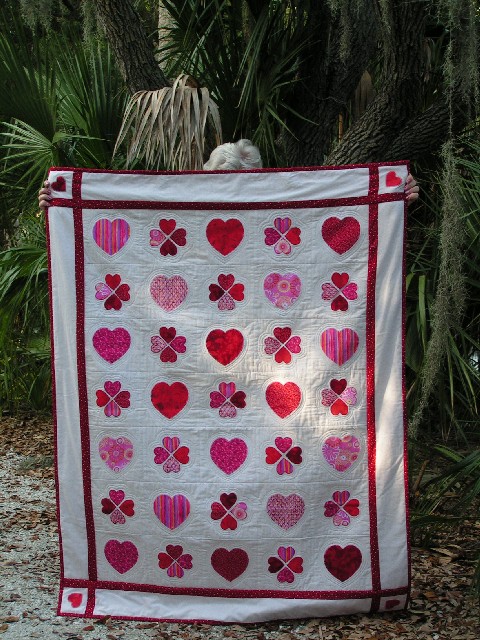 many good evenings together.
I have been able to get my "Mended Hearts" quilt finished while I am here.
Tuesday, February 26,2008
We went over to the beach with John and Tillie for a picnic lunch and spent some time walking the shoreline. Bob and John ended up wading thru a back bay after walking around the tip of the beach. The water was a toasty 71 degrees!! (giggle)
Our time here is winding down but we have Larry and Cathy coming in to spend the weekend here. Another cook out this weekend. Yoo hoo!!
February 27, 2008 – Happy Birthday Hank!
February 28, 2008
Well, we have been here about 10 days and we still don't want to leave.
February 29, 2008 – Happy Leap Year Day!
March 3, 2008
Today is moving day. We are moving from the West Coast to the East Coast of Florida. When you don't take the Interstate Highways, you are traveling through orange groves, cattle fields and more orange groves. We were traveling across Florida Hwy 70 when we finally pulled into WalMart in Arcadia. This place is in the middle of nowhere. Bob decided that diesel fuel was less expensive here than at the Flying J on I-95. While Bob was filling the motorhome, this man kept staring at him.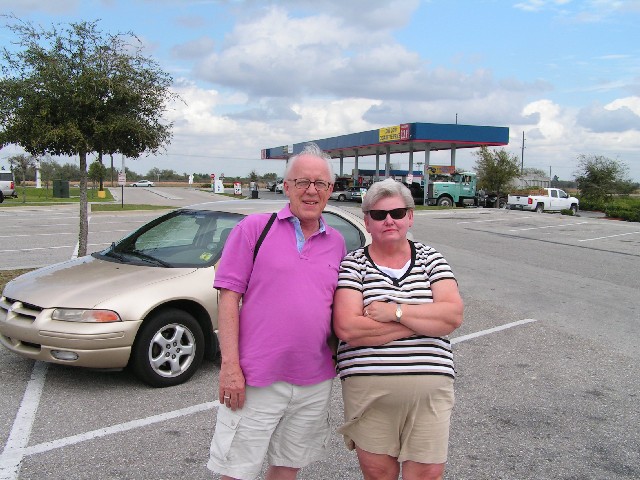 After driving around, looking at our license plate and getting out of the car he asked Bob what part of North Carolina he was from….it was a friend that moved to Florida seven years ago and we hadn't seen since! Bob, Bill…….WOW! What are the chances of running into someone in the middle of nowhere. We must have talked for over an hour before we were forced to move on in order to reach our campground before dark.
After checking into the campground we find we are camped in a war zone. The hurricanes of 2004 really devastated this campground. All the trees are gone! It is also very WINDY! We cannot put our awnings out on the motorhome. But the campground is just base camp as we go out to tour the area.
Tuesday, March 4, 2008
36th Wedding Anniversary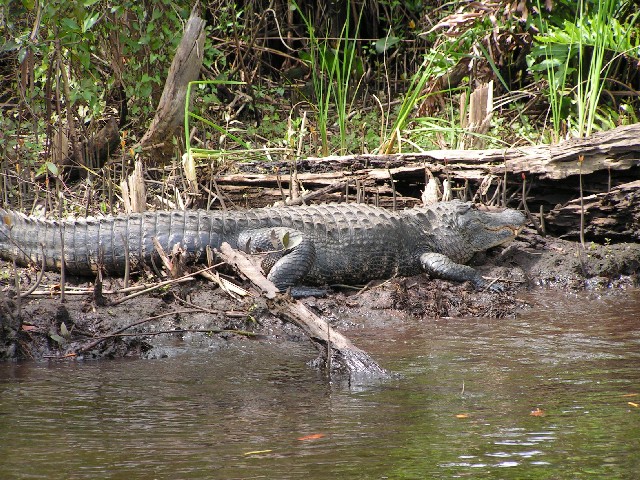 Today is our 36th wedding anniversary.
The State Park is located just north of Jupiter with the Loxahatchee River running through it. We took a river boat cruise.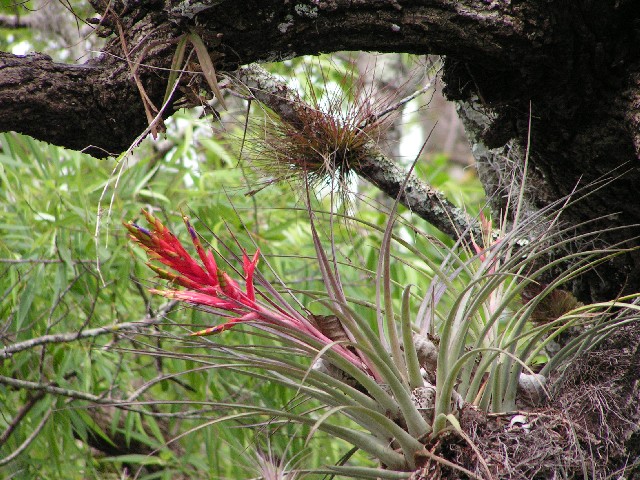 This is NOT the Jungle Cruise at Disney, this is a real live alligator sliding into the river and heading for our boat! Zillions of Air plants are growing on the trees in the river and the blooms are just beautiful. There were gorgeous ferns also.
Wednesday, March 5, 2008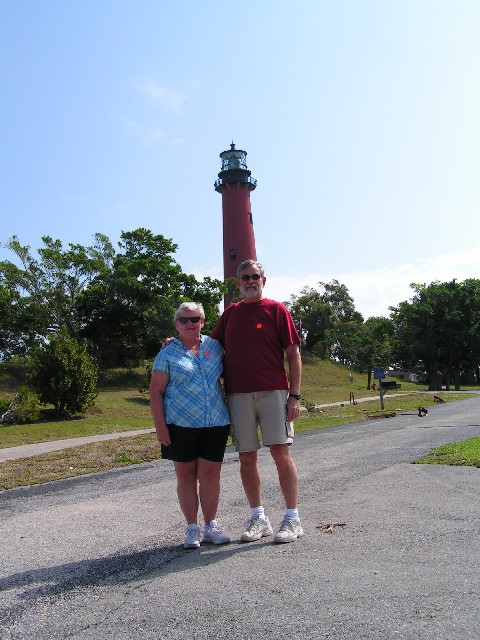 We drove into Jupiter to take a tour of the Jupiter Lighthouse. It is located on an active Coast Guard Station and therefore we had to be accompanied by a tour guide. (Active: 11 base houses and a commissary/PX.) Yes, we were able to climb to the top of the lighthouse, all 106 steps!
March 6-10, 2008
March 8 - Tricia's Birthday
This is down time for us. Carol works on cutting out a new quilt and Bob works on some of his computer tasks.
March 10-11, 2008
March 11 - Betsy's Birthday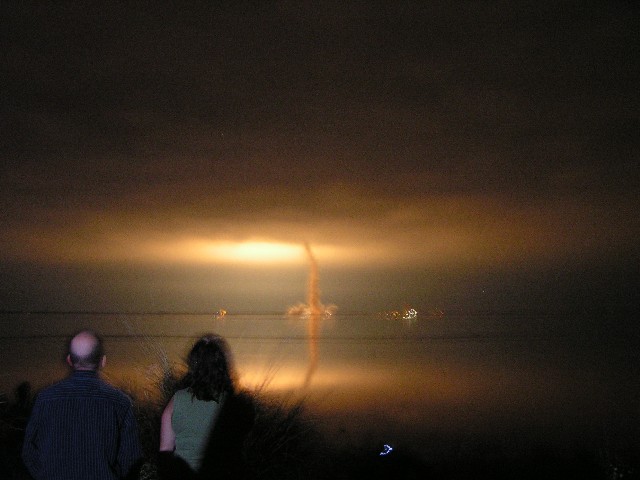 Our friends, Rick and Becky invited us to Titusville to see a night time launch of the space shuttle, Endeavor. BLAST OFF IS 2:28 AM !!! We got some sleep afterwards, but we are so tired.
Tomorrow we take off for out next date at the Ortona Locks, just west of Lake Okeechobee.
Wednesday, March 12, 2008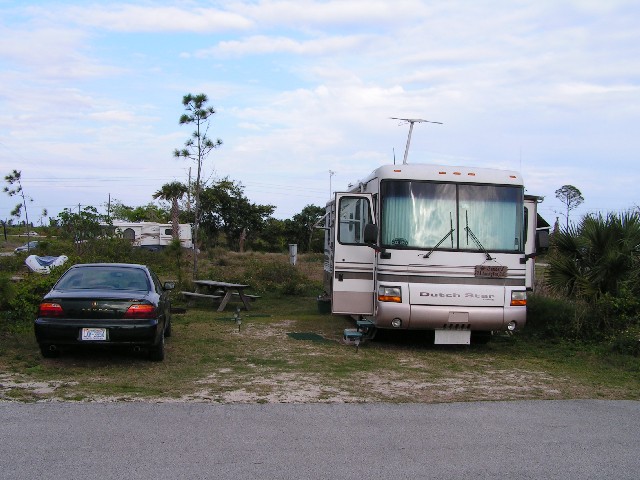 We are leaving Jonathan Dickinson State Park after a weeks stay. The ravages from hurricanes in 2004 have really laid waste to this park, but it will recover.
Thursday, March 13, 2008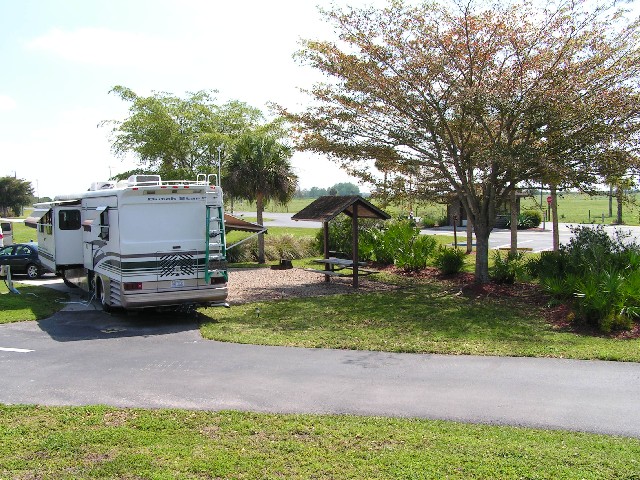 This is Ortona South. A campground run by the Corp. of Engineers. WOW !! What a difference a day makes. Our camp site is beautiful; paved drive thru, fire ring, grill, covered picnic table and shade in the afternoon Florida sun.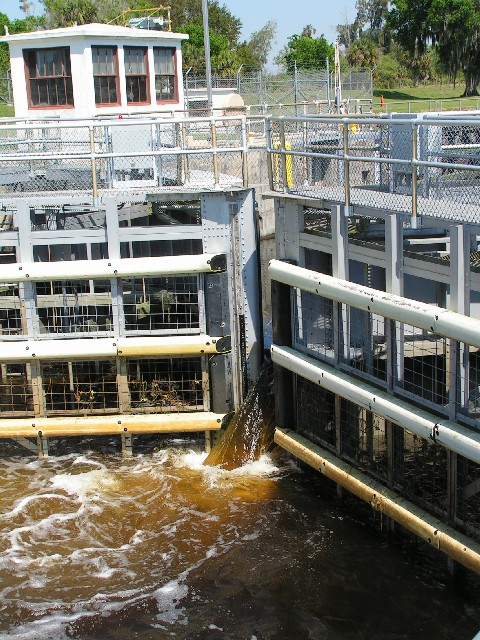 Ortona South Campground
These are the Ortona Locks on the Okeechobee Waterway System in Southern Florida. It allows boats to travel from the East Coast at Port St. Lucie to the West Coast at Fort Myers. We are able to walk across the locks so we can view it from both sides. This is the first year people have been able to do this since 9/11.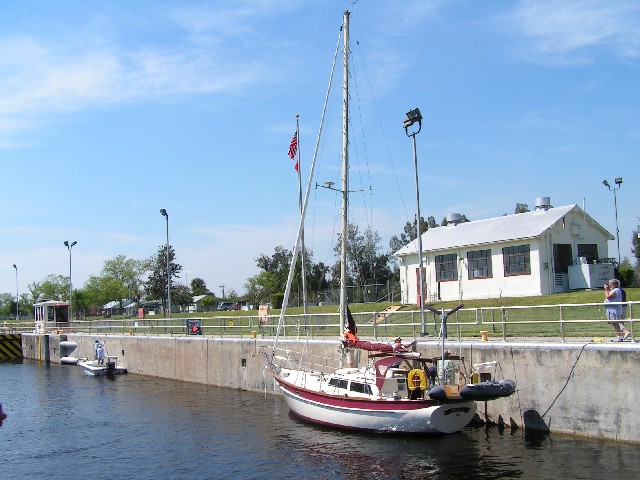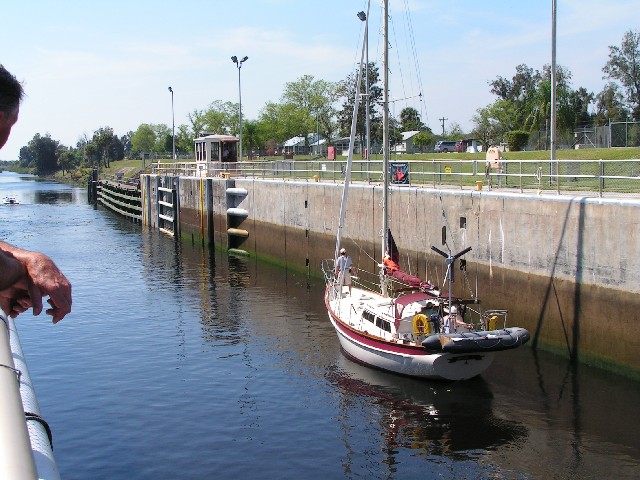 Entering the lock and tieing off. Leaving the lock after the water dropped.
Friday, March 14,2008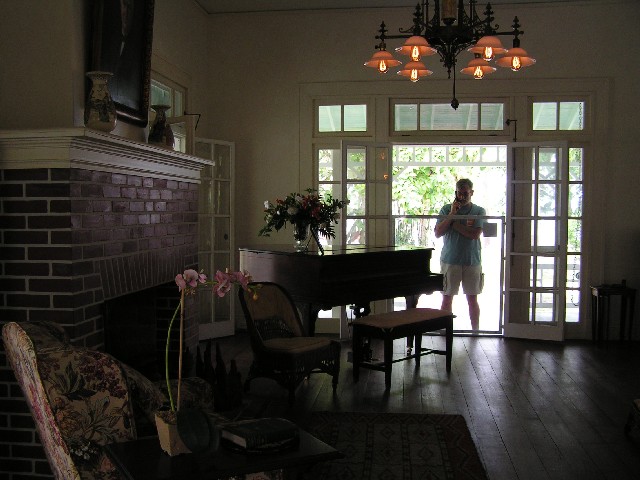 This is the living room/library in the main house (which was called Seminole Lodge) of Thomas Edison's house in Fort Myers. (That's Bob on the other side.) Henry Ford's House built a house next door (The Mangoes), but he only came a couple of weeks in February for Edison's birthday.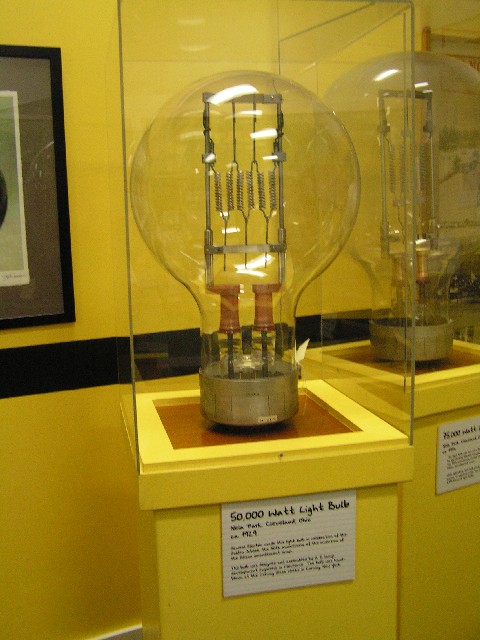 This is 50,000 watt light bulb made by General Electric in 1929 for the 50th anniversary of the invention of the light bulb. And the one in the background to the right was for 75,000 watts. Guess why?
Sandy could have spent all day in the museum where most of his inventions were displayed in several varieties. Also cars from Henry Ford were displayed there.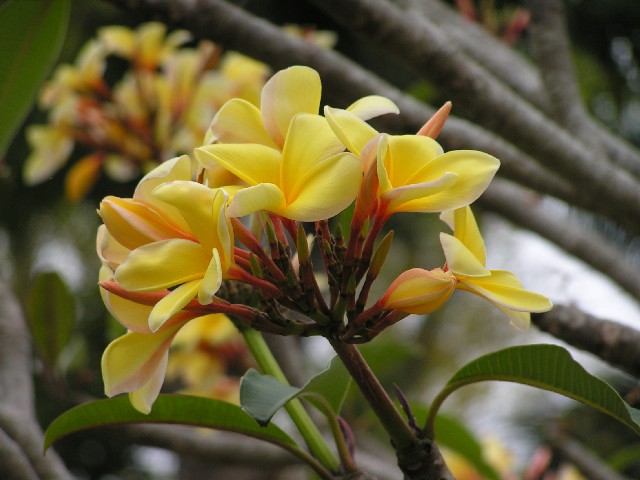 Franagipani is a very fragrant flower from South America.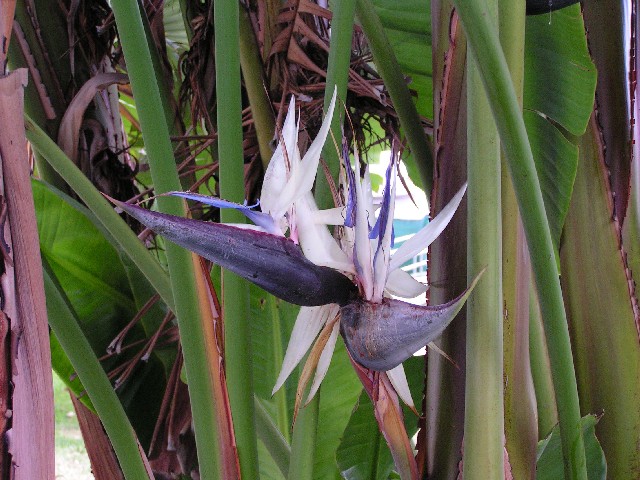 The White Bird of Paradise. Found in Mina Edison's Moonlight Garden. Both she and Thomas Edison were interested in flowers and collected specimens of every kind and variety.
I love taking pictures of flowers.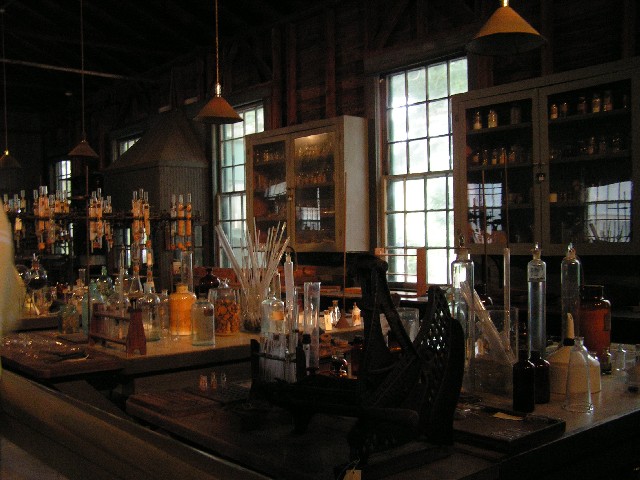 Thomas Edison's lab is pretty well in the same state as he left it back in 1931. Much research was done on producing rubber from the goldenrod plant in this lab. They managed to make a tire from that rubber that would last for 50 years, but said it was not financially feasible to produce them!!!
Thomas Edison was profoundly hard of hearing and all workers in the lab carried pads and pencils so they could write responses to his questions.
Monday, March 17, 2008 – St. Patrick's Day.
We went to a spur of the moment potluck dinner put together by a family from Pennsylvania. Looked like about 40+ people showed up. I took my Mexican Casserole and there was nothing left. (I know, but I didn't have any cabbage. Besides, I thought someone else would be bringing it.) There are no pictures as we just wanted to be able to enjoy ourselves.
Tuesday, March 18,2008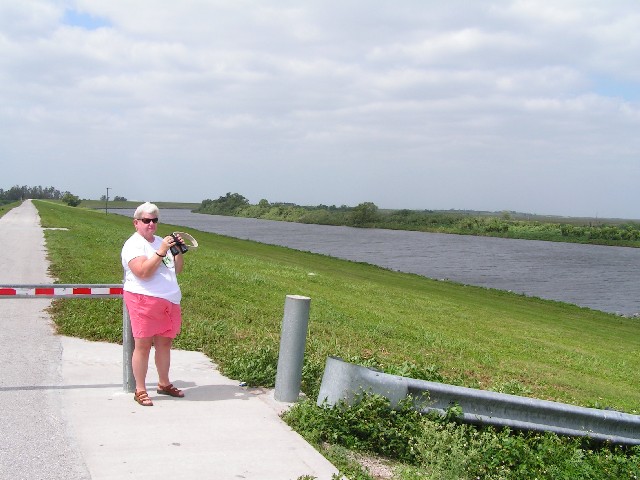 This is Lake Okeechobee! Carol is standing on top of the Herbert Hoover Levee that surrounds the lake. This is the Southwest corner of the lake; it's pretty empty except for the canal that goes all around, which is the water that you see.
Tomorrow we head for Lake Manatee State Park in Myakka, Fl.
Wednesday, March 19,2008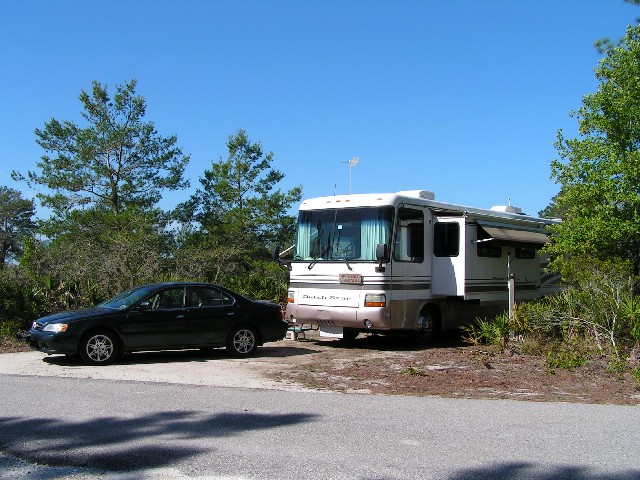 We're getting closer to our final destination (Ft. DeSoto Park), but here we are at Lake Manatee State Park; about 50 miles south of St. Petersburg. Lake Manatee is the water reservoir for the cities of Bradenton and Sarasota. Our campsite is in the sun with no shade. It is not very enticing.
Thursday, March 20, 2008
Today is the first day of Spring! There is also a full moon. Tomorrow is Good Friday.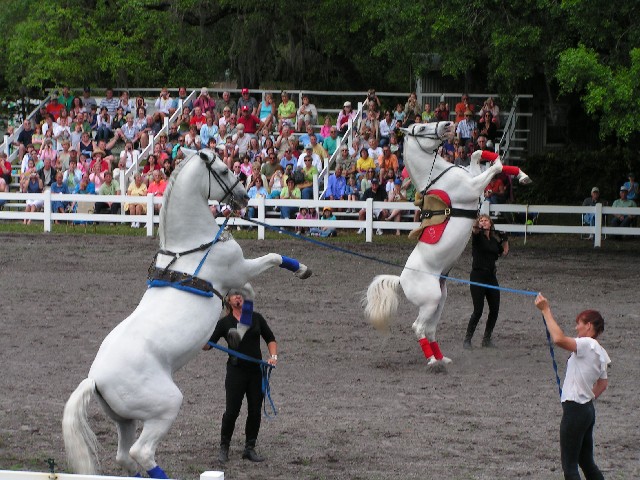 My, how time is flying. The sky is not very pretty today, lots of cloud cover. We went to see Herrmann's Royal Lipizzan Stallions. Their winter home is down in Myakka, about 15 miles south of here. The show is free and lasted for about 1 ½ hours. They did ask for a donation, which we were going to do, but the bucket never got passed by us so we left a donation at the exit gate. The show is run by Herrmann's daughter, Gabriella, and all the riders are five generations of Herrmann women, the youngest being about 3 years old! The horses were beautiful. They are not put under saddle until they are five years old and not ridden until they are about 7 years old. They are born black or brown and can take up to seven years for their coats to change to white. We were able to walk thru the stables after the show and we were also able to see a 5 week old foal.
Friday, March 21, 2008
We rode over to the TECO (Tampa Electric Co.) Big Bend Power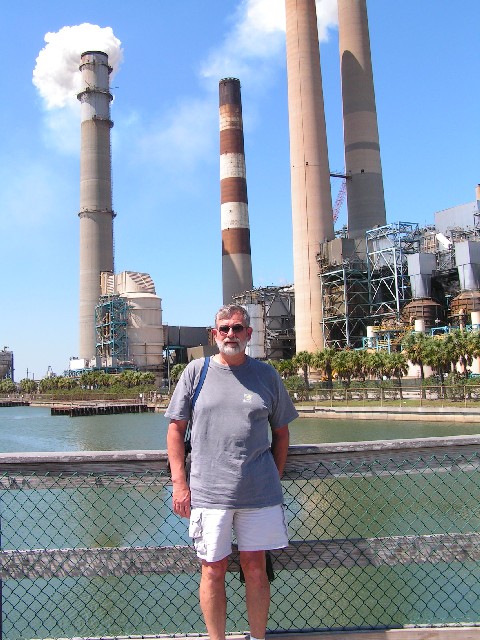 Station in Apollo Beach on the East shore of Tampa Bay. There we were able to see one of the winter feeding grounds of the Florida Manatee. It was just about the end of the winter season so there were only about a dozen manatees there. You could see a cut on the body of one that looks like it has been sliced by a boat's engine. There is also a museum about the manatee as well as a gift shop.

From there we decided to splurge and we GPS'ed our way to AppleBee's restaurant for a lunch/dinner. From there we drove thru Bradenton and up to Anna Maria and found a park where we were able to look across the Tampa Bay and see the water tower in Ft. DeSoto Park; so close and yet so far
Saturday, March 22, 2008
Today is the day! ! ! We're finally back at Fort DeSoto Campground! Yeah !!!! We are located on the west side this time, site 229, only 4 sites down from John and Tillie Blackmore, who are back here for two weeks also. This time we pulled INTO our site;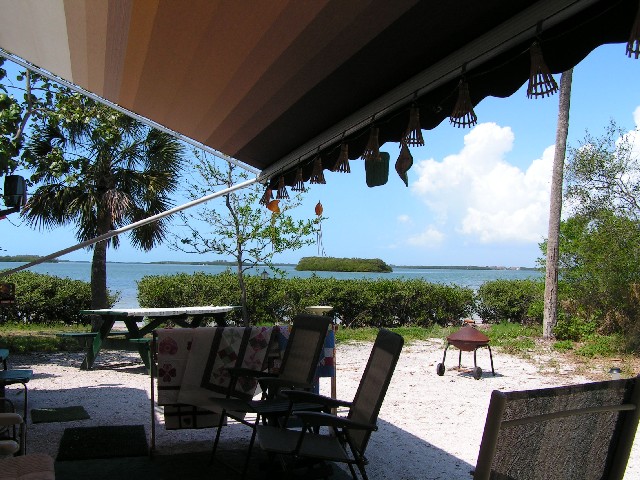 so our front window looks out over the water, what a view!
Tillie said to be here by 12 noon, we were going to have a belated St. Paddy's Day party. Wayne and Judy Clark were coming back over from Lakeland again. There was only one little problem. Luckily we were able to get set up before it started raining, which it did for the next six hours. We were all sitting under John and Tillie's awning, but the rain was coming thru the awning, we were all getting wet, so we had to eat inside. But we had a great time. The menu was corn beef and cabbage, yum! They also had invited some other friends who were staying over in the pet section, Ron and Gene.
Sunday, March 23, 2008 Happy Easter!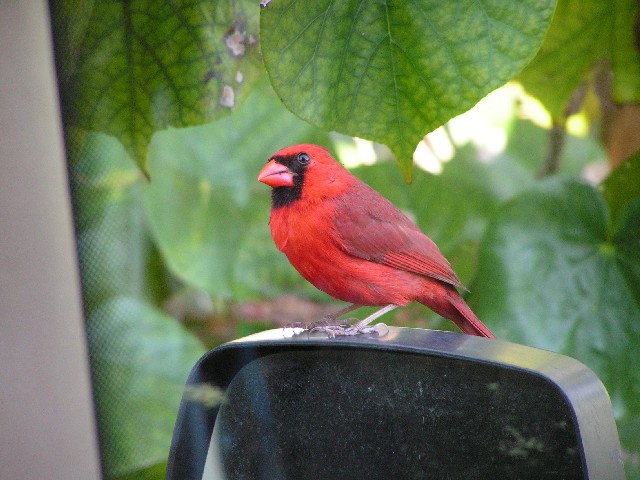 This is the earliest Easter has been since 1913. It will not be this early again for another 228 years. There was a sunrise Easter service over on the East Beach at 7:00 am, that would have been amazing if I had gone. We set the alarm, but I just couldn't manage to wake enough to make it, sorry. The day was absolutely beautiful. Today we had dinner over at Gene and Ron's motorhome. Ham, corn chowder (casserole), mashed potatoes, sweet potatoes, deviled eggs and a pineapple angel food cake for dessert. By 4 pm I was so tired I had to go back home for a nap. My arm has been acting up with pain shooting up my elbow and shoulder.
Monday, March 24, 2008
Today we took John and Tillie and we drove up to Sam's Club. From there we drove over to The Pie Factory. Someday we are going to learn that The Pie Factory is CLOSED ON MONDAYS, STUPID! After dinner, we ended up at Tillie's to play cards.
Tuesday, March 25, 2008
Went to Wal-Mart with Tillie. Picked up a birthday card for Mom. Before going out Sandy dropped the card in the mailbox at the campground office. We went to Hooter's for dinner with Cathy and Larry. We had a package (sensor's for waste water tanks) mailed to Larry's house and we were able to pick them up.
Wednesday, March 26, 2008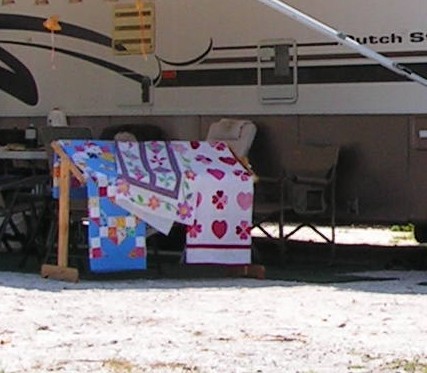 I started working on my quilt again. Hoping to get it done so I can get it on the frame that Bob has made for me, He has done such a wonderful job. I just felt I needed some quiet time. The quilting helps me to relax. We went out to dinner at Hardee's and stopped by, where else, Wally World.
Saturday, March 29, 2008 - Mom's Birthday
Today is Mom's birthday. We also took our boat out with John and Tillie in tow in their inflatable. Loaded with margaritas we trolled over to see Ron and Gene. On the way back we spotted a couple of dolphins swimming around and catching fish. This place is so inspirational. The wildlife is amazing.
Sunday, March 30, 2008
Working hard to get the quilt finished before Larry and Cathy get here for dinner. We originally invited them over so Larry could talk to John about his BMW motorcycle, but John and Tillie went up to Tarpon Springs. I felt bad about that, but we had a good time at dinner anyways, Stew beef and rice, steamed veggies, bread, and Dutch oven chocolate/cherry cobbler.
Monday, March 31, 2008
This time we took the boats and headed over to Shell Key with John and Tillie. This time the women sat in the tow boat and let the boys stay in the head boat. We had such fun. Sandy and John like to do a lot of walking and Tillie and I just sauntered down the beach looking for shells. Since they are leaving tomorrow we had them over to dinner so they didn't have to worry about cooking. We did the pork tenderloin on the grill, and I made the microwave cake. (white cake, chocolate frosting)
Tuesday, April 1, 2008 April Fool's Day
Today is John's birthday, they had to leave today and we were sorry to see them go.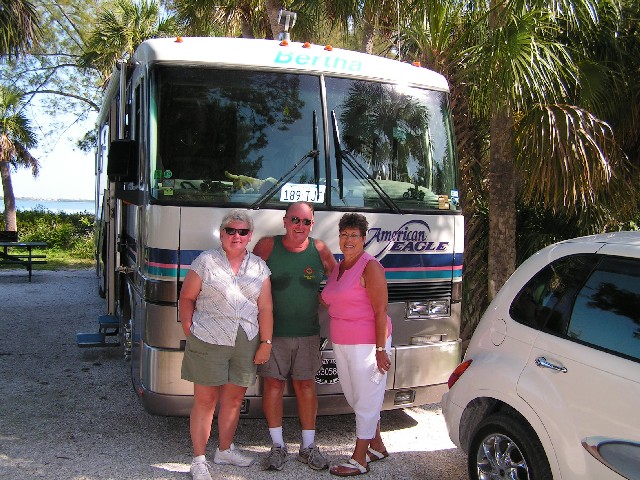 I have been so tired today. I am not sleeping very well, my arm is giving me a lot of problems, and I didn't wake up until 9:38 am. I also ended up taking a nap this afternoon. Basically we rested today.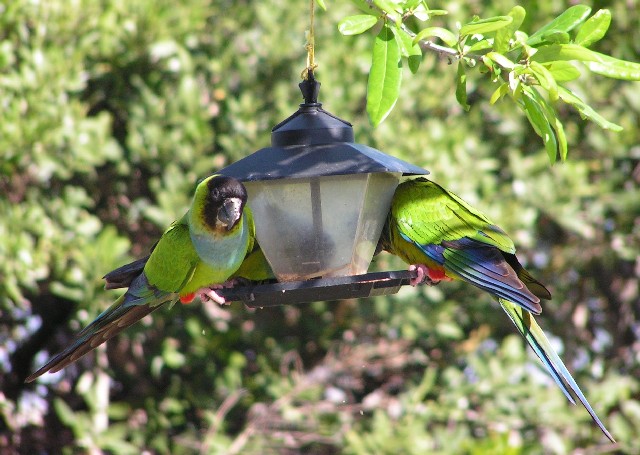 This afternoon we received a real treat. The St. Pete parakeets took a liking to our bird feeder.
Wednesday, April 2, 2008
This afternoon, we took our boat out for an afternoon ride. We rode over in the kayak rental area. On the way back, two dolphins surfaced about 12 feet from our boat. Wow!
The fish were jumping everywhere trying to keep from being dolphin dinner. When we came back we found the parakeets were back again.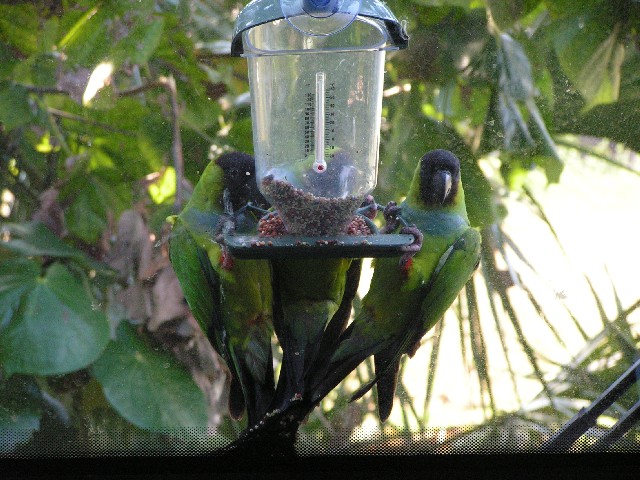 They are getting much bolder. Eating off of the front windshield feeder and walking up and down the windshield wipers! If they get any closer they are going to be flying into our motorhome. Maybe I should set up a cage.
While finishing up dinner, I looked up and told Sandy to look out the window.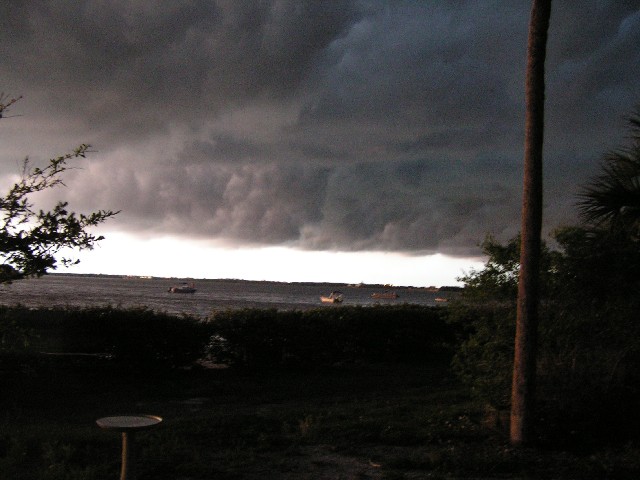 The sky was black! It looked like a tornado was rolling in on it's side. We put the awning down and hoped for the best. Thirty minutes later, while the clouds are still there, there has been no rain and the air is so still you can hear the crickets chirping.
Only two days left. While we want to see everyone at home, we sure don't want to leave here; this is paradise.
Wednesday, April 3, 2008
The day dawned bright, sunny and warm. Our morning rituals have consisted of filling the bird bath and the bird feeders, eating breakfast, going out to feed the squirrels and then deciding what we'll do the rest of the day.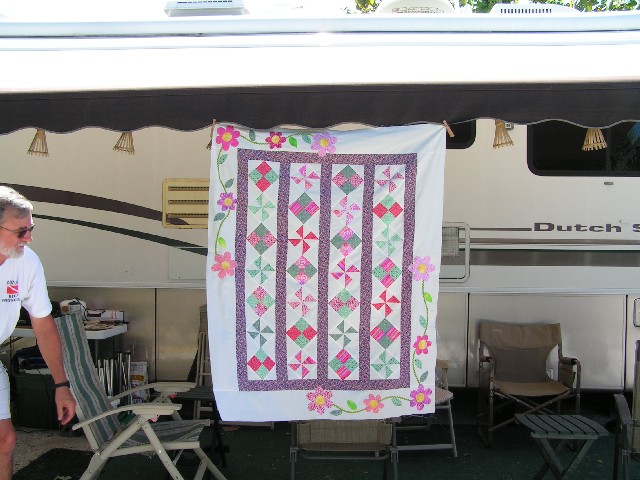 Life is tough but we somehow manage to get through the day (smile). We updated our websites today and downloaded pictures from the cameras. Digital cameras are great for trips like this; you can just shoot away and still get the cream of the crop. I am just about finished sewing the appliqué portions of my quilt and then I will be able to get on to the actual quilting of the piece.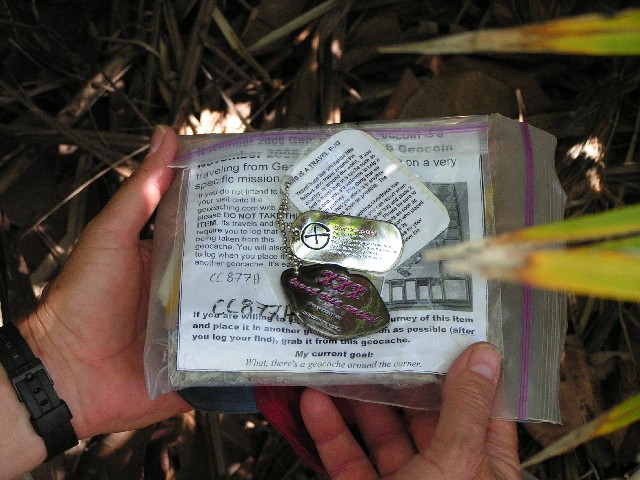 We went geocaching here in the park this afternoon. What fun. All you need is a GPS system and coordinates of different caches that you get off the Internet.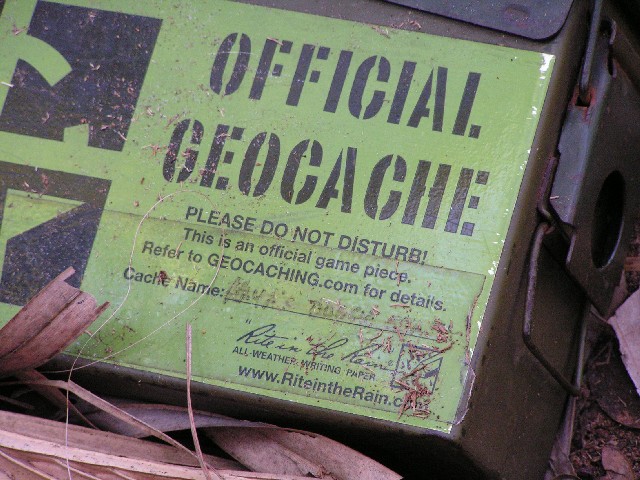 We found all three that we went looking for. This is something I see us getting into big time.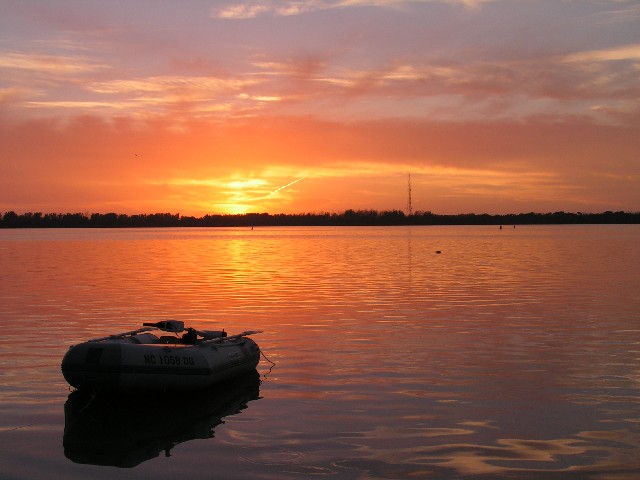 The parakeets (they are really parrots) have become steady customers to our feeders now and they will eat you out of house and home. But they give us such great photo ops it's hard not to feed them.
The sunset this evening was just gorgeous.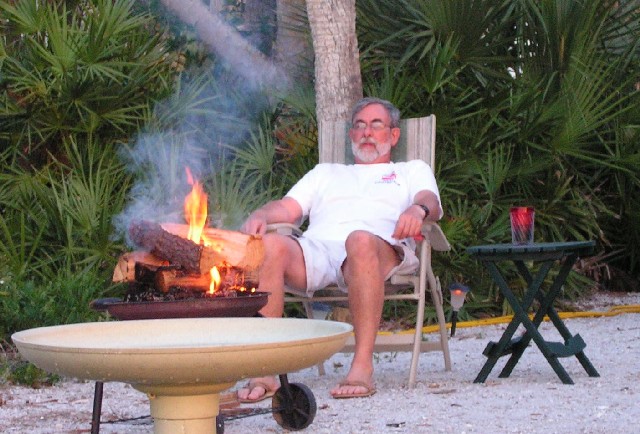 We said our goodbyes to Rick and his wife who have been the campground hosts here for the last three months. They leave tomorrow for home in Maine. Bob decided this was our last chance for a fire even if it was 79 degrees.
Friday, April 4, 2008
Our last day! (sigh) We planned this all wrong. Instead of spending it at Ft. DeSoto, we went off for the day. First we went over to the Skyway Bridge Fishing Pier.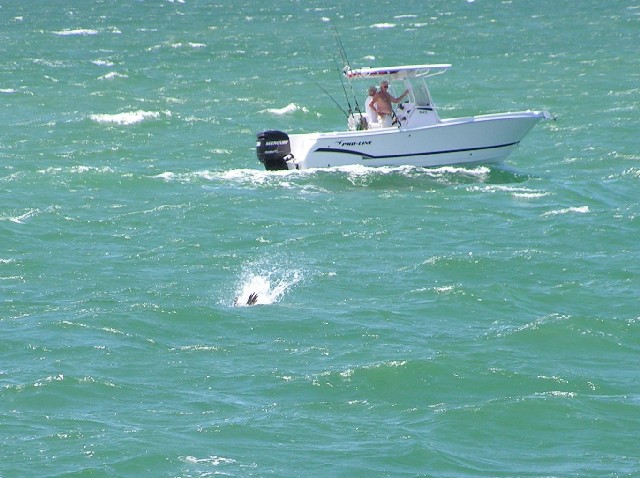 My gosh, it was so windy and the waves and white caps were so big! But the pelicans weren't haven't any problem diving for fish. We were able to look back at Ft. DeSoto and see about 10 kite surfers sailing/surfing (?) off East Beach. From there we headed to WalMart, Sam's Club and finally The Pie Factory. I can't believe we have been in Florida almost two months and this is our first trip here. But I promised the gang at church a Key Lime Pie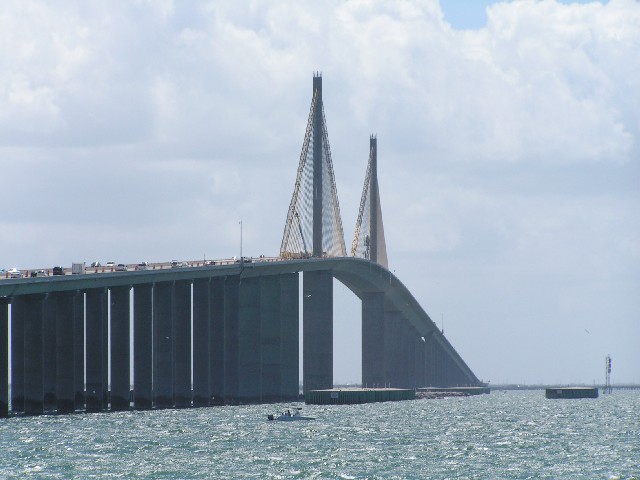 so while we were there….we also picked up a Deluxe Sampler Pie for us. Yum! When we returned back to Ft. DeSoto, it was time to start breaking camp. It was not a lot of fun (where did all this extra stuff come from?) and we did so with heavy hearts. No fire tonight, Sandy had to pack the firepit. But I did make one of our favorite meals, potatoes, onions and hotdogs. It smells so goooooood when it is cooking. Needless to say, there we NO leftovers.
Saturday, April 5, 2008
We left the campground about 10:00 am., leaving with heavy hearts,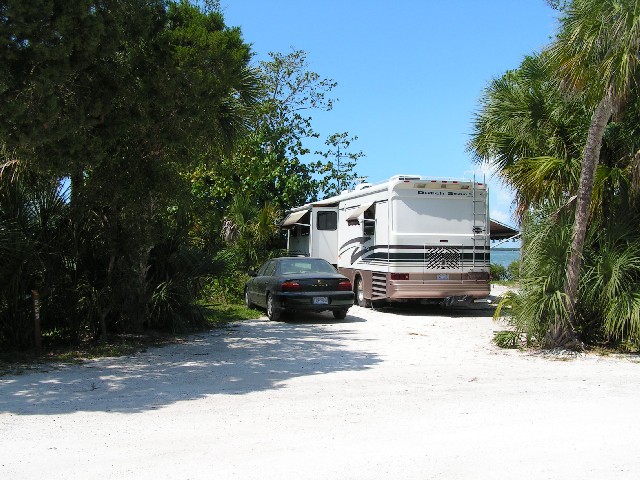 but knowing we were going home to see family and friends again. The cost of diesel was $3.90 in Brunswick, GA., and only $3.79 in Latta, SC. We consider ourselves lucky. In many places diesel was over $4.00/gallon. This year we made it home in one day, pulling into the driveway about 11:20 pm. The boys (all our cats) were there at the door waiting to greet us.
THE END