2008 Annual Summertime Camping Trip
Each year we leave earlier and earlier. Soon we will be full time, I guess. I know that wouldn't bother Sandy.
We arrived at Pride RV Resort on Sunday, July 6th, after spending the night in a Wal-mart parking lot in Florence, SC. The weather is great. We get to see our granddaughter Rachel, for the first time since Christmas! That is just too long, for me anyway. She it still tiny. We get to keep her while her mom and dad going scuba diving.
Friday, July 18th, 2008
We were joined by our friends Becky and Rick as we headed to downtown Waynesville for the opening Folkmoot USA parade. This is their 25th year in operation. Nine countries showed up this year. Twelve were invited, one could not get their Visa's and we believe two had to cancel for economic reasons this year.
| | | |
| --- | --- | --- |
| | | |
| Canada (Nova Scotia) | Argentina | Belarus |
The countries represented were Argentina, Belarus, Chinese Taipei, Nova Scotia (Canada), France, Japan (1st time), Russia, Slovakia and Trinidad. They danced their way down the street in full costume in 86 degree heat; some wearing fur hats and sheep's wool jackets. They were fabulous. We have tickets to see their performance another time while we are in the mountains.
Saturday, July 19th, 2008
We head out for Yogi-In-The-Smokies campground. Not sure what to expect. Although they changed ownership about two years ago, they have a new manager this year. (It is so hard breaking in new managers when you have been coming 24 years and they have only been there a couple of months.) When we got there, our daughter Stephanie and boyfriend Ryan were already there and set up. Becky and Rick's son, Ricky and his girlfriend Jessica showed up late that day after flying into Asheville, from San Jose, Ca. We also took our granddaughter Rachel with us in the RV. The rest of the group had been there for some time and were busy with many activities. I always say I'm going to keep track of all the wonderful meals we have while camping and I never do….hmm…one of these days.
Sunday, July 20, 2008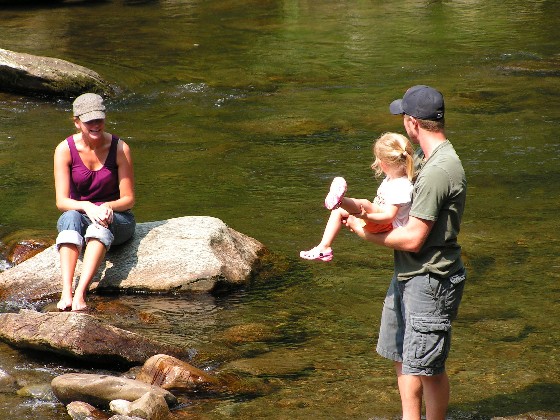 We have convinced Stephanie and Ryan to move there campsite to a campsite closer to us. It was a better site for putting up a tarp to keep the rain off. Afterwards they took a walk down to Mingo Falls with Rick and Jessica. By the time they got back it was time for dinner and I was hungry so I was rushing everyone to the picnic table for eats. While I was sitting there stuffing my mouth my other daughter Tricia, mentioned out loud, " Stephanie, when did you get a new pair of earrings?". Stupid me, was looking at her ears, and I certainly didn't think they were new…when…BAM!…Bling ! Stephanie had a diamond ring on her hand! STEPHANIE IS ENGAGED! ! ! ! Bob and I are so happy, I was running around the campground, dragging my daughter with me to show her ring to all our camping friends. Ryan is so sweet. We have been busy trying to get Ryan caught up with OUR camping traditions.
Monday, July 21, 2008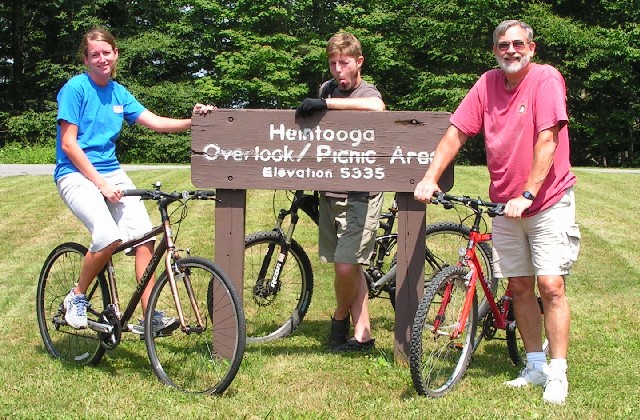 One of those traditions is biking down the unpaved, non-graveled, Heintooge-Roundbottom Road from atop the Blue Ridge Parkway. It's a 21 mile road that comes into Great Smoky Mountains National Park from the parkway, and ends up in downtown Cherokee, but we don't go that far; it goes right past the campground. It was an old logging road back before the land was a national park and its all downhill. I did not go this year as I am recovering from plantar fasciitis. Also getting all the bicycles to the top of the mountain was a planning nightmare. Ended up with Tricia driving the backup vehicle down behind them. Unfortunately Stephanie and Ryan had to leave on Tuesday, so we wished them safe travel and they were on their way. But we still had more fun planned.
Thursday, July 24, 2008

We are on our way back to Waynesville for a Folkmoot Spectacular at Haywood County Community College. A wonderful evening of performances by the groups I mentioned above.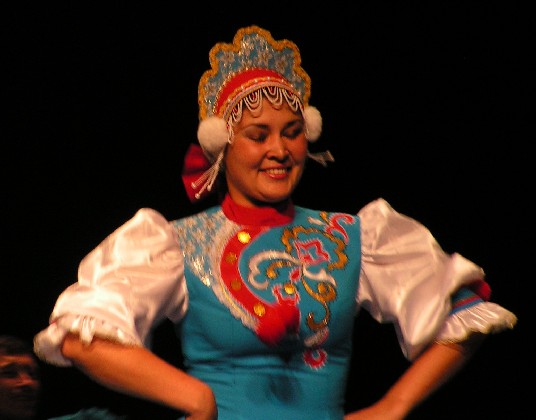 They were all wonderful; and it allows me to travel around the world without leaving the USA, The only group that got a standing ovation was from Japan. It consisted of 18 high school students playing about 32 different drums. My gosh! My heart started beating to a different pace listening to them play. They were fantastic!
(The picture had to be taken without flash, my apologies).
July 24 - August 3, 2008
For the next 8 days or so we continued to enjoy the company of friends and family. This is a camping trip about friends, not sightseeing or touring. We have been coming to this area for 24 years and we have done all the touristy things. We are here for some R&R. Hopefully the pictures below will show you some of the fun and/or relaxing things we participate in.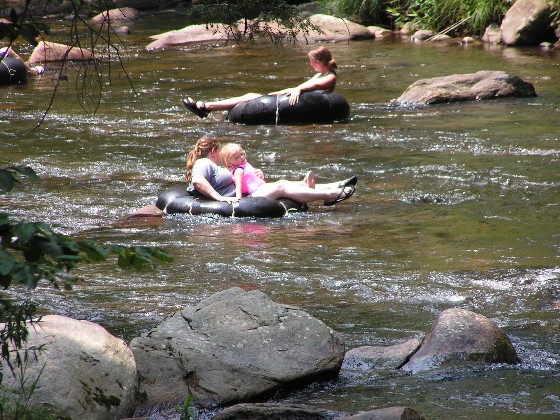 Tubing was usually an everyday activity. The water is very cool, but the sun is very warm. I have done my time on the river. I now tell everyone I am the official photographer for water activities (haha).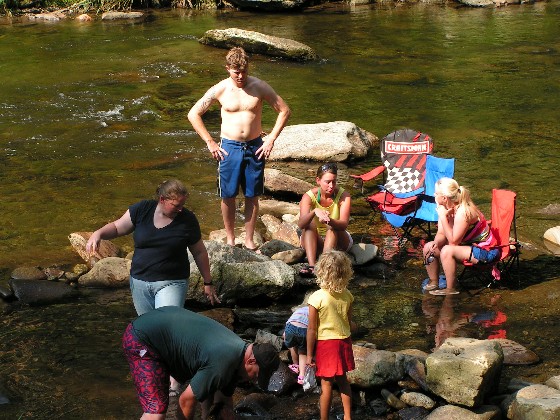 Below is a picture of my other half, Sandy.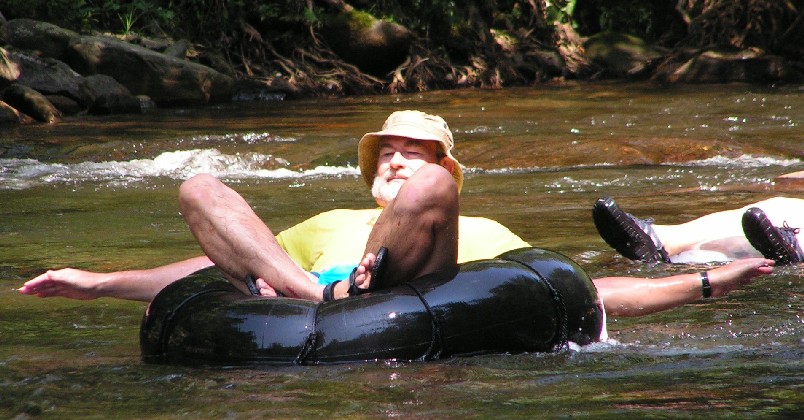 He keeps on floating down the river like he's got all the time in the world (which he does). And if a person is not floating down the river, they are sitting in the river.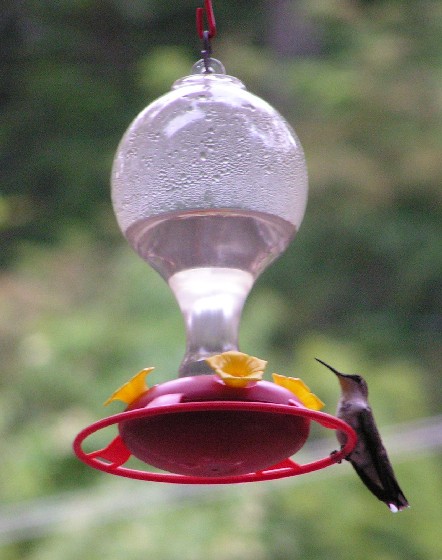 The ruby throated hummingbird thrives in this area. We can put the feeders out, and they show up in a matter of hours. It's like they are waiting for us to arrive. We learned this from some friends who used to camp here and we have continued the tradition, and we now have others bringing feeders also.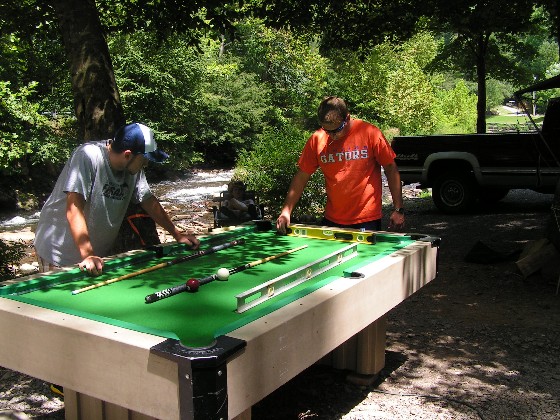 Our friends from Florida bring some of their entertainment with them as well as some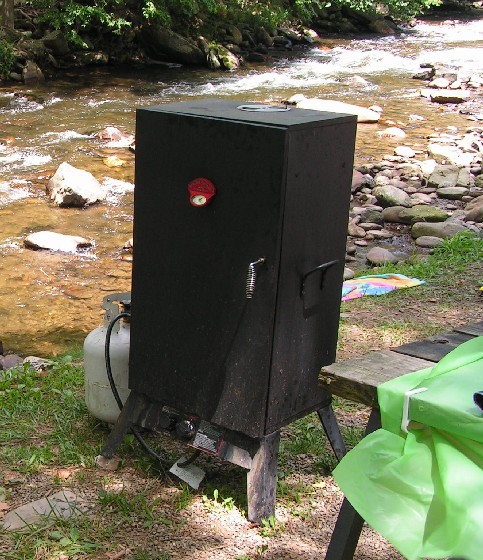 cooking utensils. I think you can safely say…we are not your usual hot dogs and hamburger campers!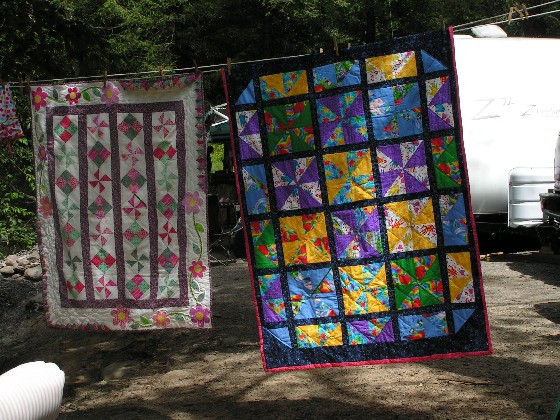 To picture to the right shows what I spent a lot of my time doing. The quilt on the left was pieced in Florida this spring, and I finally got it put together and hand quilted and binded here. I can work outside where the sunlight is great for stitching. Hanging them outside I also learned is a great way to find other quilters who are campers. They will walk right up and start talking and we instantly have something in common. A great way for meeting great women!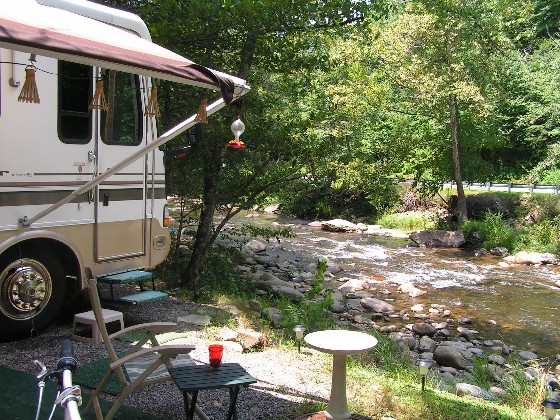 This last picture shows the location of our motorhome on the river. As you can see from the picture we ARE RIGHT ON THE RIVER. While we enjoy our location we do have a healthy respect for this little river. Many people seem to think this is a little harmless creek but we have personally seen the destruction this river can do. Just last year it overran it banks in about 20 minutes after a rainstorm. I'm not trying to scare anyone. I just want people to realize that water is a powerful force of nature.
Well, the party was over, and we had to say goodbye to so many. Darrell, Tommy & Julia, Tug & Tonya, Mark & Taryn, Skip & Patti and the whole Georgia crowd, Rick & Becky, and Connie & Ronnie. Now most of them had to leave before us, because they still have to work. Boy, life is tough, but someone has to keep the country

running

.
One note I'd like to add. This campground is far up a "holler" in the Smoky Mountain Range on the Cherokee Reservation. Cell phone service is sporadic at best and just a year or so ago it didn't work at all, Same for Internet service.
THE END