Monday, July 5, 2010
What a way to start our summer vacation with a trip to see our granddaughters. Pictured here to the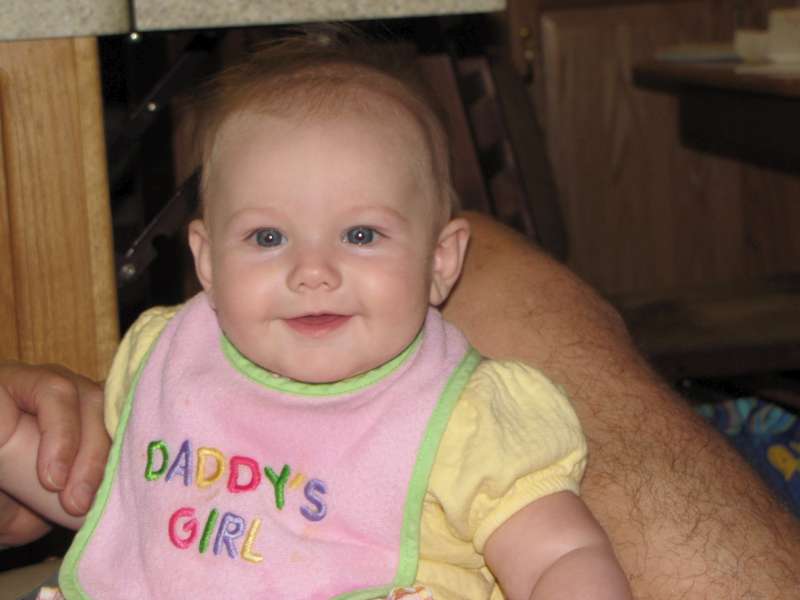 left is our newest granddaughter Kylie who was 4 months old just a couple of days before this picture was taken. It's her turn to shine in the spotlight. Yes, I am one of those proud grandmas who like to show pictures (when I have them that is). And I especially like to show off Poppy when he is handling feeding duty.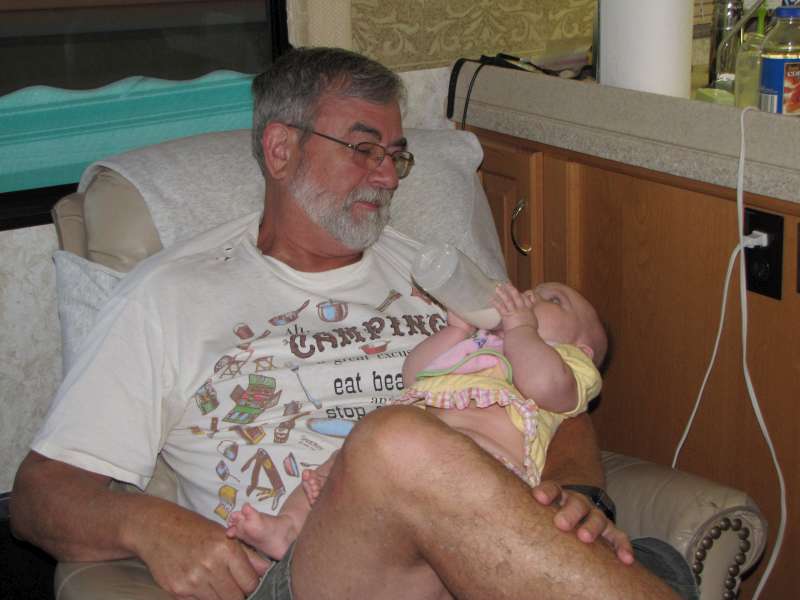 We are up in the mountains of North Carolina in Maggie Valley. We will be traipsing around here for the next couple of weeks with friends that we have been camping with for about 27 years. (Ah, but I get ahead of myself.)

This year things are happening in a little different order. My family on my mother's side wanted to get together for a reunion in Pittsburgh, PA. The oldest group left is five first cousins and their respective families. We are coming from California, Florida, North Carolina and two still live in the Pittsburgh area. It was really great to see my cousins. In the last several years the only time we have managed to get together is for funerals, so this was definitely a better situation!
July 15-20, 2010
What made this trip even more special for me is I was able to bring my oldest granddaughter, Rachel (5 yrs old) to see Pittsburgh and visit with her cousins up here for the first time. Coming into the city for her first time we came through the Fort Pitt Tunnel at dusk. As anyone who has ever visited Pittsburgh, THAT is the only way to enter the city! I may have been gone for many years, but it still can bring a lump to my throat. Rachel was truly impressed, and I quote, "It's better than the cities I've seen in the movies!"

The next morning (July 16th), we took a ride to the nearest Giant Eagle grocery market where I bought 2 pounds of "Chipped" Chopped Ham, and that was just for me! We spent some time just driving around the old "Burgh" before we caught up with the first cousin, my sister Betsy and her husband Mike, from California. A little later we drove up to see our cousin Margie and her husband Bill, where we spent the rest of the evening.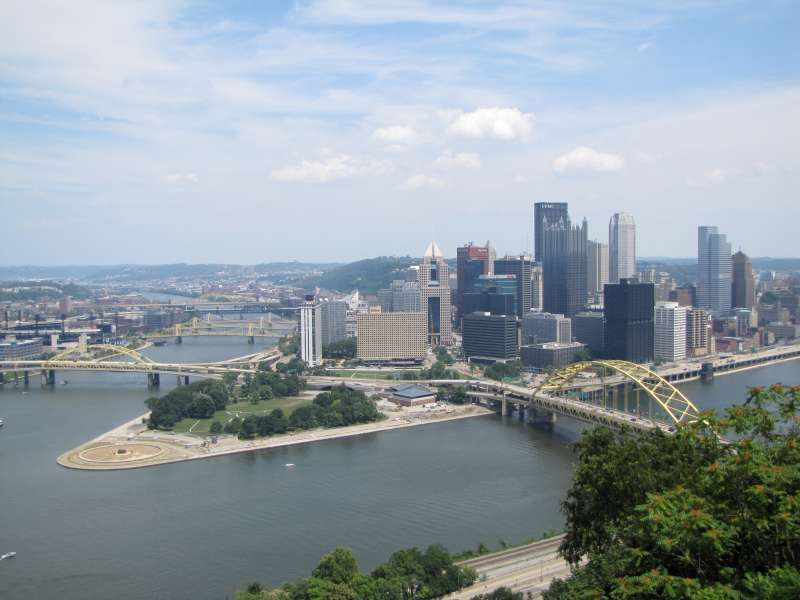 The following morning (July17th), we are off on another adventure with Betsy and Mike. We are headed for Mt. Washington to get pictures, but it would be just too easy to take the Parkway, Mike likes to follow the "Belts" around Pittsburgh. I believe we followed the Yellow Belt so we could ride past Kennywood Park, an amusement park (one of only two) listed on the register of historic places in the US. This is where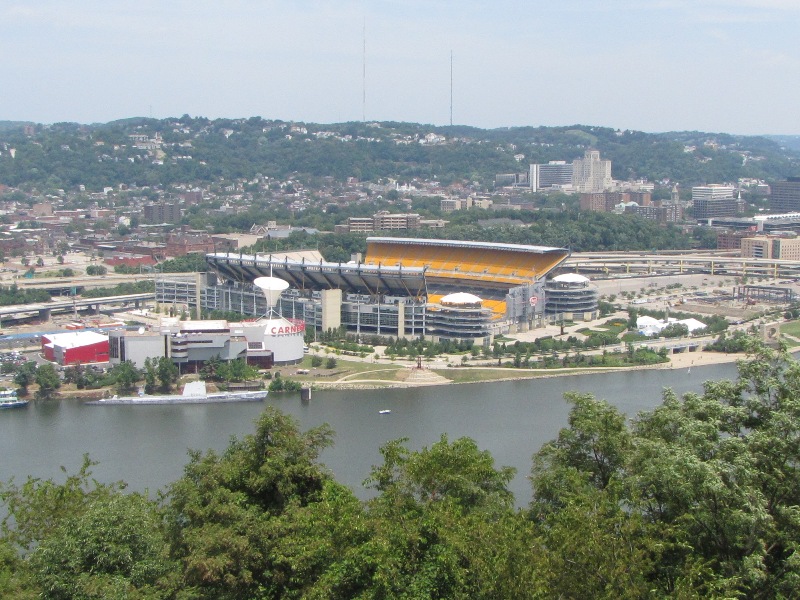 we learned to ride roller-coasters as very young children, riding on "The Little Pippen" by the time we were five or six years old; and still home to some of The Best wooden roller-coasters in the United States. (Can you tell I am still in love with Pittsburgh?).
After stopping for lunch we reached Mt. Washington to get pictures. To the right you can see Heinz Field, the new home of the Steelers!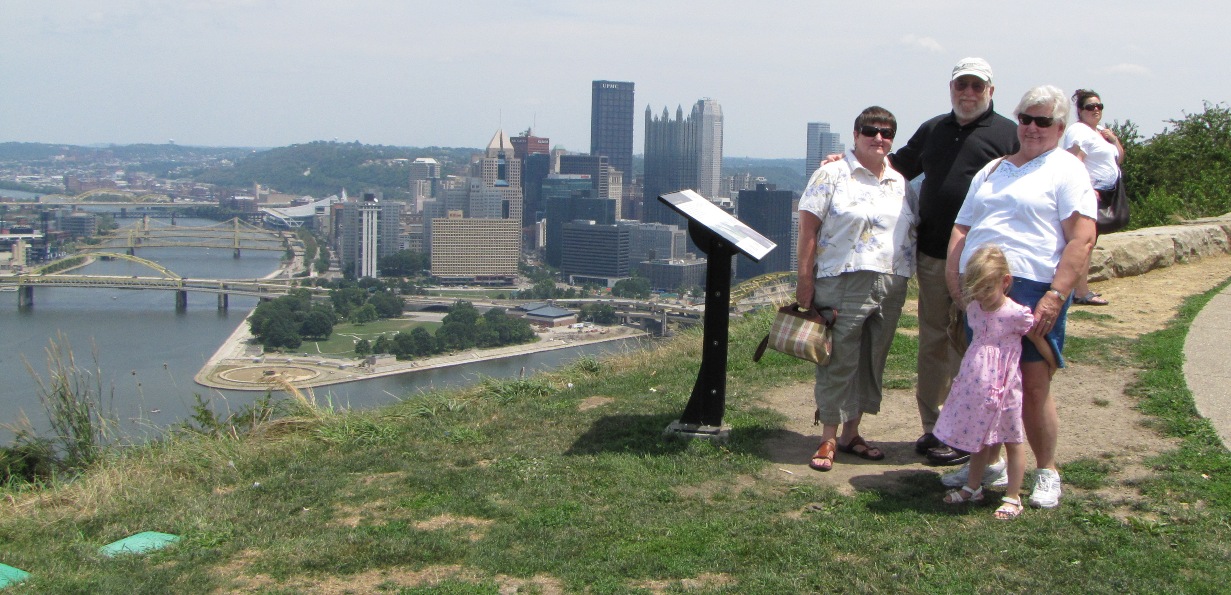 We also captured a few more photos of the family before heading home to Margie's for a home cooked meal. Rachel has been a good sport about being dragged all over the city while we reminisce about our being raised in Pittsburgh. Even more surprising, I'm still learning things I never knew about the family before now. After leaving here, we head up the Blvd.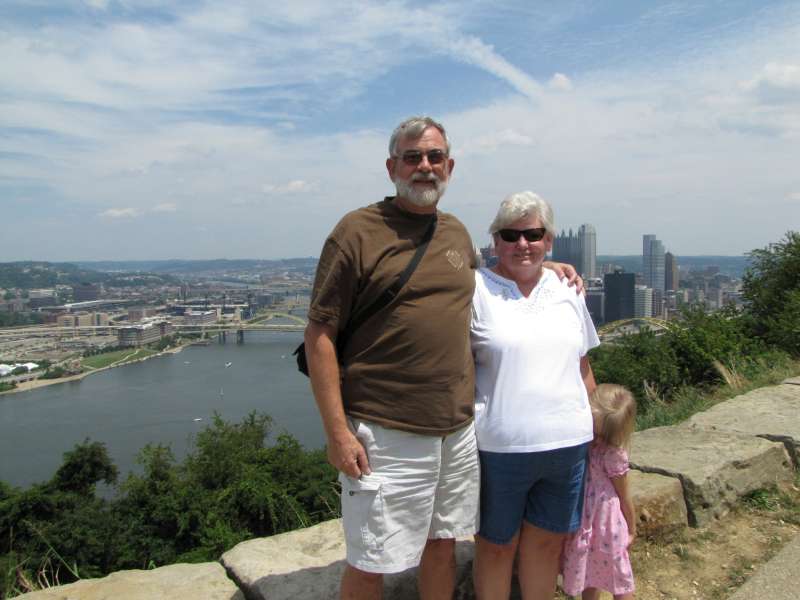 Of the Allies, through SchenlyPark, Regent Square, and up to the cemetery to visit graves of family members. But, what we had not counted on was how slow traffic can go, when it is ground to a crawl by the dreaded orange barrels!