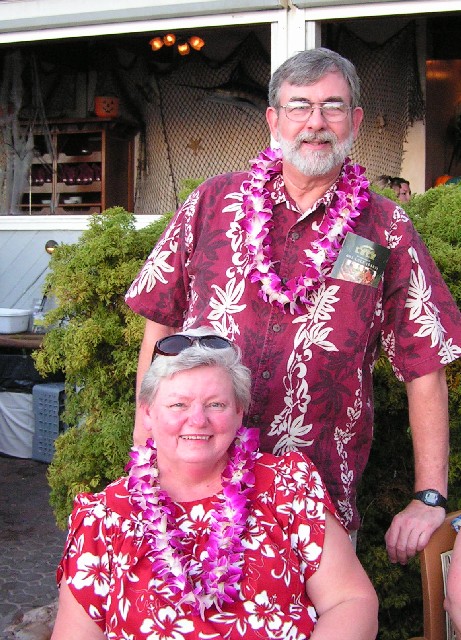 Hi, we are Carol and Bob Sanders. We are part-time Travelers. We are typically on the road for about 5 months each year. We will usually spend about 9-10 weeks in Florida during January-March. We will make several trips to Maggie Valley to enjoy the mountains of North Carolina. It doesn't hurt that our Granddaughter Rachel lives only 10 miles from our Campground there. If we can ever find it possible to give up all our "STUFF" we may become Full-Time Travelers.
We travel in our 1998 Newmar Dutch Star motorhome (Big Bertha), towing our 1999 Acura 3.2 TL (Connie) 2008 Honda CRV (?? still too new to us to have a name yet).
Bob worked for DuPont doing Mainframe maintenance for several years and then migrated into Network and Server Management. In 1999 DuPont outsourced their IT services. After 23 years of service Bob was transitioned to Computer Sciences Corporation. For several years he sat at the same desk doing the same job, but DuPont sold the location to DAK Americas, and they eventually decided not to contract the IT function, but to bring it in-house. Bob's service transitioned from DuPont to CSC, so he wasn't interested in starting a career with a new company, so accepted a temporary assignment about 100 miles from home at another DuPont location. After about a month in a motel, we purchased "Big Bertha" and Bob lived in her during the week, returning home on weekends. The temporary work turned into a 2 & 1/2 year assignment. After that assignment Bob found a temporary assignment where he worked from home for 5 months. In January of 2006, it looked like he would be laid off about 5 months before reaching full retirement, but another temporary assignment came up, but this time it was 400 miles away in Front Royal, Va. After the 3 weeks, he was again asked if he could stay longer. He agreed, and moved from the motel back into Big Bertha in a local campground. He retired in June 2006 with 30 years service.
Carol stayed home to work raising our two beautiful girls. Once the girls were in school, Carol started volunteering in the middle school library. This turned into a part time job there. After several years at the library, she went to work for a local company in the shipping business that repaired Seagoing Containers. After about 5 years there, she was let go as the company had to make cutbacks.
Bob and Carol now use there skills as volunteers at their church, St. Paul's Evangelical Lutheran Church. Bob is the Technology resource, and Carol is the Church Librarian.