Tuesday, March 1, 2011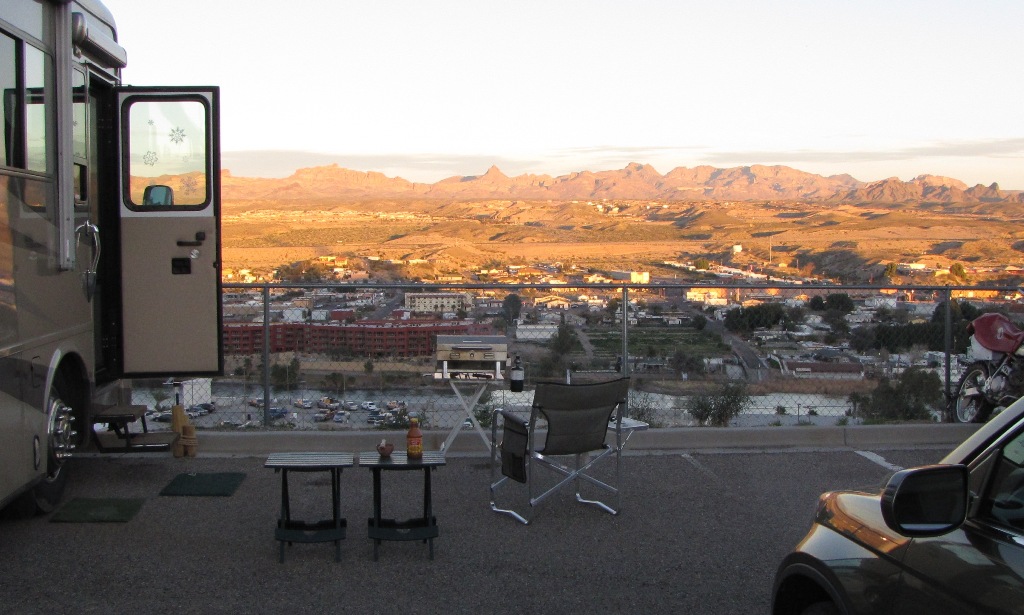 Today was dump day. We also moved from the Tropicana to the River Palms RV parking lot high atop a bluff overlooking the hotel, and Colorado River. It's beautiful up here. What a panoramic vista out our front window. Guess we'll be staying here for a week or two.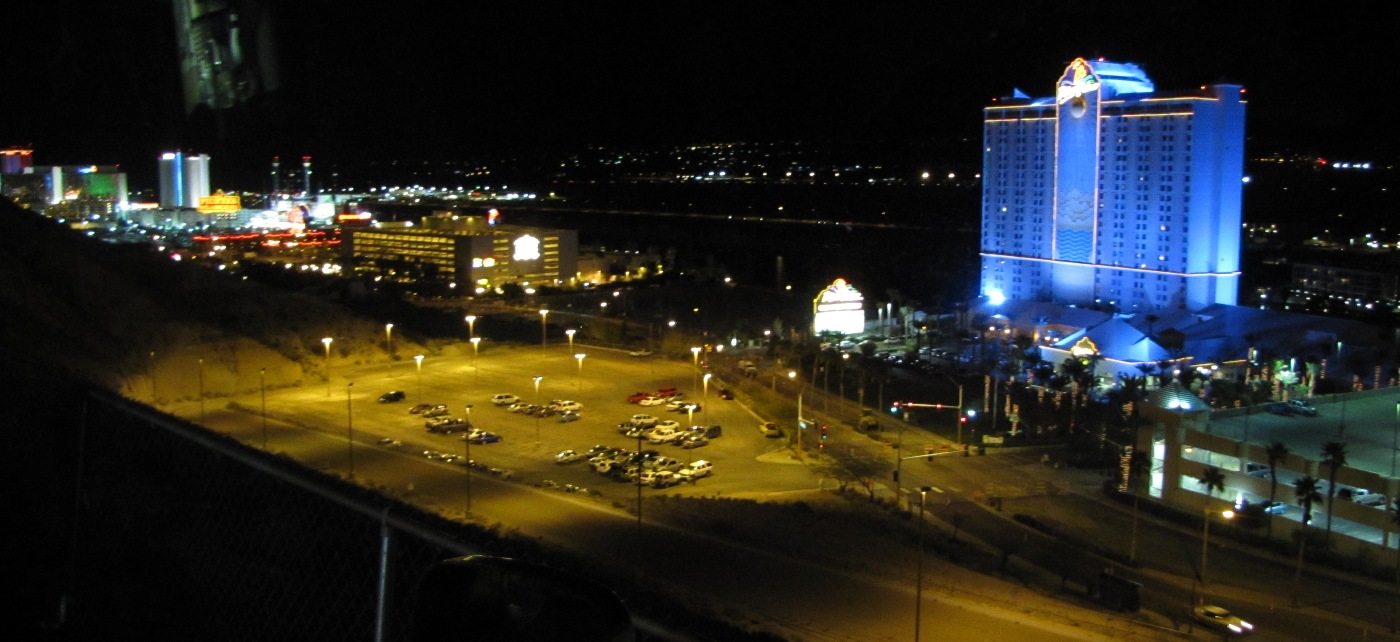 Thursday, March 3, 2011
Road Trip!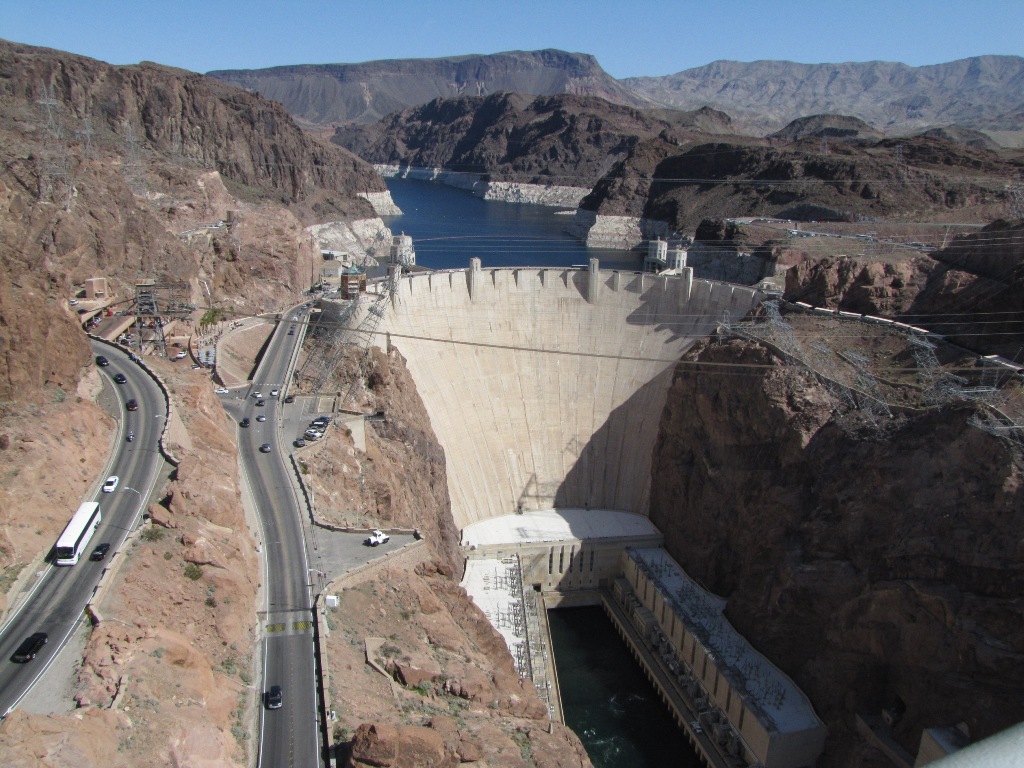 Today we are off to see the new bridge over Hoover Dam and also to scout out other campgrounds further north of here. We didn't realize we had crossed over the bridge until we saw signs on the far side. YOU CAN'T SEE A THING FROM THE BRIDGE!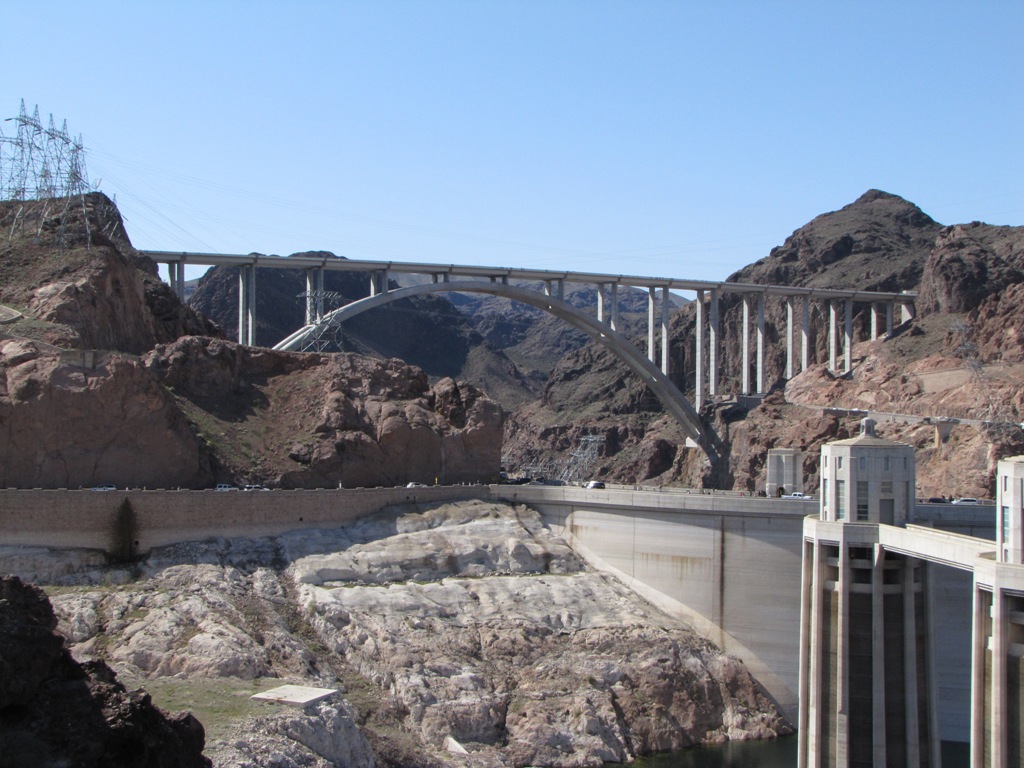 We knew we were close, but there was no notice; guess they didn't want traffic slowing down on the bridge. There is a visitor center at the edge of the bridge where you can park and walk out on the bridge.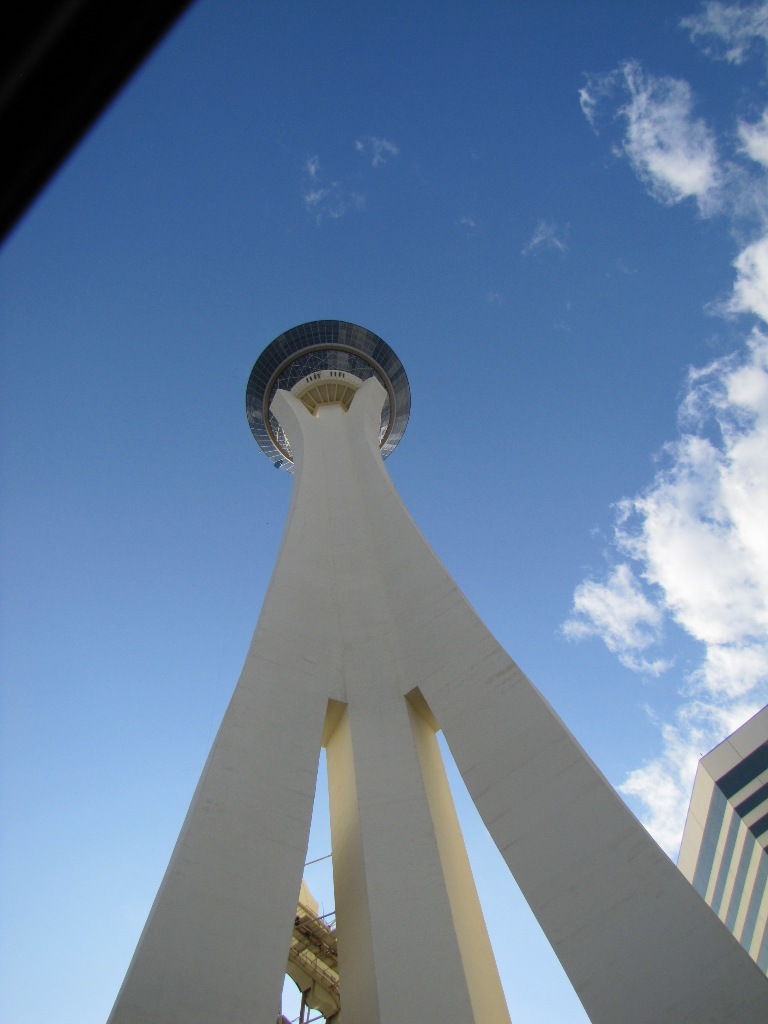 THERE is where you get the phenomenal views! They have a walkway just for people to walk out on the bridge. But they have not taken any preventative measures to keep people from jumping off the bridge; something just waiting to happen. We also drove down to Hoover Dam to get more pictures of the bridge.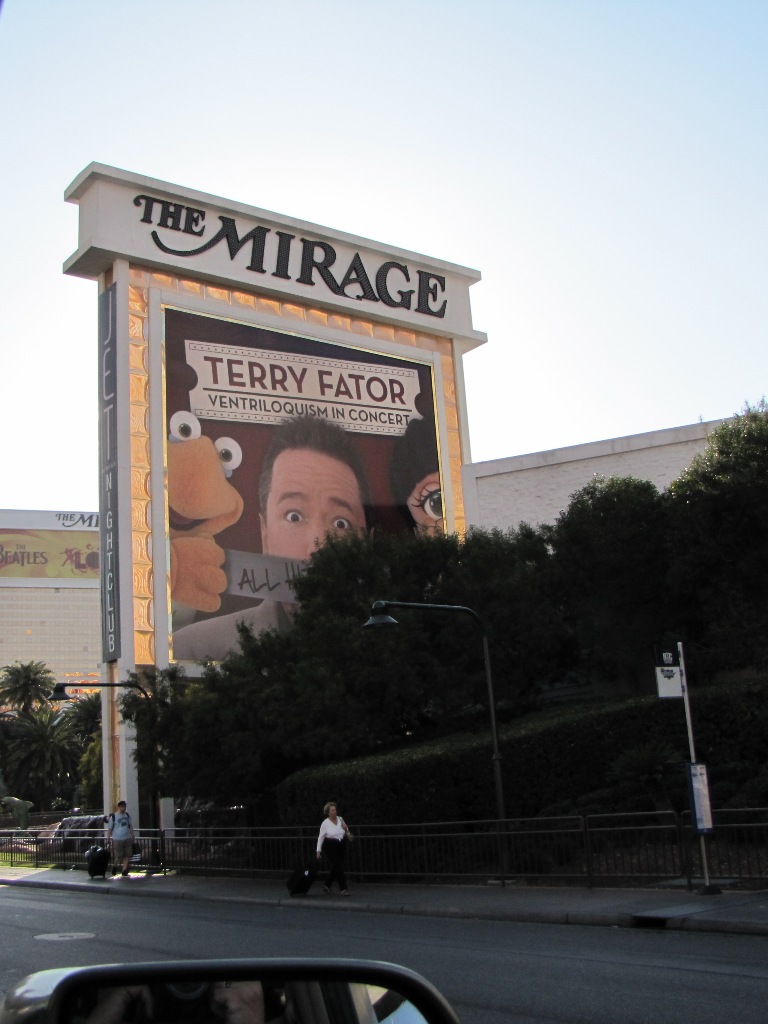 It was a beautiful day!
Then we drove over to Lake Mead National Rec Area. I am now the proud owner of my Senior Pass for National Parks and Rec Areas. Half price sounds good to me. I didn't really see anything very awe inspiring about any of the campgrounds, but the price is right in the range we need and we can use our senior passes which gives us ½ price discounts.
On the way back to Laughlin we drove down "The Strip" in Las Vegas. It was still daylight so none of the lights were on or anything. But it sure has changed since we were here 20 years ago. We never got out of the car.
Friday, March 4, 2011
Happy Anniversary Bob and Carol !
Another beautiful day. Today is our 39th wedding anniversary. Boy, that's a long time and we're still together. Must be something good going on. J Bob cooked breakfast. In the evening we went to the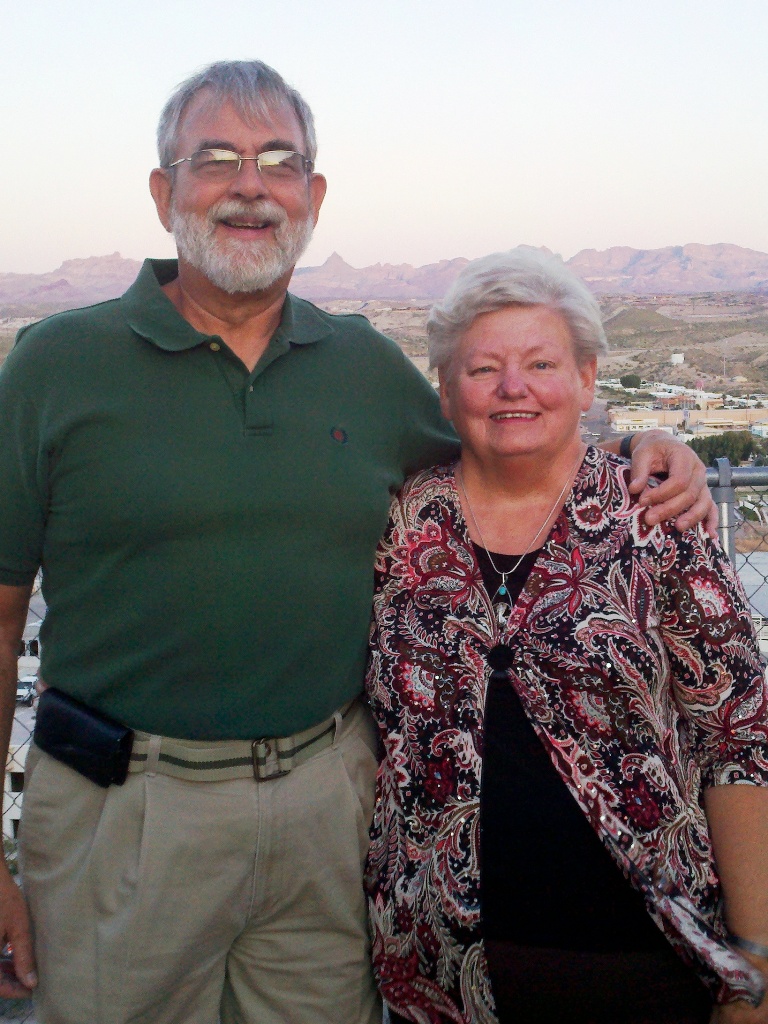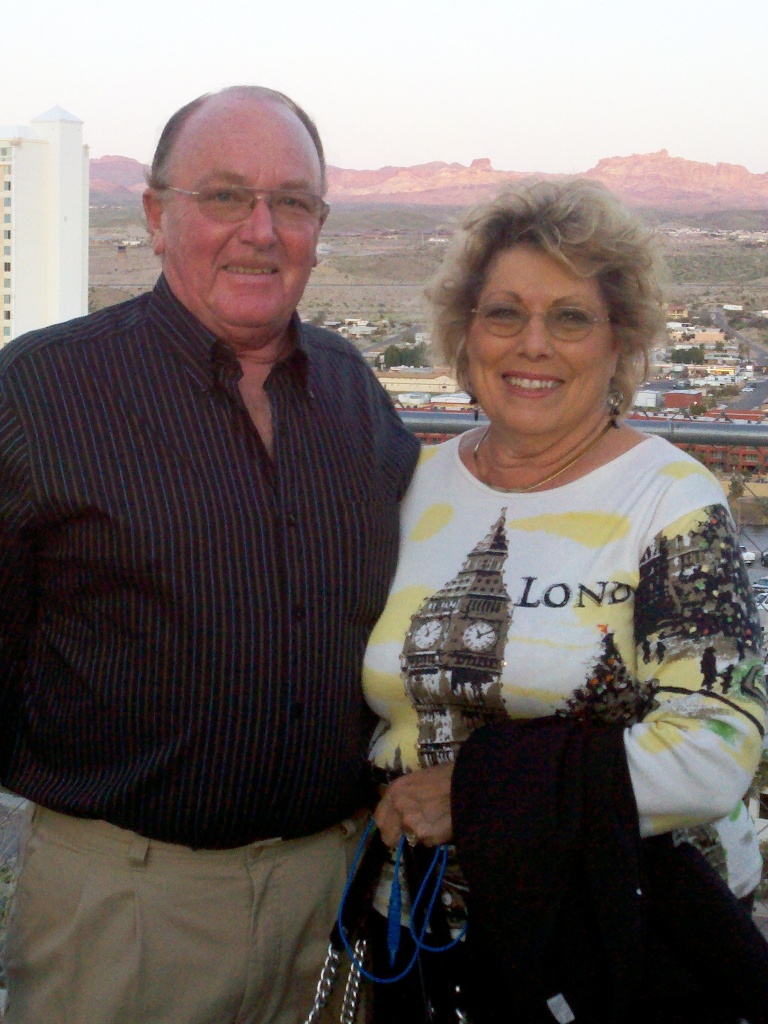 Aquarius Casino for their seafood buffet. We had just sat down, Bob and John went for drinks, a waiter was walking behind me when he dropped the tray of dirty dishes he was carrying. CRASH, Bang! Right behind me! I screamed so loud, Bob and John could hear me at the bar!. The glasses just missed my head! There was broken glass, dirty dishes and food everywhere! There was stuff all over my jacket and it even went under the table and hit Tillie's pant leg! They cleaned up the liquid with a broom and dust pan. They wouldn't pick the ice unless they knew for sure it was glass! They never offered us another table, and even though I had to ask to be compensated for the dirty clothes, they never gave us a thing!
Thur-Mon, March 10-14, 2011 - Road Trip
Happy Birthday Betsy ! !
We are off to see my sister Betsy and her husband, Mike, in Walnut Creek, CA. Distance: 1188 miles roundtrip. One day to drive up and one coming home.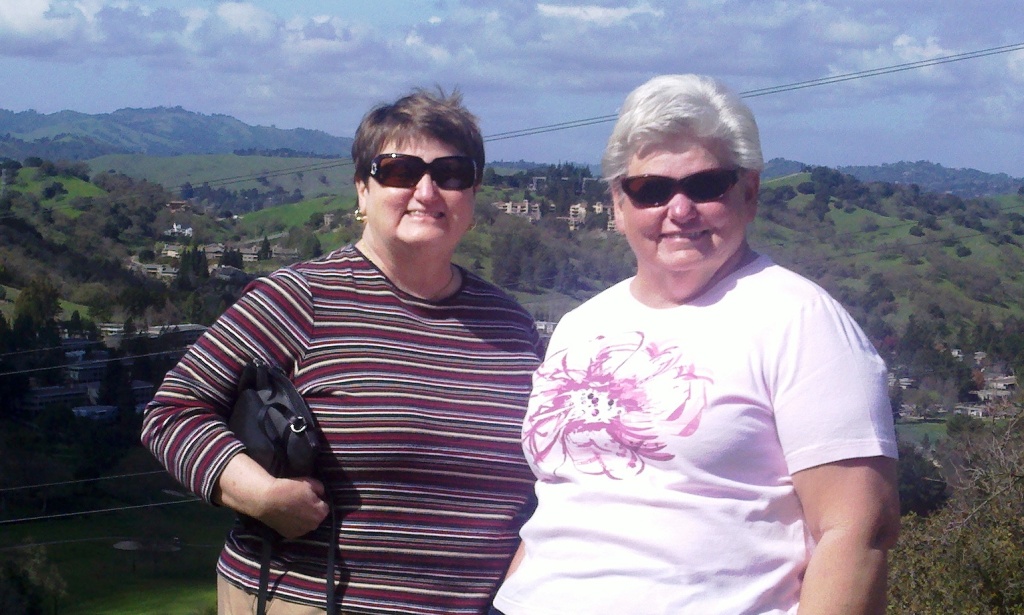 It was a whirlwind weekend. Betsy had dinner waiting for us as soon as we got in. We got a tour of their new home; it's all on one floor now and very nice. On Friday, we took a tour of the retirement community where they now live. The community of Rossmore has over 10,000 people. This place is much more than a golfing community; they have a theater, pools and exercise rooms and classes, computer clubs, ceramics, woodworking, book clubs, libraries, and the list goes on and on, they even have a RV Club! We went to dinner tonight at friends who still live in Berkeley. It was Shabat, and they eat Kosher. She also serves a soup that she makes by emptying all the leftovers from the fridge! The meal was quite tasty.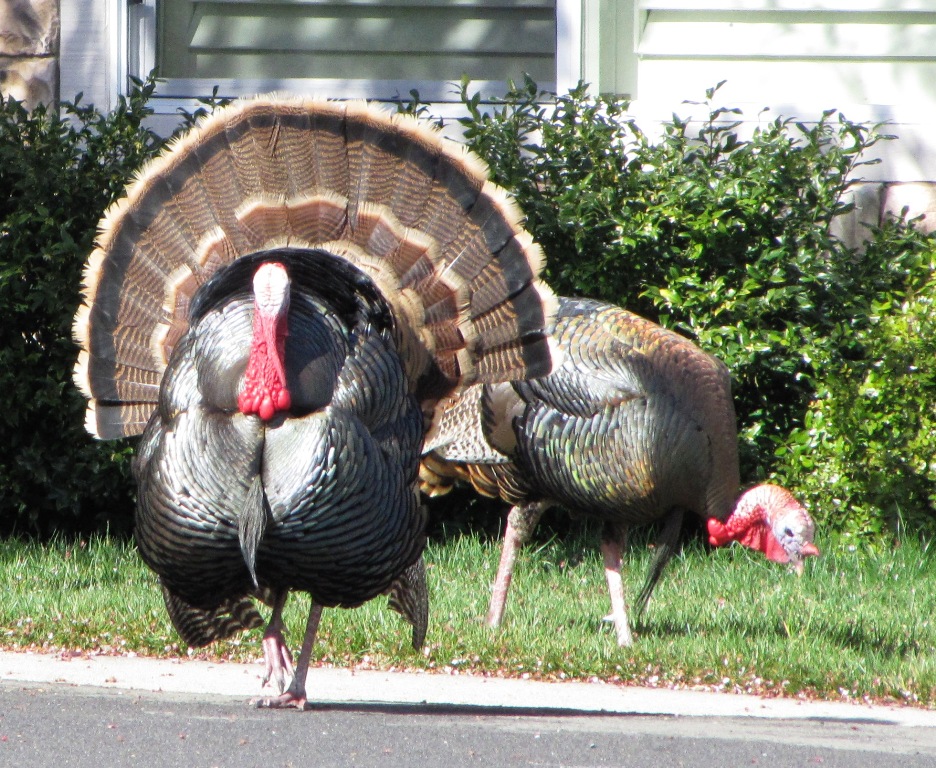 Saturday we were on a mission to find a liquor store and get gas at Costco. After the liquor we went back and picked up Mike, because he had a meeting that morning and it was over sooner than expected. Back on the road we ate lunch at Costco. After filling our bellies and our car Betsy and I decided we should find the new quilting store in town. Bob was taking some pictures outside, when the local turkeys put on a display for him. Tonight we are going out to dinner at an Italian restaurant to celebrate Betsy's birthday with family and friends!
Sunday was cool and rainy. We were all tired. We ended going out for breakfast and dinner. (It's also the first time we have been on weight scales since we left home.)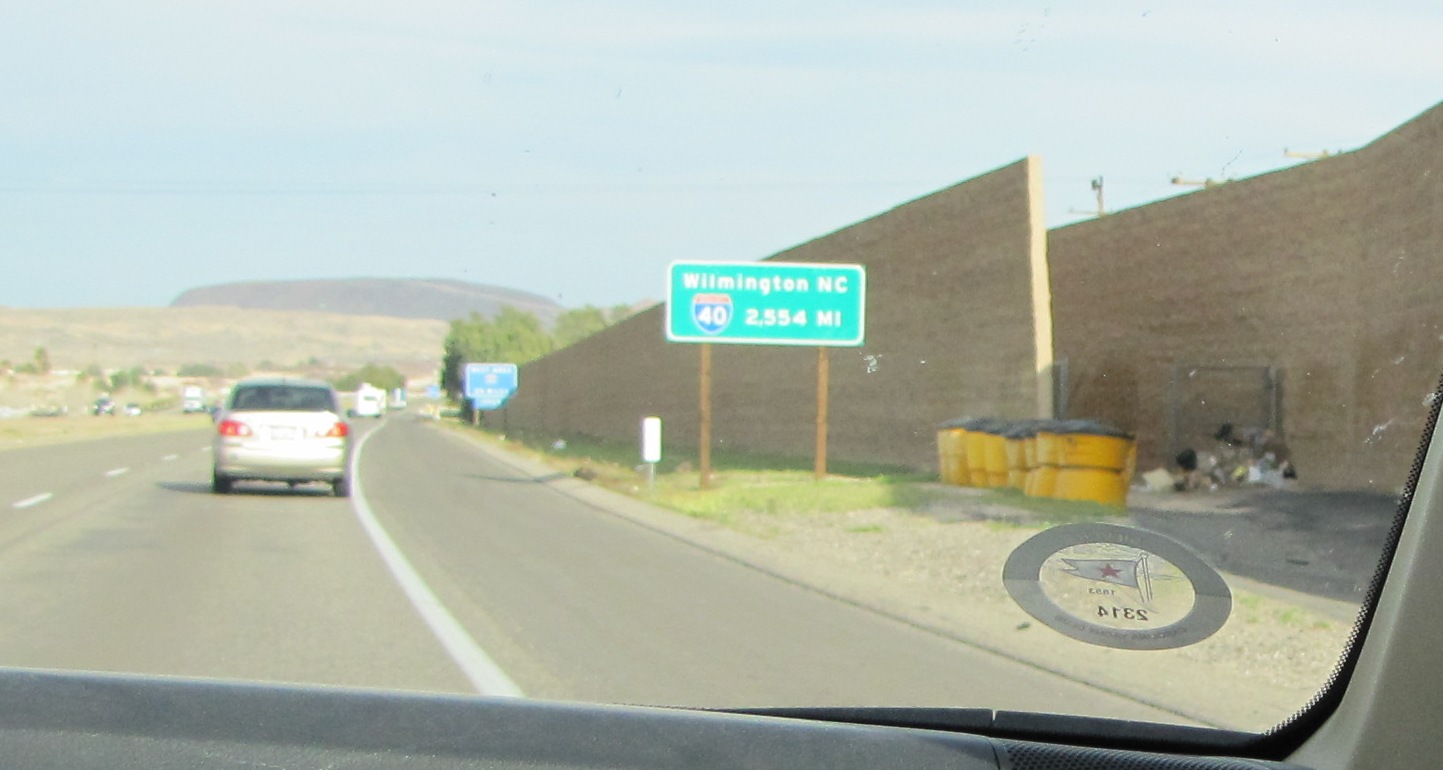 Monday was the 10 hour trip back to Laughlin. Driving down I-5, all the almond and pistachio trees were in bloom. It was beautiful.
Getting on I-40 we came across this sign....
Wilmington 2554 miles!
Wednesday, March 16, 2011
John and Bob have been wanting to "Raft the Colorado" and today was the day. The water temp was all of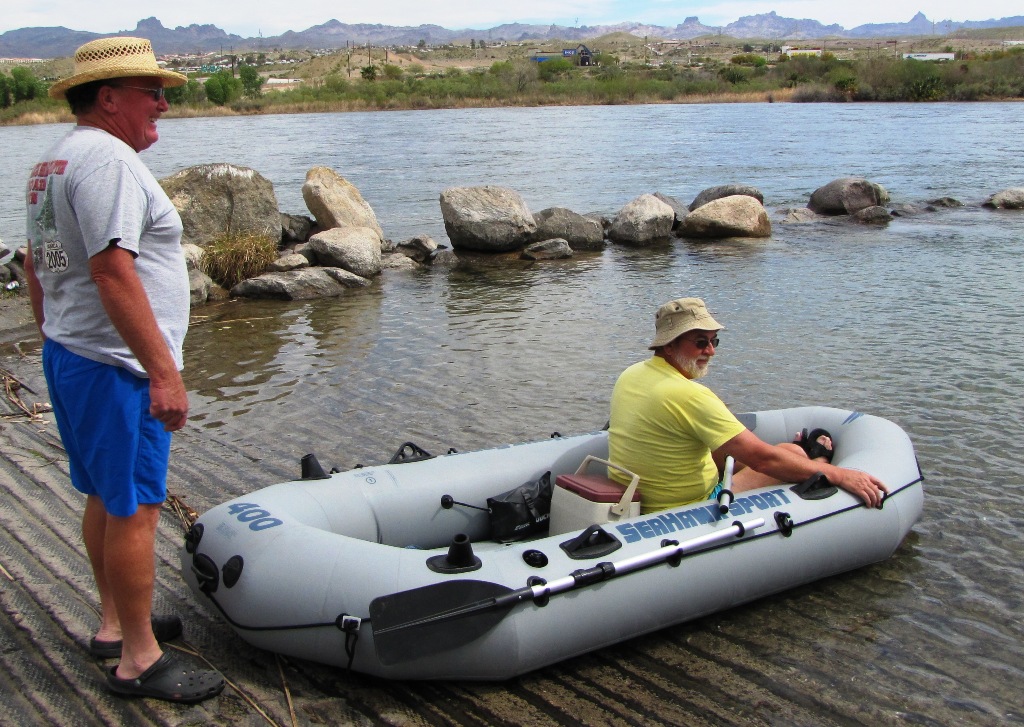 about 55 degrees! But, off they went, down past all the casinos in a little rubber dingy and some "Refreshments".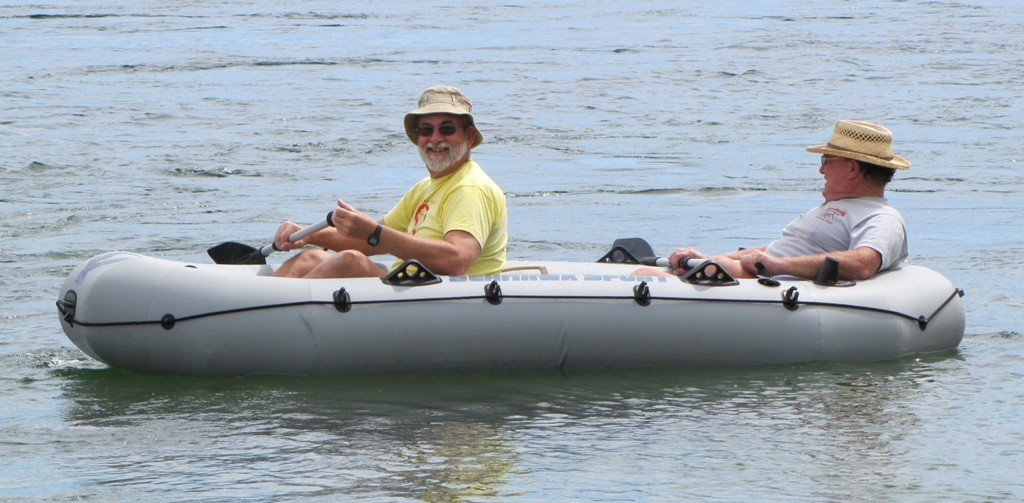 Three ½ hours later Tillie and I picked them up downstream at Big Bend of the Colorado State Recreation Area. Nice Park! Wonderful small campground with full hookups. Nevada loves their parks. $$$ Dinner was 2 for 1 burgers at the Regency Casino.
Thursday, March 17, 2011
Happy St. Patrick's Day !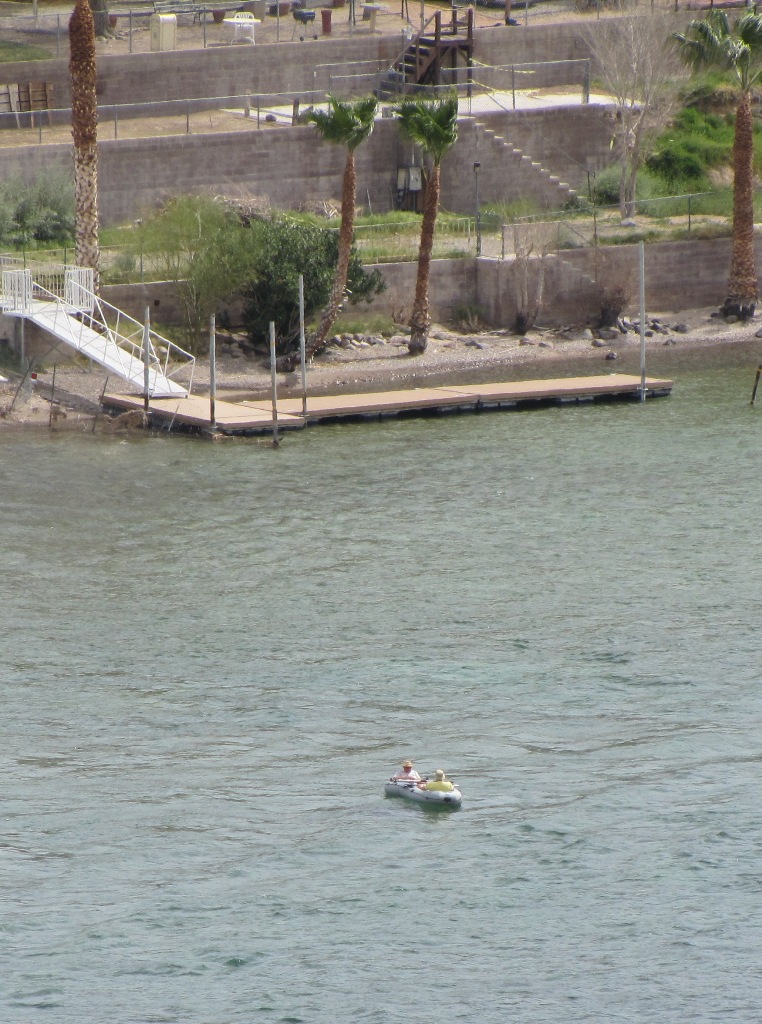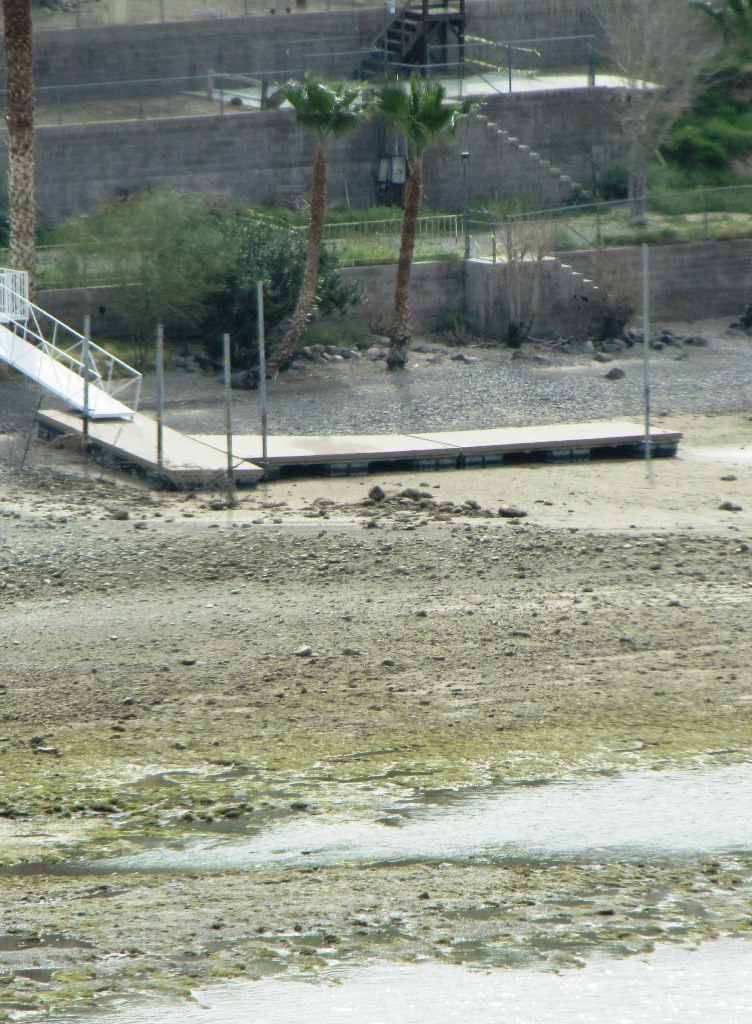 Tillie and John were drinking green beer and of course we had the traditional corned beef and cabbage!
They emptied the river today! (see picture!) Good thing Bob and John rafted yesterday.
Below I have posted some pictures of the wildflowers of the Southwestern desert.
Sunday, March 20, 2011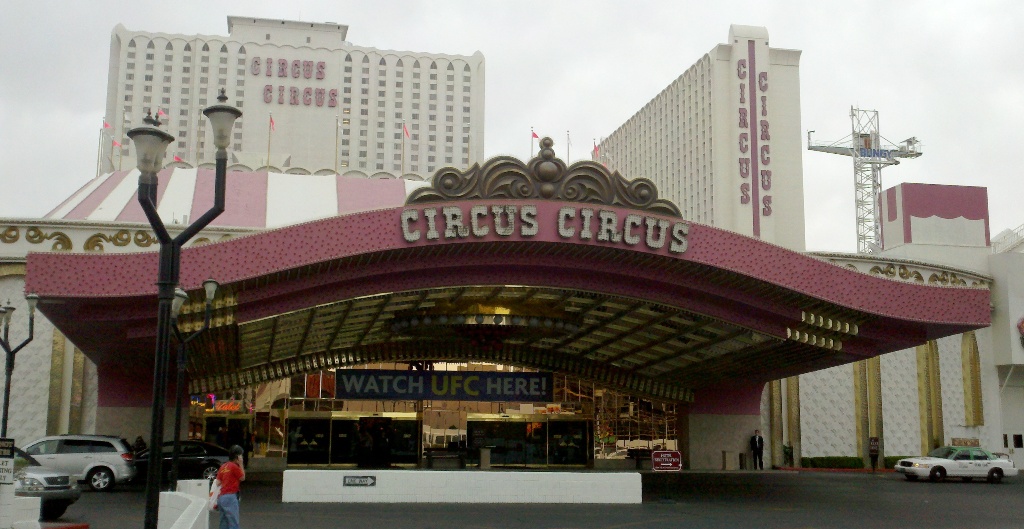 Left Laughlin for Las Vegas, NV, home of casino gambling! On the way up we passed a solar panel farm named Solar One. Looks like it could power a normal city, but not Las Vegas. We spent the night at Circus-Circus RV Park, the only RV park on "The Strip." Expensive for what you get!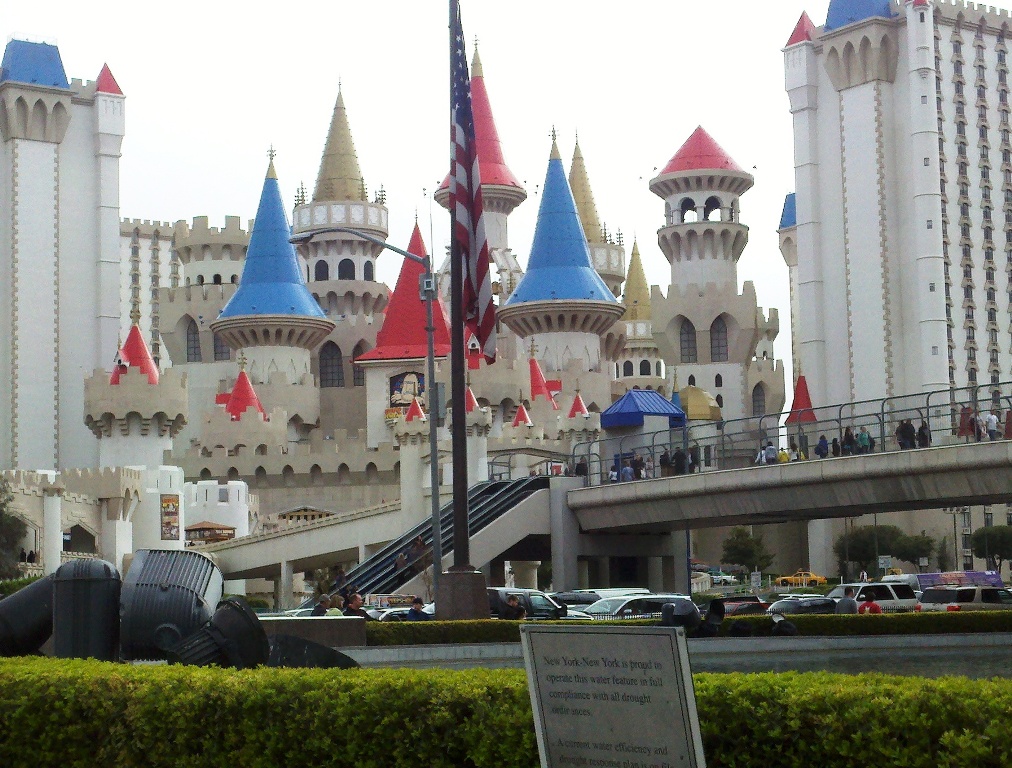 They said the best way to get around was on the bus; didn't tell us we had to walk a mile through the smoke filled casino to catch the bus. Went to MGM Grand to see the lion habitat. On to Mandalay Bay, Luxor and walked over the Brooklyn Bridge at New York, NY. Rode the tram from one hotel to the other, still a lot of walking. Lines were too long at the restaurant we planned to eat at and ended up at Subway. It was a cloudy, overcast day, my feet we tired and my kidneys were acting up so went home to the RV. All in all, not a thrilling day in Vegas. This was our first time with full hook-ups since Alabama!
Mon
day, March 21, 2011
First Full Day of Spring!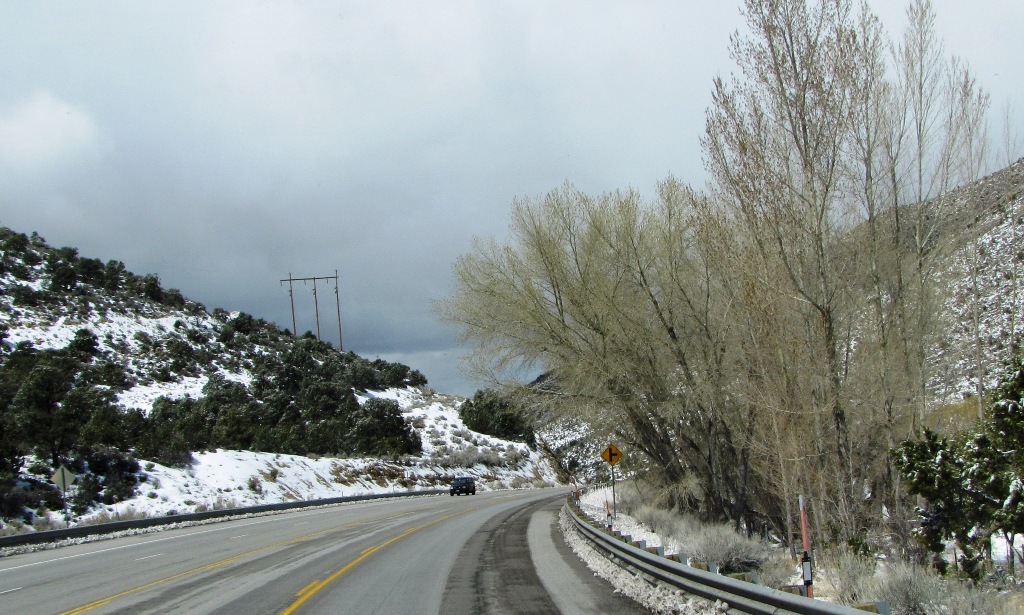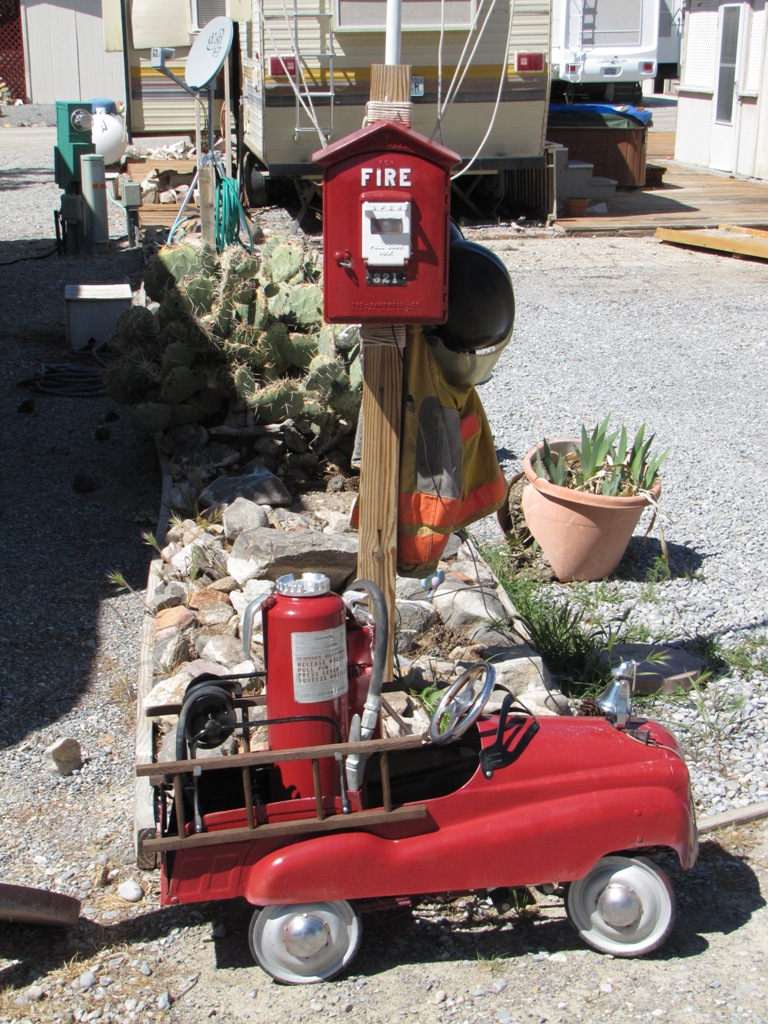 Closing up the rig for our trip we saw water coming off the slide outs. It had rained during the night. We wouldn't have known otherwise, because the ground was completely dry! Not a little puddle of water, nothing! Anyways….we are off to Pahrump, NV, where we get to stay at another park with full amenities. Getting there we had to drive over Spring Mountain Pass (5502ft), where there was still snow on the side of the road, from the rain last night! We are staying at an Escapees (herein called SKPs) park called, Pair-A-Dice! The fire engine and fire box were located at the front of our RV site. They are individual owned lots that are rented out when the owners aren't there. I take it that our owner was a retired fire fighter!
Thursday, March 24, 2011
We moved from the SKPs park over to Western Horizons Resort where we got to stay 4 days and 3 nights free. Tomorrow we have an appointment to listen to a " 90 minute Presentation. I really got busy doing the laundry in the RV, while I did some housecleaning chores, like vacuuming the carpet.
Friday, March 25, 2011
Our appointment was a 90 minute presentation but it wasn't all that bad. The gentlemen had a real sense of humor and knew we weren't going to buy in. For doing this we also got a $25 certificate for lunch at the 4 star restaurant located next store at the Pahrump Winery and a chit for 20 days of free camping at one of their other resorts, one of which is located in Salisbury, NC !
We used the certificate for lunch immediately! Yummy! The food and service were excellent, the best we've had on the trip. Then we took a tour of Pahrump Winery, the only winery in the state of Nevada and basically growing in the desert! The wine was very good, they've won about 271 awards for their wine.
The only down side to the whole day was one of my hearing aids was on the blink and I could not hear very well, basically not at all. It was hard to follow the conversations. I may as well have been in la-la land. People with good hearing just cannot grasp the concept of not hearing. It's miserable.
Saturday, March 26, 2011
Road Trip! Went to China Date Farm. Located between Death Valley and Pahrump. John drove and Bob played co-pilot! Bob also has a sense of adventure! No paved roads for us, al least not unless we have to. So down the road we drove, past the local brothels, (they are legal in this county) and headed straight for the dirt road! This dirt road led straight to a dry lake bed. It was dry, cracked and very big! We could not find a definite trail to follow so we just headed in the direction the road was supposed to be in. (Guess who forgot his GPS ?) We found we were in the same area as cattle roaming the range, and they were BIG. John said he was glad he didn't have a red car! LOL! They eventually found the road and up we went over another set of mountains to get to the next valley. This is all part of the Mohave Desert and the scenery gets more morose when we head off in different directions. It's hard to believe that people WANT to live out here. As we got closed to China Date Ranch, we saw a sign showing steep grade down and boy did we go down! You would never find this place with a pair of binoculars looking across the landscape. It is down this steep canyon and is located next to the Amargosa River where is has come above ground. (You read that right; much of the river flows below ground.) Started by a Chinamen in the 1800's who farmed the area and provided food for miners, borax workers and the like. Many people have since come and gone trying to make a go of it here. It wasn't until 1990 when date palms were planted that it has met with success. It is a cool oasis in the desert. The song birds were very prolific here due the shade of the trees and cool water. While here we saw a lot of jeeps come in from desert riding for refreshment. For us, it was chance to get another date shake!
We headed back to the campground afterwards. There was a talk being given on a caravan trip to Alaska which we wanted to attend. $9995.00 for the trip, not including the cost of diesel!
Sunday, March 27, 2011
Today was moving day! On to Preferred RV Resort, which is in walking distance of two casinos. From where we are parked we can even see Walmart! And our bank is located right down on the corner. And two casinos are on the other corners! This is a very convenient campground. It's also very nice campground with trees for shade from the hot blazing sun. They also have an indoor pool, hot top, library, and many other amenities.
We had coupons 2 for 1 for the casino buffet. Had prime rib dinner, salad, drinks and desert for $10.70! Heck, that's cheaper than Taco Bell or any other fast food joint.
Tuesday, March 29, 2011
Happy Birthday MOM ! ! ! !
Today we took another road trip and drove over to the Ash Meadows Wildlife Refuge. It's between Pahrump and Death Valley. It doesn't seem like much of a refuge, it's so barren looking. But it is fed with 30 springs or "seeps". Thank goodness they show you where to look for these springs for they are well hidden. At one time this land was farmed for alfalfa and cotton, but it failed. You can still see traces of the furrows in the fields. They are still working on reconstructing and restoring this habitat. Among the major things to see are the Amargosa pupfish at King's Pool; brilliant blue fish about one inch long, and Devil's Hole; where these pupfish have been isolated for 10,000 to 20,000 years. This so- called "Hole" has been mapped to a depth of 500 ft and they have still not reached the bottom. The depth of water in this hole has, at times been affected by earthquakes. An earthquake in Japan in 2010 caused massive waves in the Hole and changed the water level by half a foot! It takes a while for the seepage to bring the water level back to normal.
www.fws.gov/desertcomples/ashmeadows
While driving out of the Refuge we finally got to see another Roadrunner! They are very elusive and some people are slow with the camera, so we didn't get a picture. He was really huge!
Down the road apiece, we came to the town of Death Valley Junction, population: 3. The Amargosa Opera House and Hotel is located here. Built in the 1920's for the railroad workers and the men who worked on the 20 mule team borax runs so they would have decent facilities instead of just sleeping in tents. A women by the name of Marta Beckett bought it in 1964 when it was all boarded up and proceeded to renovate it. She is the star performer. I say is, because she still performs here at the age of 86! She is a trained classical ballet dancer and danced "on point" until she was 80 years old! The inside has been painted by Marta herself; painting the walls from floor to ceiling and the ceiling also!
Wednesday, March 30, 2011
Wind storm. Even with Bob's broken anemometer it was showing 20 mph, but it surely felt like 49 mph.