Monday, August 1, 2011
248 Days
Today was dump and fill day. We are taking the ferry over to Skagway, but it doesn't leave until 5:45pm. It's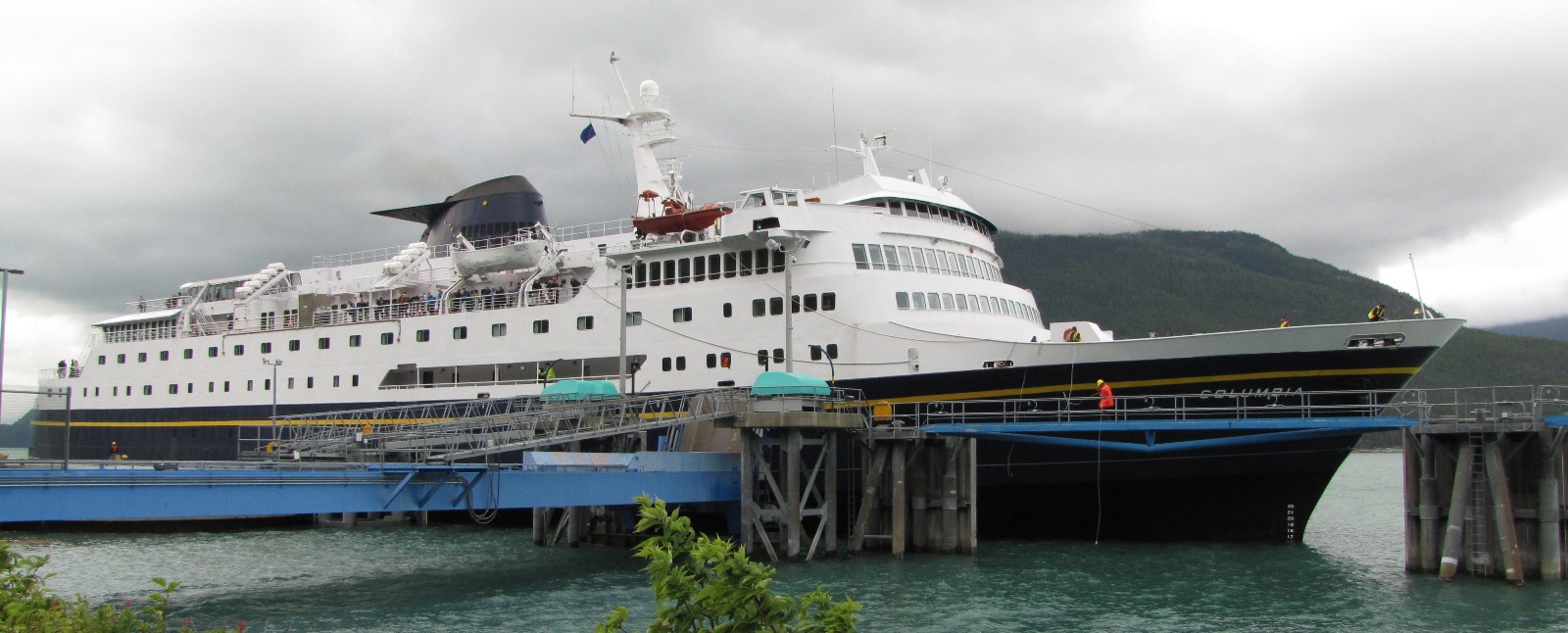 only an hour ride aboard the MV Columbia, the largest ship in the the Alaska Marine Highway fleet. They loaded up the big vehicles first, most of which were RV's. Bob was second in line so I was able to get pictures of him driving into the belly of the ship, and although I was first in line 2, with only 2 motorcycles in line 1, they loaded me almost dead last. Bob had parked the RV and was up on the lounge deck looking down waving at me, before I even moved! The ferry is like a tiny cruise ship. There was a bar lounge, a solarium up front, a cafeteria, and cabins for sleeping, There was a rear deck that you could pitch your tent if you needed. It was there, we met people from New Zealand that had been on the boat for three days, coming up from Bellingham, WA. They had been sleeping in plastic deck chairs! The ride was only an hour and soon it was over. It's amazing to watch how they pack all the vehicles inside, and again, I was the last off; go figure.
| | | |
| --- | --- | --- |
| | | |
Skagway, at last! Once I caught up to Bob, we proceeded to the spot that Bill and Margie had parked on a side street. I wasn't real comfortable with it, and so we jumped in the car and drove around to see if there was anything better, then took a quick drive around town to get our bearings. We found the road up to the Gold Rush Cemetery, but the weather was getting bad so went back to RV and moved down to a spot we found right beside the runway at the local airport. But, about 10pm we got a knock on the door from the local law enforcement saying no RV parking anywhere in town. So, we closed up and drove about five miles out of town, up the Klondike Hwy and parked for the night on the side of the road. It was pitch black up there; we'll figure what to do tomorrow.
Tuesday, August 2, 2011
Exploring.....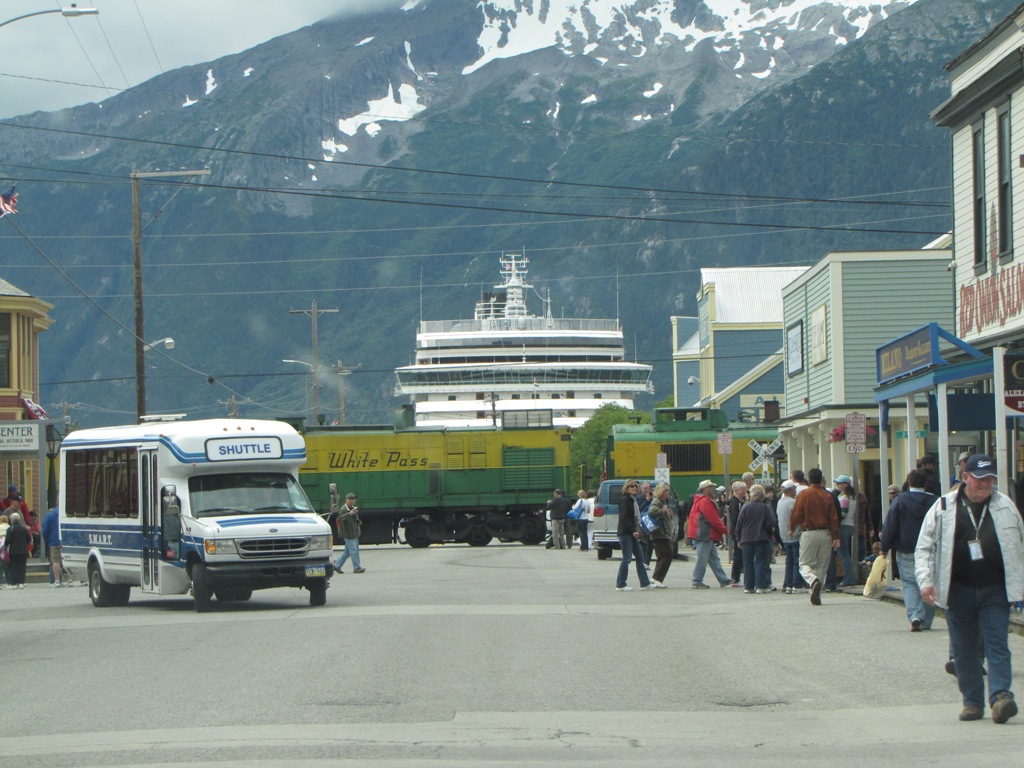 Today we drove back into Skagway to do a bit of sightseeing and get our tickets for the White Pass & Yukon Route RR.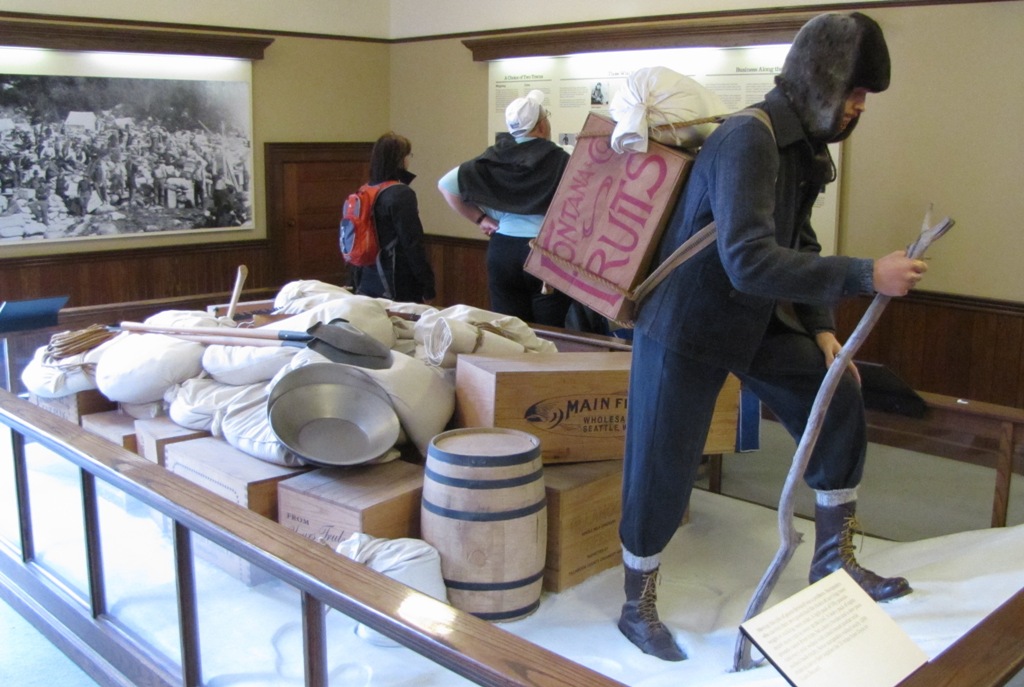 We are going to ride from Fraser, BC, back down to Skagway, pick up our car and drive back up. Least expensive way to ride the rails. First stop was the Visitor's Center for the Klondike Gold Rush National Park. Again, there is so much that you learn when you visit these places, so much more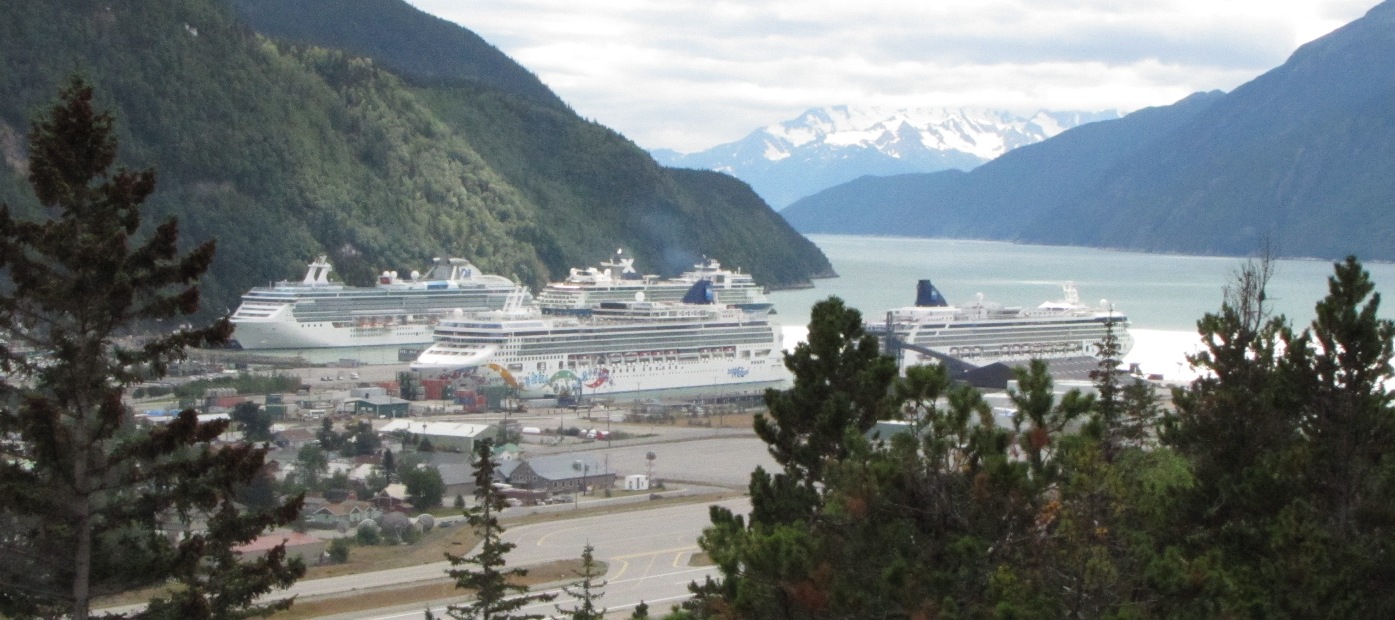 interesting than when you read it in a book. We walked up Broadway, the main street in town,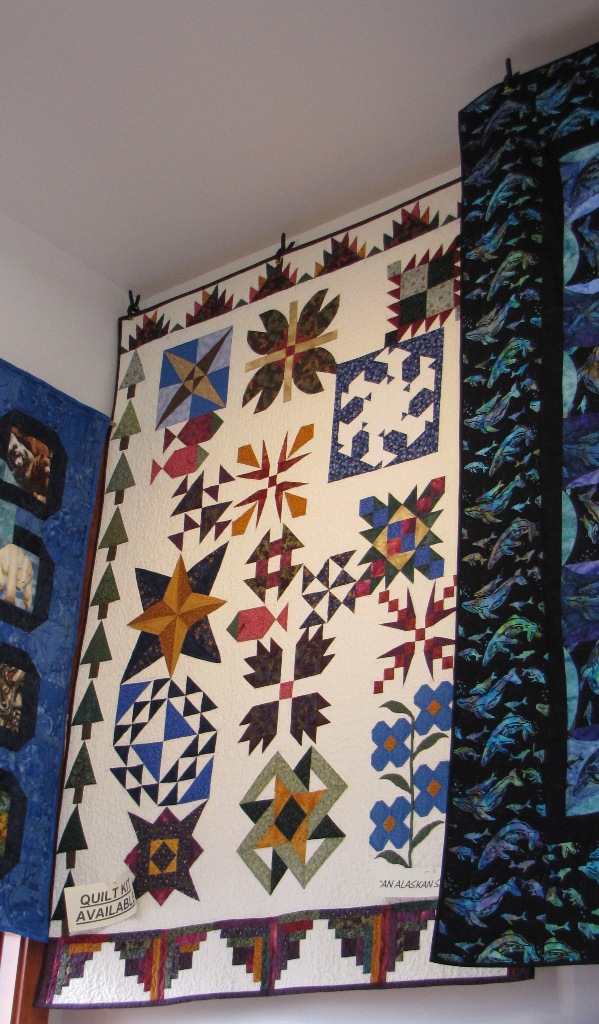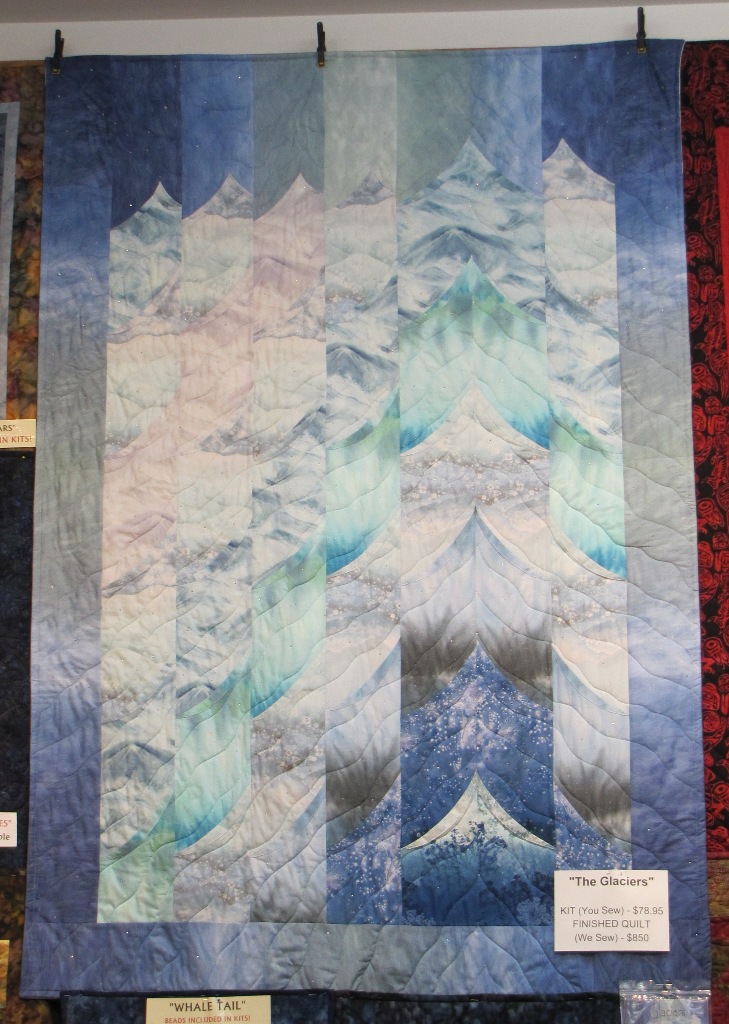 which is part of the Historical Skagway District. It's about two blocks wide and seven or eight blocks long. Skagway never burned and so many of the original buildings still stand and have been renovated. It also has been taken over by the businesses that cater to the cruise traffic. Today there were four ships in port.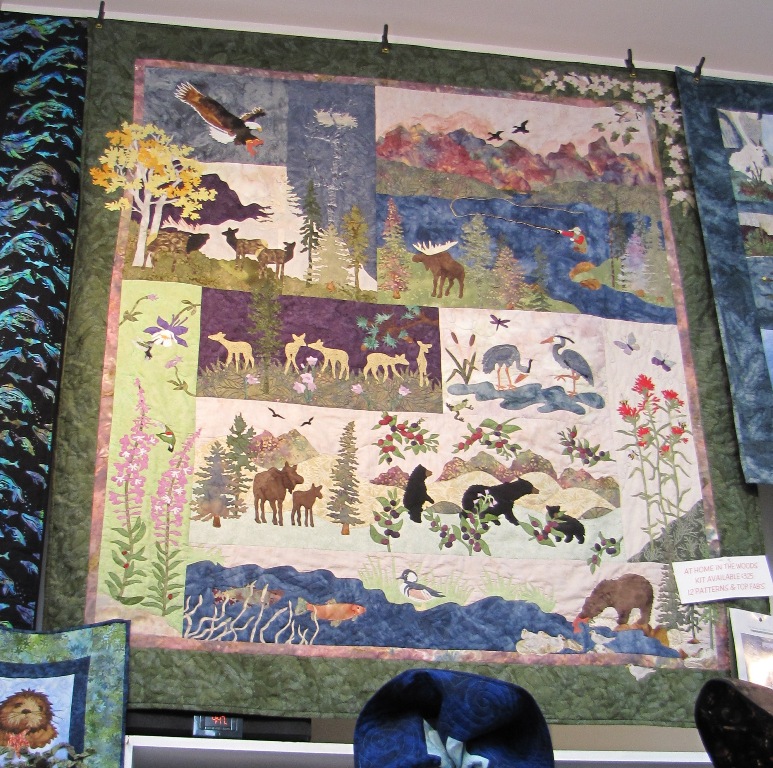 It was absolutely crazy in town. We found a pizza shop off the main drag and not very crowded with decent prices, where we had our first pizza in almost two months, yum!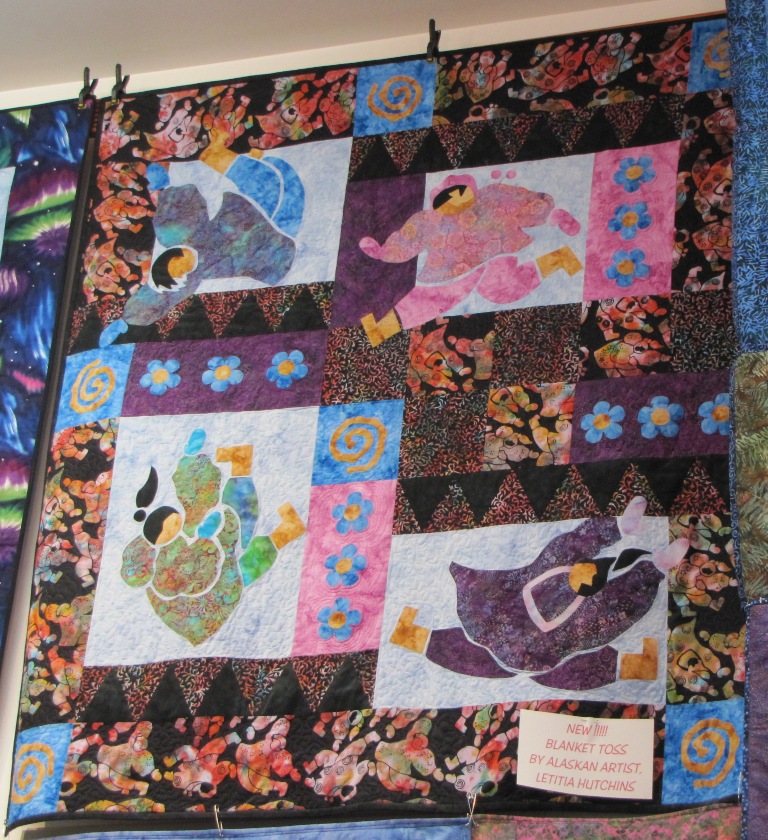 I managed to find the quilt shop I wanted to visit. (It was right next door to the pizza shop, how convenient!) Absolutely fabulous. I have never seen so many fabrics dedicated to one theme; Alaska. She also, was set up for the cruise crowd. Many, many Alaskan themed quilt kits, fat quarter packs, charm packs and such, set up for the quick grab and go. Sell a lot in very limited time frame. Good marketing! From there we headed home so we could find a new place to spend the night. We had scoped out a clearing earlier and was hoping to get in there before today's ferry came in. Nice and cozy; spent the evening listening to the rain on the roof.
Wednesday, August 3, 2011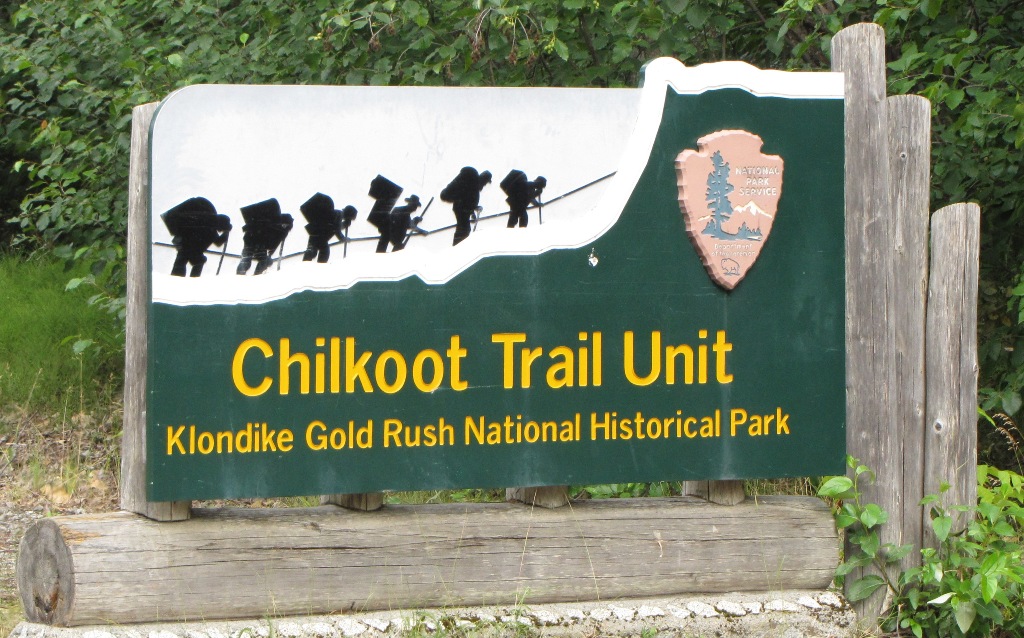 We rode over to Dyea (Di-ee) today. At the time of the gold rush, this town was bigger than Skagway, and was the start of the Chilkoot Trail, which was the more direct trail. BUT, the WP&YR RR went to Skagway and so Dyea was virtually abandoned once the RR was working.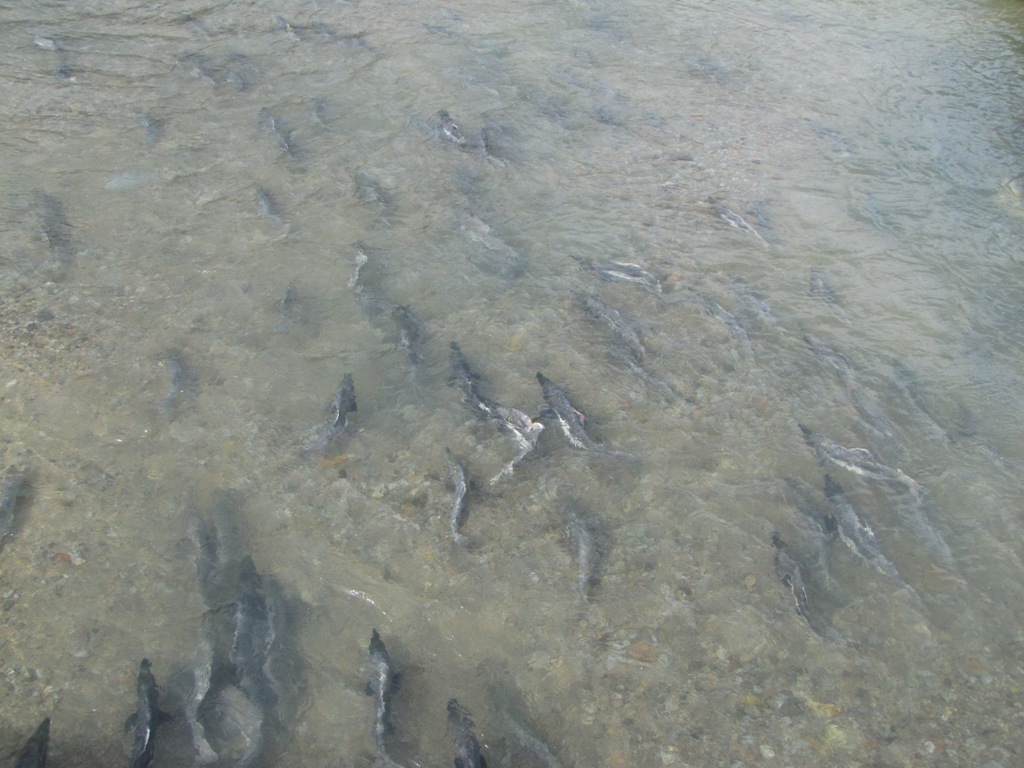 There is not much there now, but there is a campground and it's a wonderful drive over there. You can drive out on the flats at the end of the canal. When we turned around to go back, we saw people over by the creek, so we went to check it out. Oh my GOSH, the salmon are spawning! There were thousands trying to get as far up the river/creek as possible! Even young girls were able to hook salmon. I probably could also if I wanted. Where are my fishing friends (Darrell, Rick, and Ronnie) when you need them. They could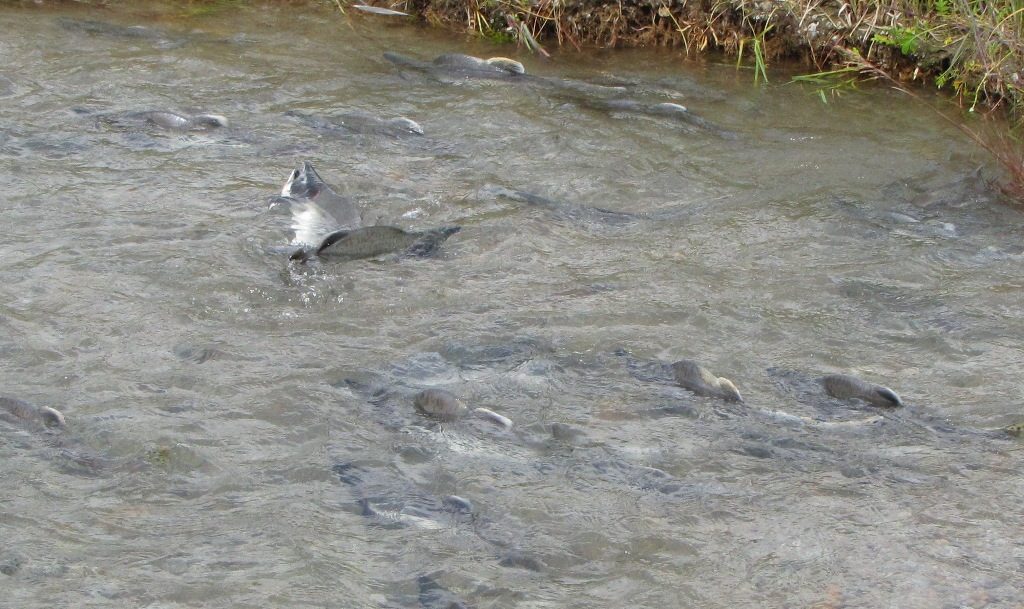 have caught their limit in 15 minutes.
We are driving up to Fraser, BC tonight, so I went into town to go back to the quilt shop before Bob got there. From town we drove up the highway in the RV, stopping along the way at the pullouts to get pictures of the train, waterfalls and Dead Horse Gulch. Now comes the good part.....
When we got up to Fraser and Bob realized there was no town, just the Border Guards at the CUSTOMS station, Bob didn't want to have to go through customs twice, so he pulled into the train station INSTEAD!. I told him he better check with the customs people first, as we were IN CANADA, DUH! Well, when we got in the office, they told him he should have gone through customs FIRST, and that we could not park in the train station, even though the girl down in the Skagway RR office said we could. The buses need all that room for staging and turning around, but we could park over in the other dirt lot.
So we turned around and drove through customs with all the usual questions. I was terribly worried they would think we had been trying to get contraband through customs on the QT. But they were good guys and it went very well for us. Whew!!! Bob parked our rig parallel to the train tracks. I think we better close our curtains tonight, the train people will be looking in our windows in the morning. But at least we don't have to get up early! We put the quilt back on the bed tonight. It's cold up here.
| | | |
| --- | --- | --- |
| | | |
Thursday, August 4, 2011

Heavy cloud cover this morning. We didn't have far to walk to get on the train. We were assigned to a RR car that allowed us to each have our own seat by a window on the right side of the coach; not that it really mattered with all the cloud cover. Many of the other RR cars were full with people from the cruise ships, so we were really fortunate. About halfway down to Skagway, we were finally below the cloud cover and were able to see the things our narrator was talking about; even managing to get some pictures.
We got off at the station, stopping to take more pictures that we wanted but didn't take the other day. We walked by THE RED ONION, but didn't go in. We did go in THE MASCOT, a bar from 98' that still had the bar and back bar and such. On the way out of town, we stopped at the Gold Rush Cemetery where Jefferson R. "Soapy" Smith and John Reid are buried. "Soapy" was the local "scam artist" and John Reid was the Hero that shot and killed him. Many of the Gold Rushers are buried in this cemetery. From there you could walk up (almost climb) to the Lower Reid Falls which were very beautiful. Then we drove back up to Fraser, went through customs again, hooked the car up to the RV and proceeded on to Carcross, where we got our passports stamped at the visitors center.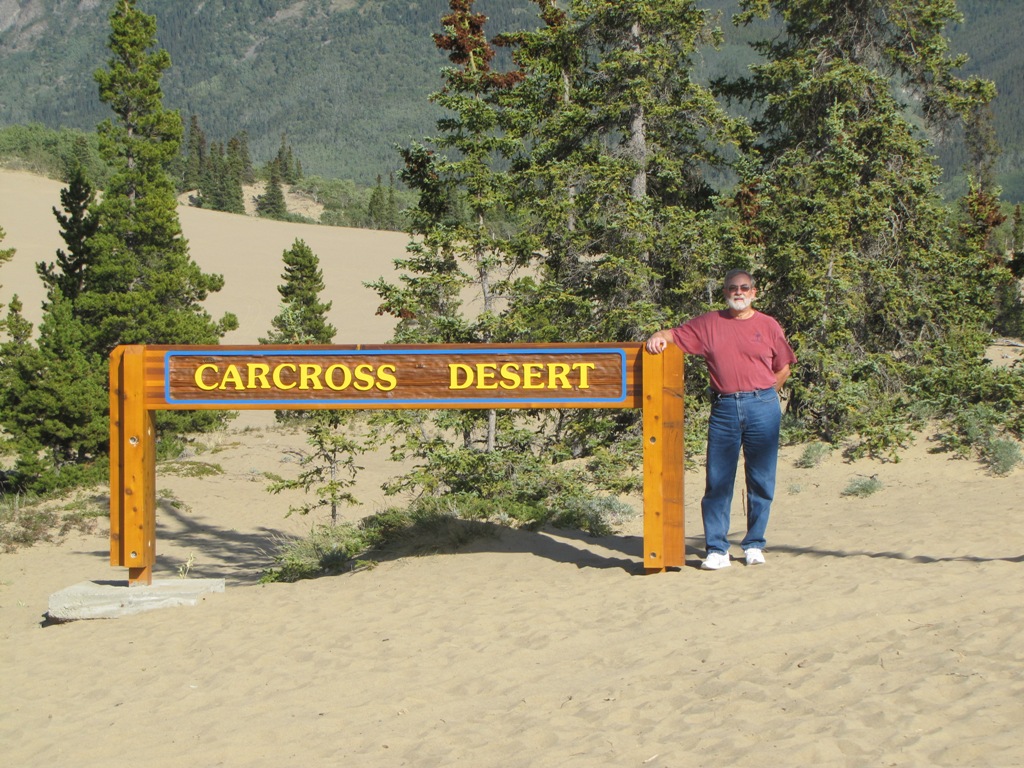 On the drive up here, the clouds parted and it turned into an absolutely beautiful day! Also stopped to look at the Carcross Desert. The desert consists of a large area of sand dunes that were deposited after the glaciers receded. It is recognized by different international geographic groups as a desert. It was too late to visit the animal center, so we headed on to Whitehorse to "camp" in the Walmart parking lot again. We have now come full circle.
After dinner, we called my sister and her husband to see how their back to back cruises went and we also called Brenda and Laverne here in Whitehorse to see when we could get together, then settled in for a relaxing evening.
Friday, August 5, 2011
We decided to check into the High Country RV Park. Full hook-ups! ! ! First thing on the agenda, was to get the laundry done using both the laundromat and the washer in the RV. You always meet the nicest people in the laundry. Met a woman from Germany, and a woman traveling alone in her fifth wheel. There are many singles out there roaming in their RV's. It's another beautiful day, hated to spend it washing, but I wanted it done and over with. Made Bob's favorite for dinner tonight, meatloaf!
Saturday, August 6, 2011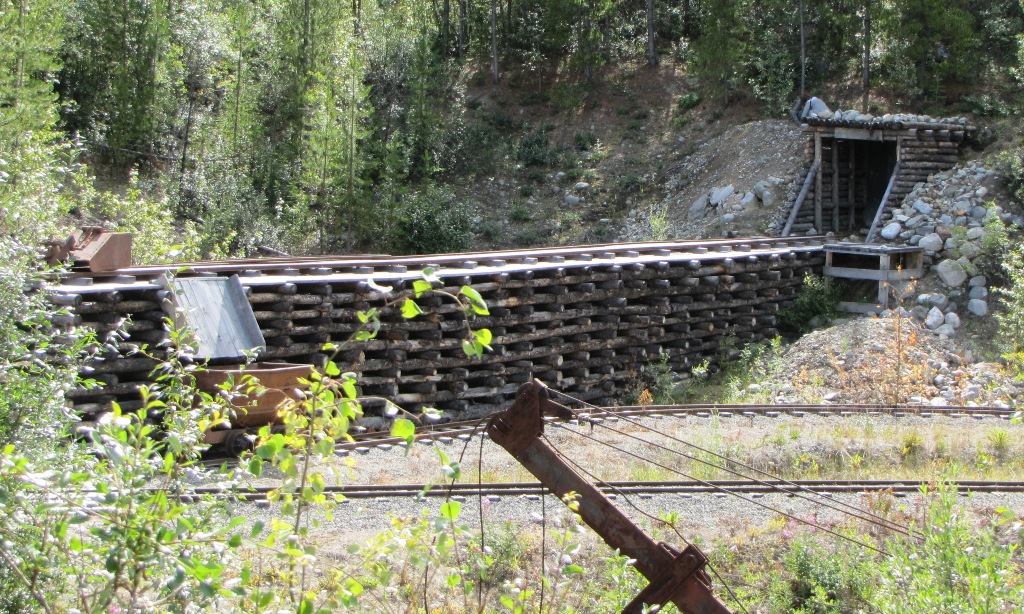 Brenda and Laverne came in to see us late this morning, another beautiful day.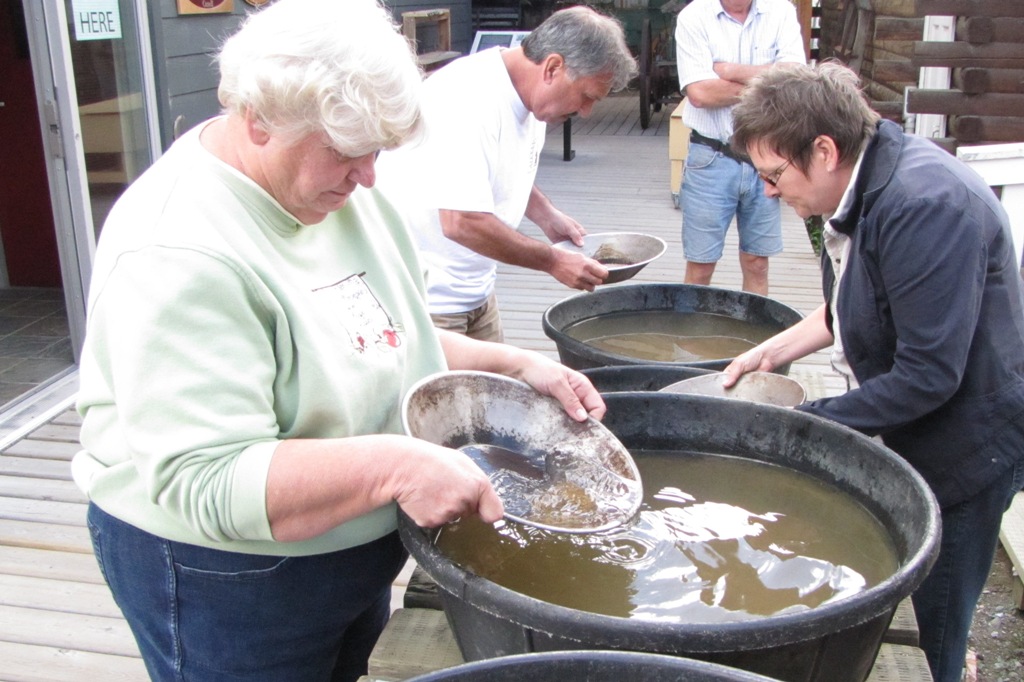 Then we took off to do some more sightseeing. First to the Copperbelt Railway and Mining Museum, the information inside the museum was more interesting than the train ride. Then onto the MacBride Museum of Yukon History which was so fascinating. On the right is a picture of an albino moose. There were many displays of life in Whitehorse.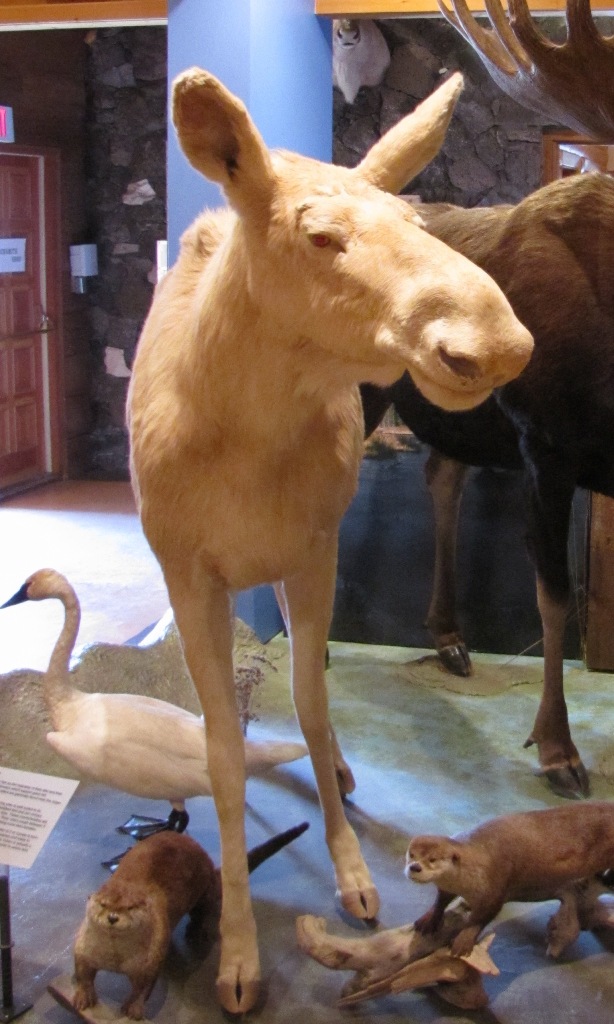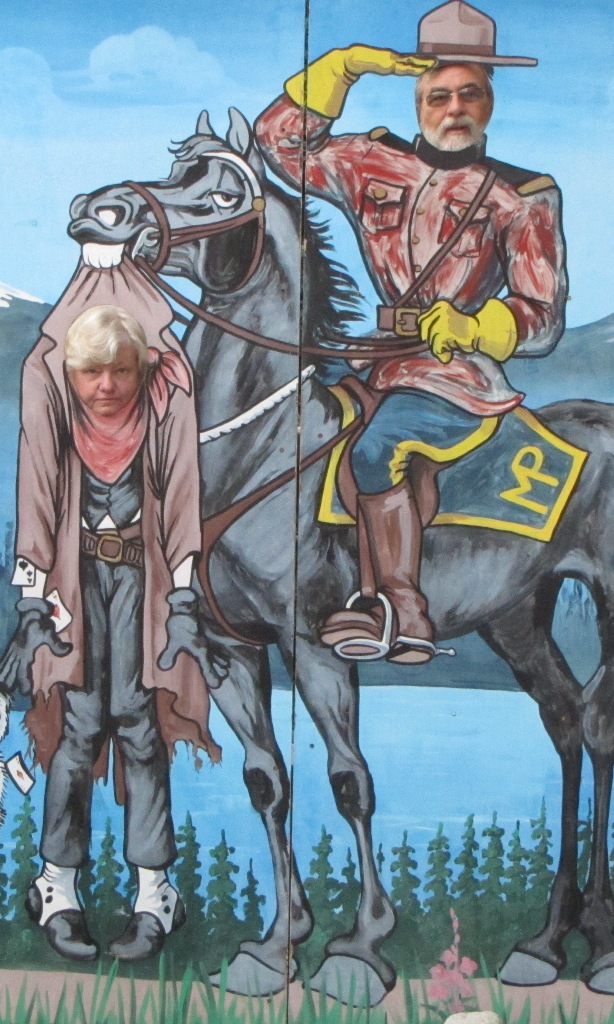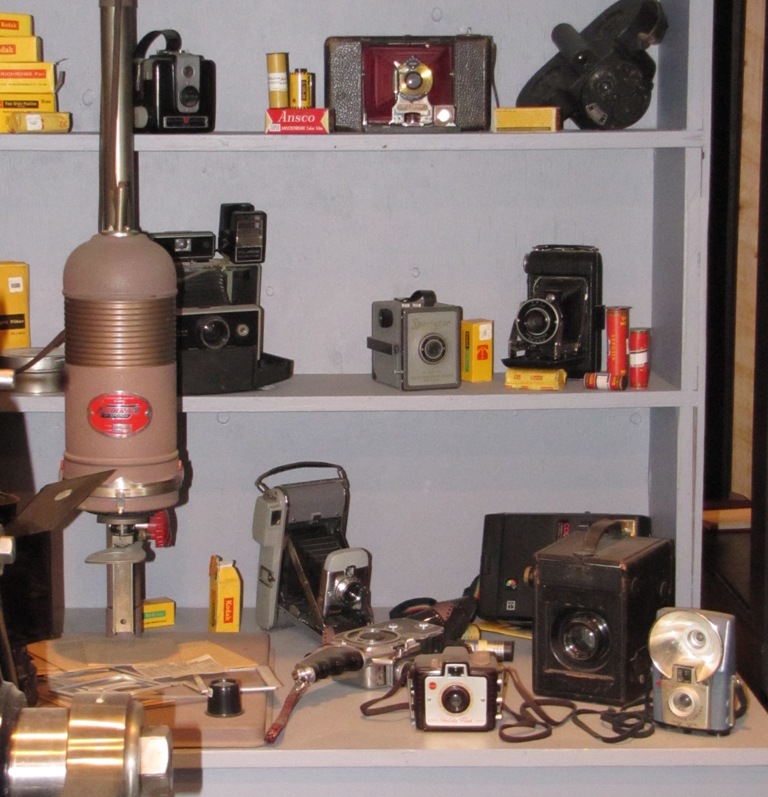 I finally got the opportunity to try my hand at gold panning. There is gold in "them there hills", but I am by no means, rich! By then our stomachs were all growling, so we headed over to the fish and chips place and had an early dinner. We definitely arrived "just in time" to get a seat, because people started filing in like crazy and there wasn't a seat in the place inside of 15 minutes. Bob and I had the halibut fish and chips, yummy!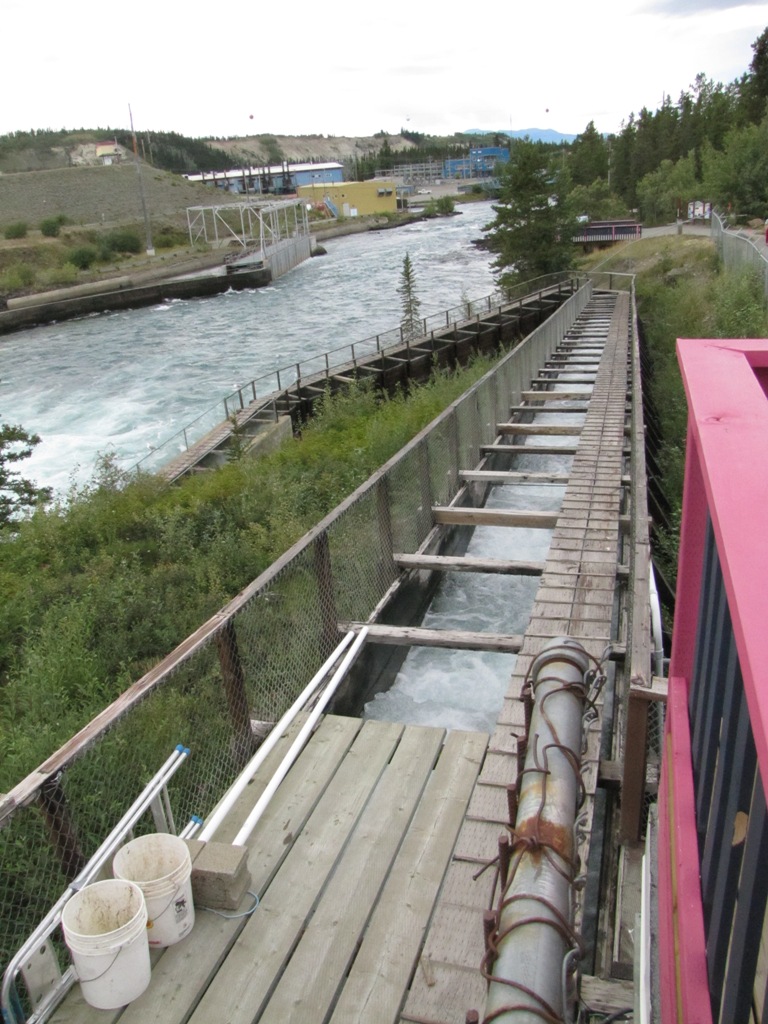 They also had moose stew and elk burgers. Wasn't really up to trying that today. We took a driving tour after that over to the Wooden Fish Ladder on the Yukon River.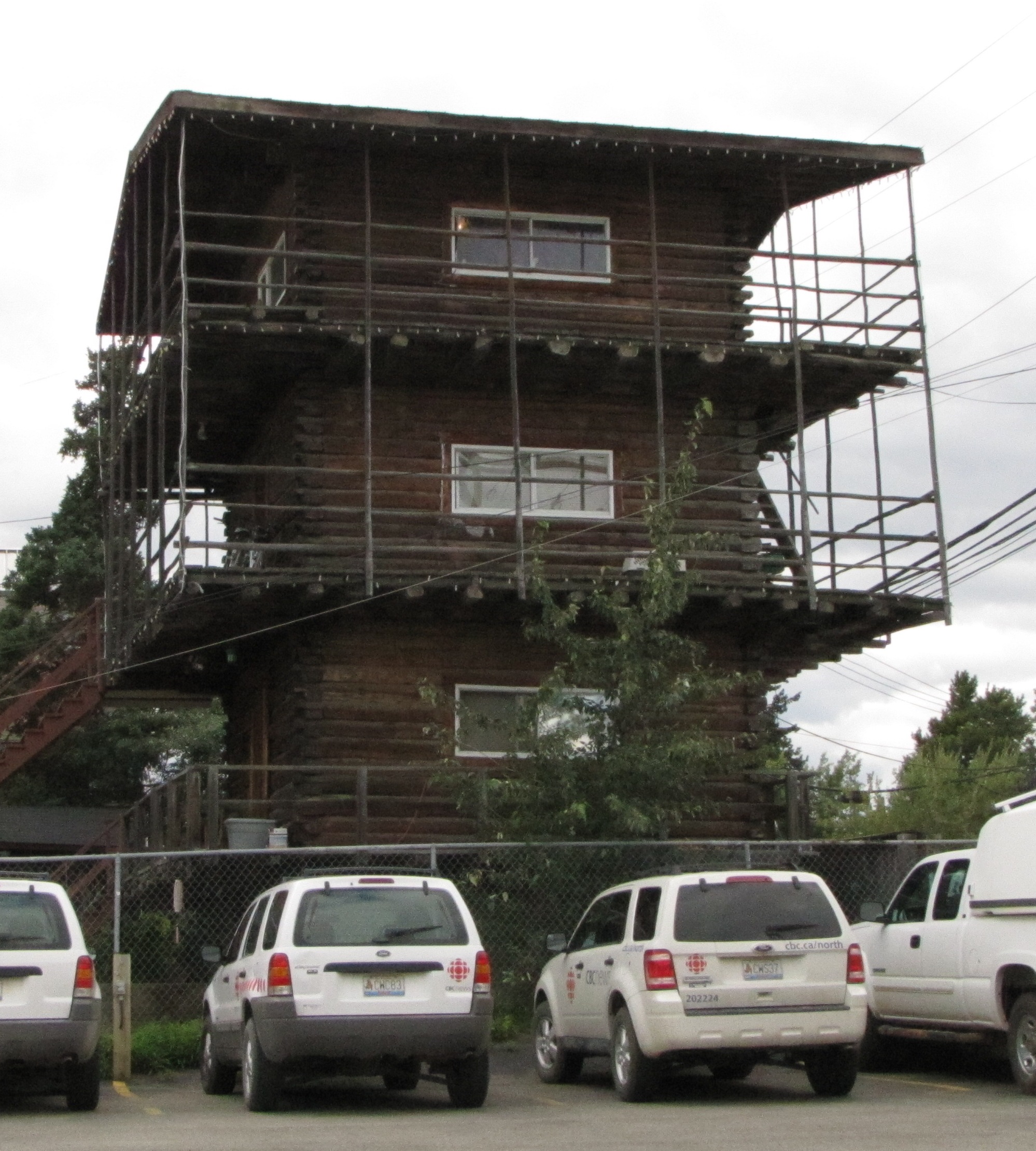 There is a dam on the river and the ladder gets the salmon up past the dam to their spawning grounds. These salmon have the longest migration in the world, having to travel about 1975 miles from the Bering Sea all the way back up to here, just to have to pass by the dam. It's ingenious how they direct the fish to go up the ladder. We came back to the RV so Brenda could check her mail since we have internet service here and rounded out the evening with a glass of wine and wonderful conversation.
Sunday, August 7, 2011
Checked out from the RV park this morning to drive over to the Cummins dealer. We'll park here for the night as we have an appointment in the morning to check out the fuel pump, not sure if we have a problem or not. We finally made it to the grocery store today. Neither one of us are feeling very chipper. Bob came down with a cold and I got too close, so we both have runny noses.
Monday, August 8, 2011
The mechanic was able to get to us fairly early this morning (somewhere between 8:30-9:00). He could see that it was leaking, he just couldn't tell from where. So the RV was pulled into one of the bays where he proceeded to start tearing apart the engine. He finally discovered the leak about 3:30. Fortunately we were able to stay inside the RV which normally isn't allowed. I was very thankful for that as I seemed to be getting sicker; at least I could be miserable in my own coach. They could not plug the leak so a repair part has to be ordered. The warranty doesn't cover the cost of priority shipping so we paid for it to get here by Wednesday, instead of next week. They put the engine together enough that we could pull outside the gate to stay there until the part came in.
Tuesday, August 9, 2011
Rain. I am still sick with an upper respiratory infection (AKA: cold). I'm miserable and Bob isn't feeling much better. So we just sat. No internet service and bad cell phone reception. :(
Wednesday, August 10, 2011
Bob woke up to find out the overnight low was 39 degrees! guess summer is over up here. The part came in and we waited all day for them to work us into the schedule. Never happened. Bob is feeling better and I can tell he is getting tired of just sitting here. I am still sick; I don't care if I go anywhere. Can't get the runny nose to stop; nothing I take seems to work.
Thursday, August 11, 2011
Yeah! They took us into the bay first thing this morning. When Bob walked out to see how things were progressing, the shop manager said, "no customers in the bay areas", which meant we had to go to the customer lounge. I looked pretty sad and felt as bad as I looked. Hated staying in the lounge but at least it had several Lazy-Boys and cable TV. Even so, I slept the morning away. We were also getting hungry, but I didn't want to go anywhere as I looked terrible. They were finally done by 2 pm. By the time we ate, and dumped out tanks on this rainy day, we were ready to leave, so we stopped by Brenda and Laverne's place to meet her daughter and grandkids before making our good-byes. We always have a wonderful time with them and don't know if we will see them this winter in Quartzsite. It's been a week, it's time to move on. We drove down the road about 100 miles before stopping for the night in a provincial park in Teslin, YT. These campground cost 12 dollars a night for no hook ups but they do have free, dry firewood, and pit toilets, which thankfully we don't need. Since it had been raining all day, I had no desire to sit out in the damp evening air to build a fire.
Friday, August 12, 2011
Happy Birthday Daddy !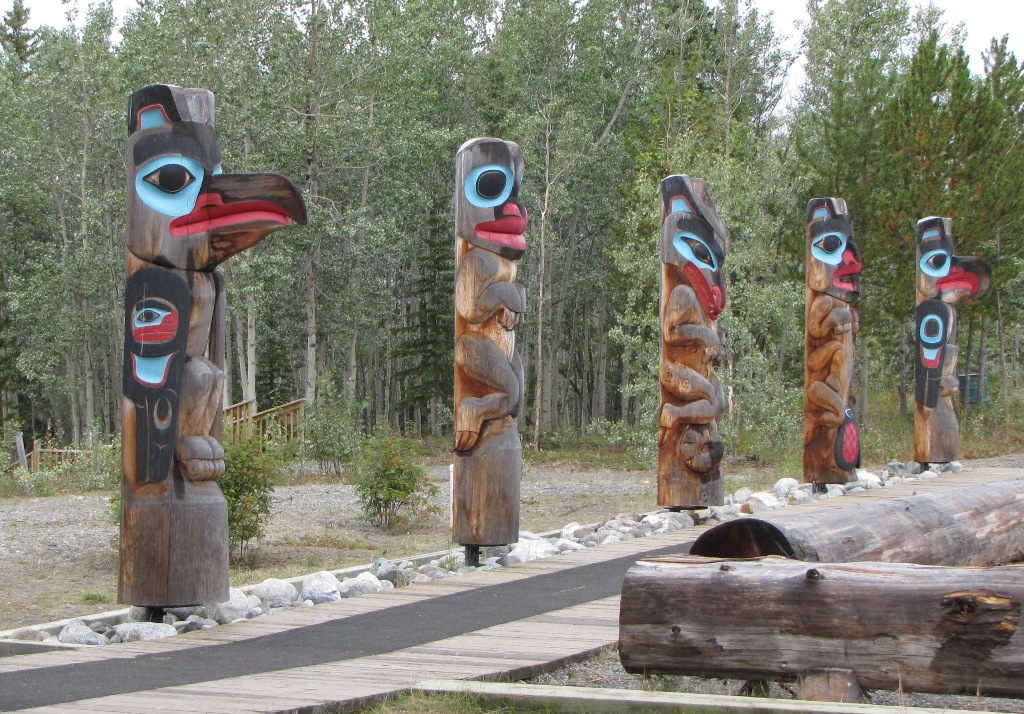 First thing this morning we stopped at theTeslin Tlingit Heritage Centre, to learn about the Tlingit culture and get a stamp for our Yukon Tour Book. The picture at right shows the totems of the five clans. The raven, the frog, the wolf, the beaver, and the eagle.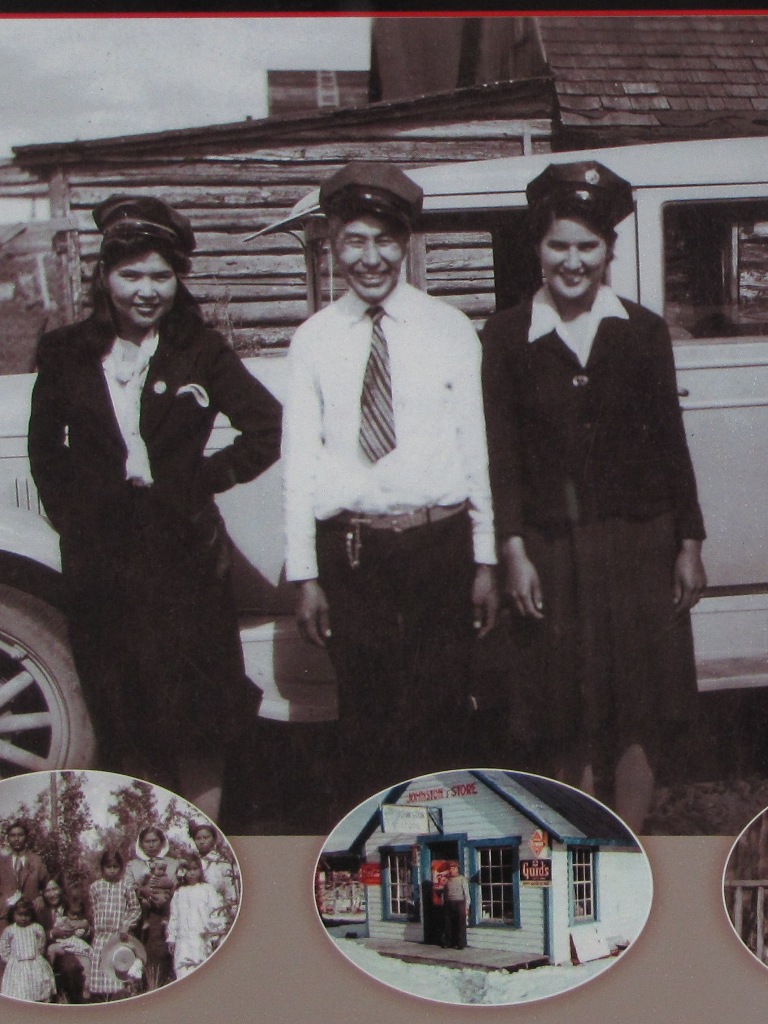 We then moved on to the George Johnston Museum which was the more interesting of the two. George was a Tlingit (pronounced Klink IT), Indian that cared deeply about his people, but he also had a zest for living. Born in 1884, he bought a camera, and took pictures of the every day life of his people between 1910 and 1940, developing the pictures in his own cabin.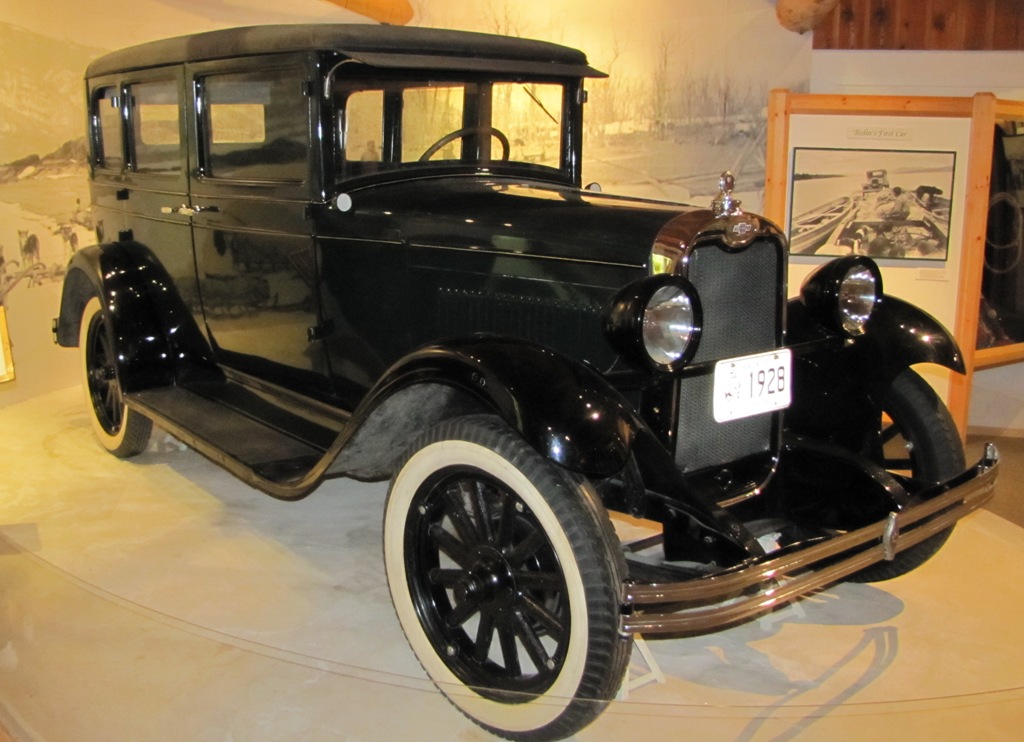 He also brought the first car, a 1928 Chevrolet to Teslin, even though there were No roads. He had it shipped up the river by barge. He and his friends built a three mile road to drive his "Taxi" on, and in the winter he was able to drive it on the frozen lake! It was an interesting museum.
We drove on thru Rancheria, turned at Junction 37 and headed on down the Cassiar Highway.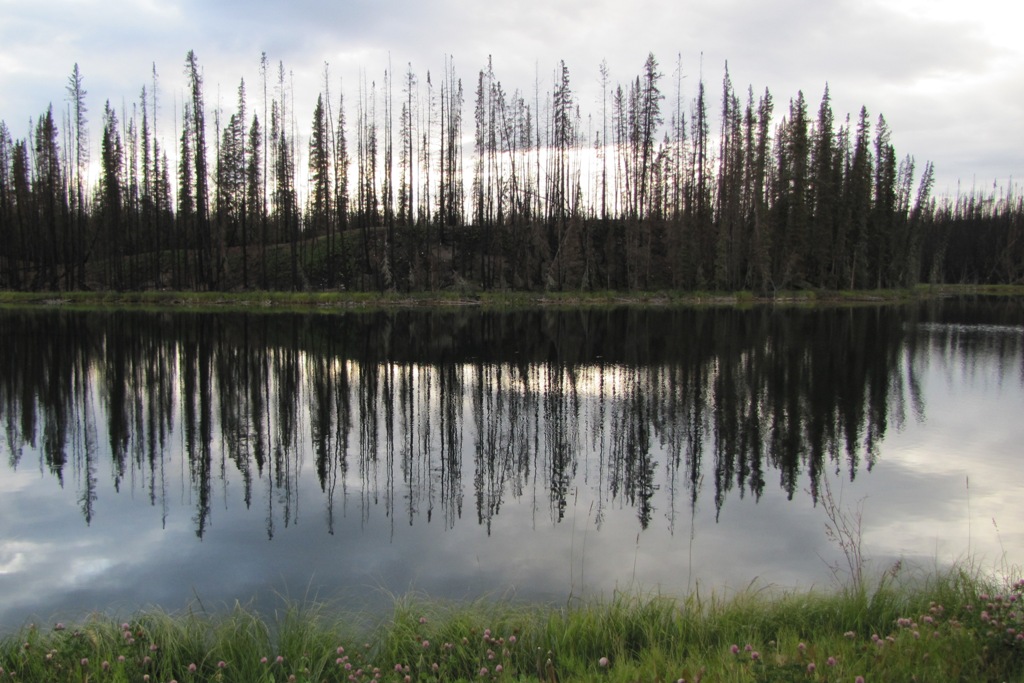 We stopped for the night at a pullout along the side of a lake. In the evening we were watching a movie when Bob said, "I just saw something run across the floor"! Thank goodness my feet were up in the lounge position of my seat! What we finally discovered was a mouse. Bob set the trap, and we had the mouse in just minutes. The problem was they kept coming! We don't know how they were getting in. We set the trap with Cheetos; yep, mice LOVE Cheetos.! By the end of the evening we had killed 4 mice, which we felt bad about, but we can't have them in the coach. Guess we were parked on their food path and they took a slight detour. We still can't figure how they were getting in our coach. It's somewhere up under the steering wheel along the driver's left wall.
During the day, we kept checking our phones for cell coverage, but they were dead as doornails. Can't get a birthday greeting to our father, major bummer! Sorry, Dad! but we were thinking about you all day.
Saturday, August 13, 2011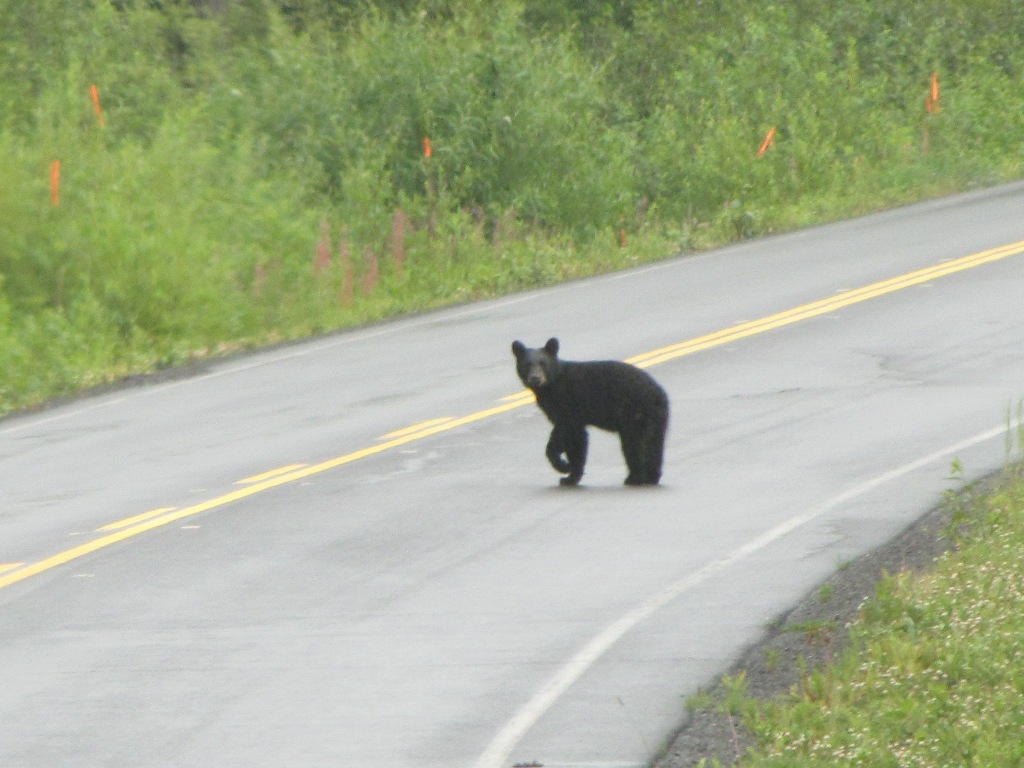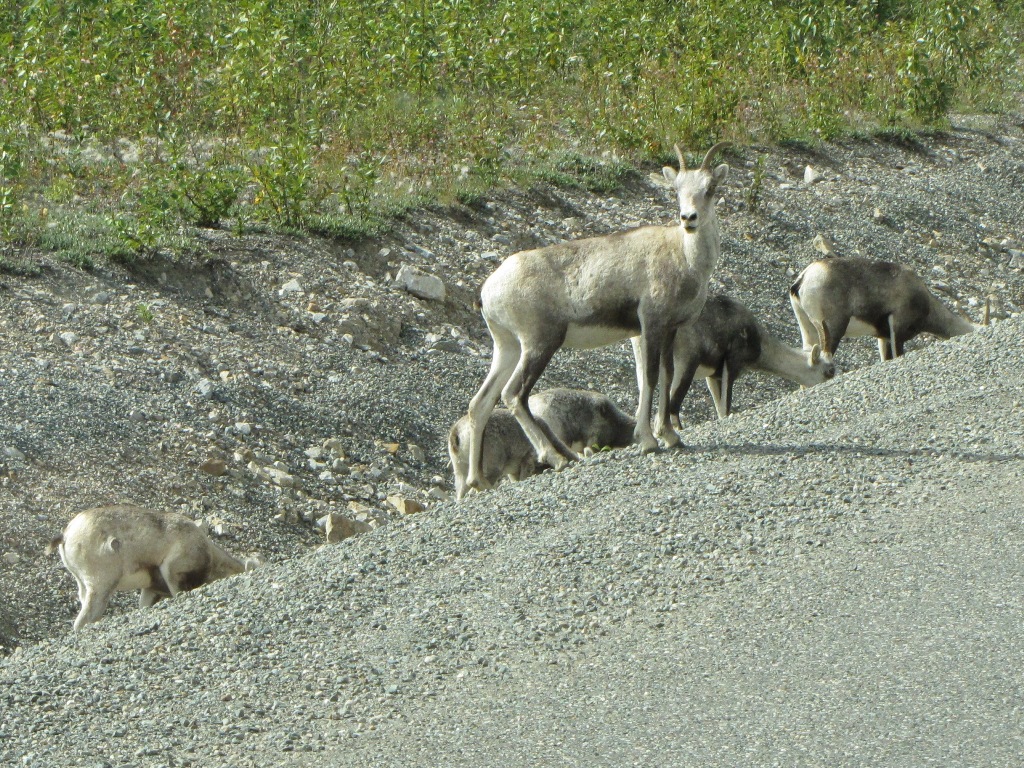 We continued on down the Cassiar Highway today, heading further South. I am finally on the mend. Still getting the sniffles, but the runny nose has stopped and so have the chills,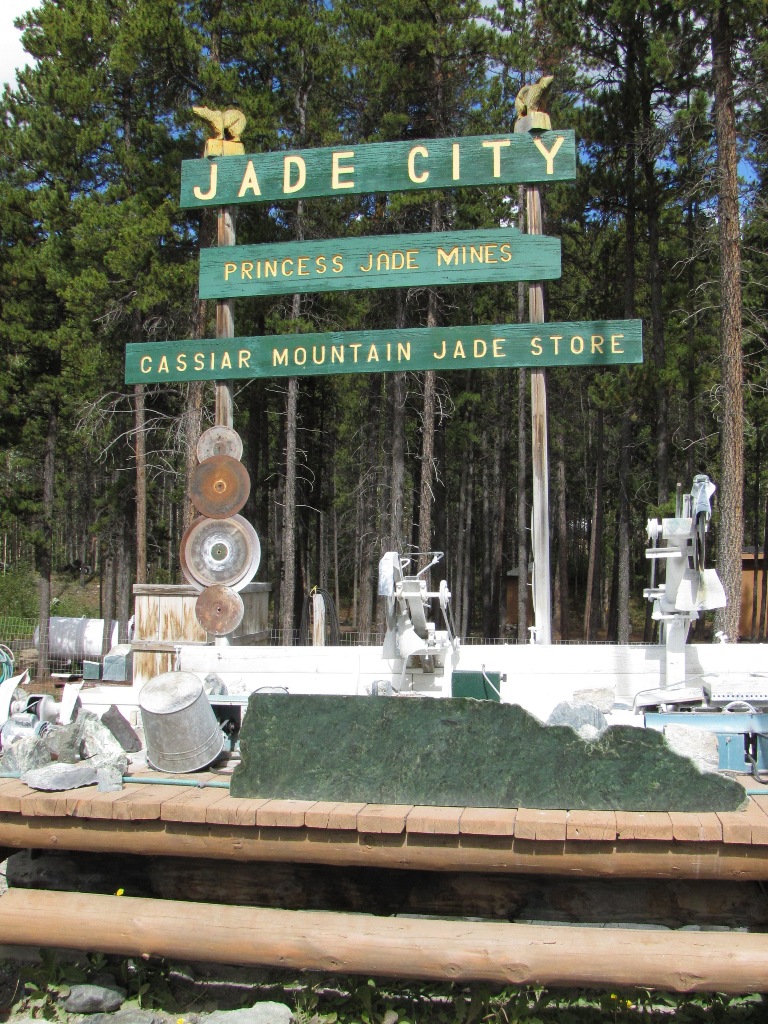 but I am weak and tired all the time. This was a wonderful day for wild life viewing! We saw 3 mountain sheep with 3 babies, a moose, a bear, another bear with one or two cubs, a fox, and a couple of squirrels that survived by the hair on their tails. We also stopped at Jade City, located in the Cassiar Mountains. 90% of the world's jade comes from this location. We also found out that China is the biggest customer for their jade! Gives a new meaning to "Made in China". We have also gone over the 10,000 mile marker on this journey. Spent another night on the side of the road on a paved pull-off.
Sunday, August 14, 2011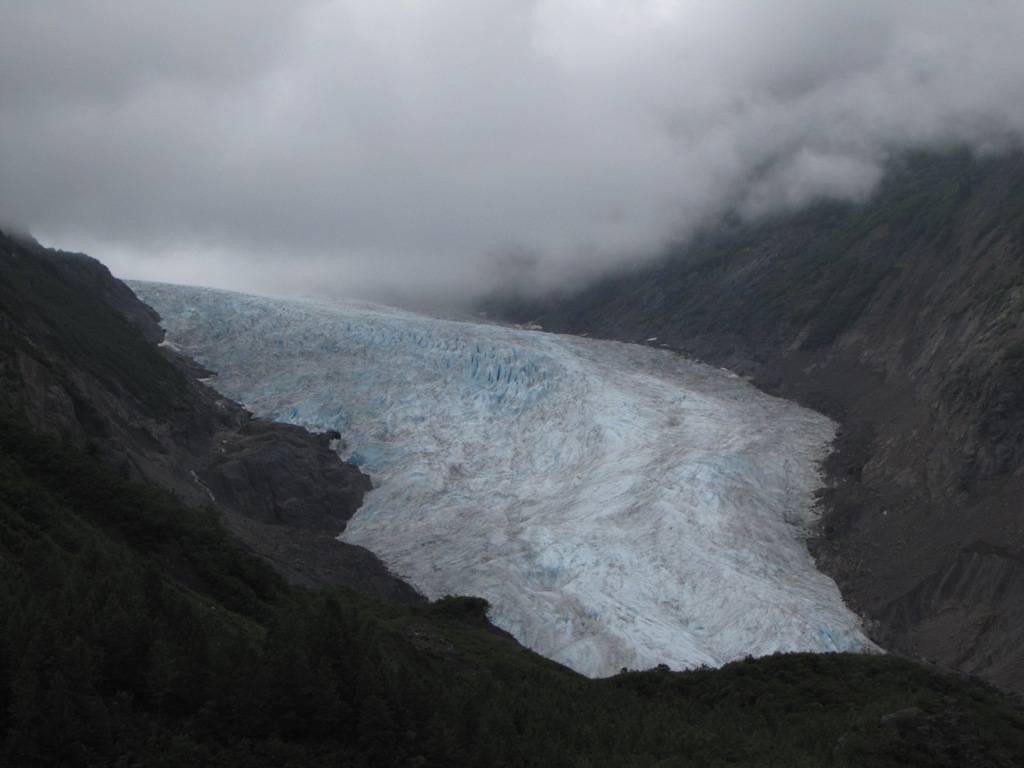 The weather has been very cloudy and gloomy of late.
On our way into Stewart, BC, we stopped by ANOTHER glacier (Bear Glacier) to get some pictures as you can see where it dumps directly into a lake. At the far end of this lake, it looked like there was an iceberg floating in the water. But when Bob glanced through his binoculars, lo and behold, it was a truck camper floating in the water!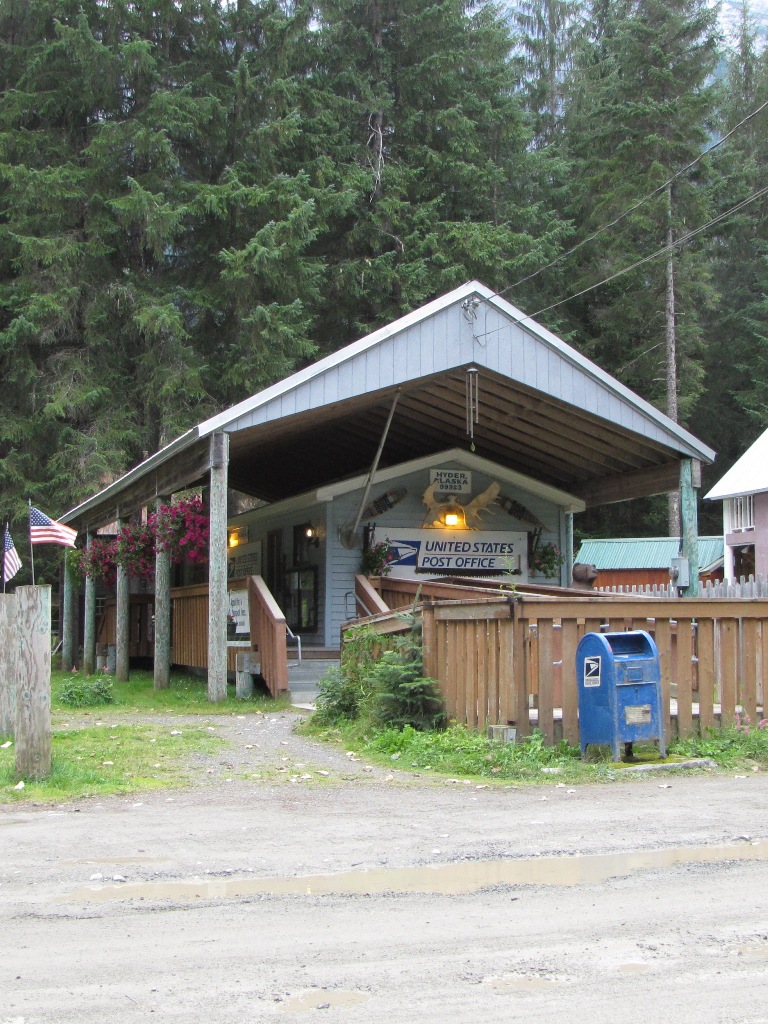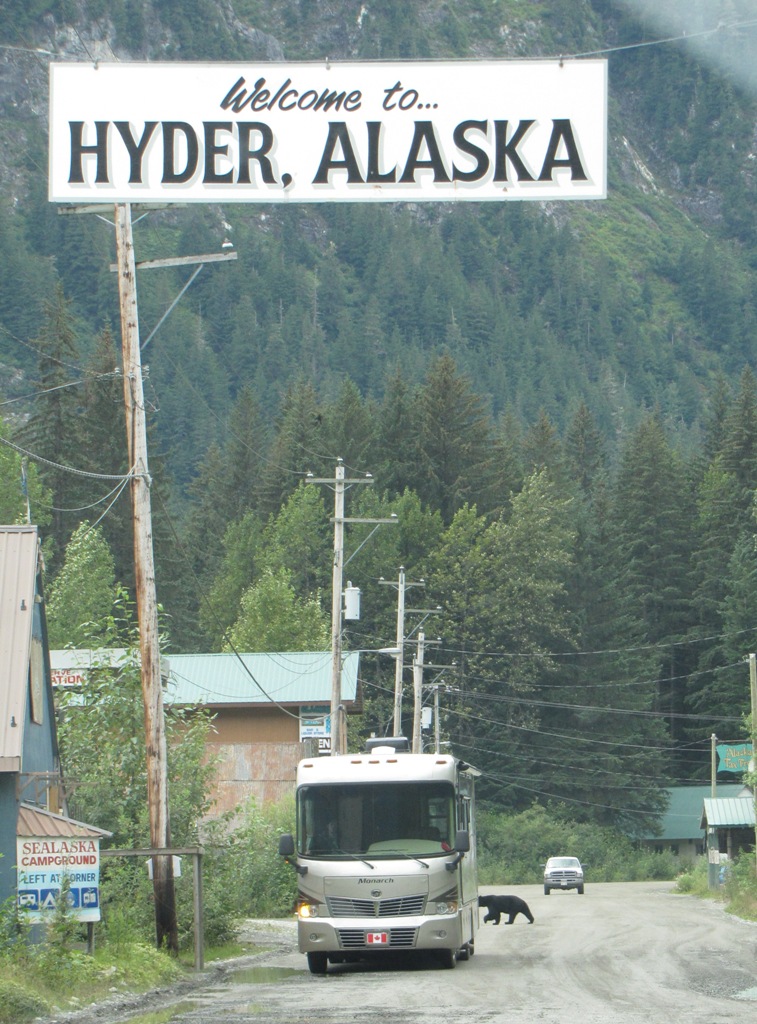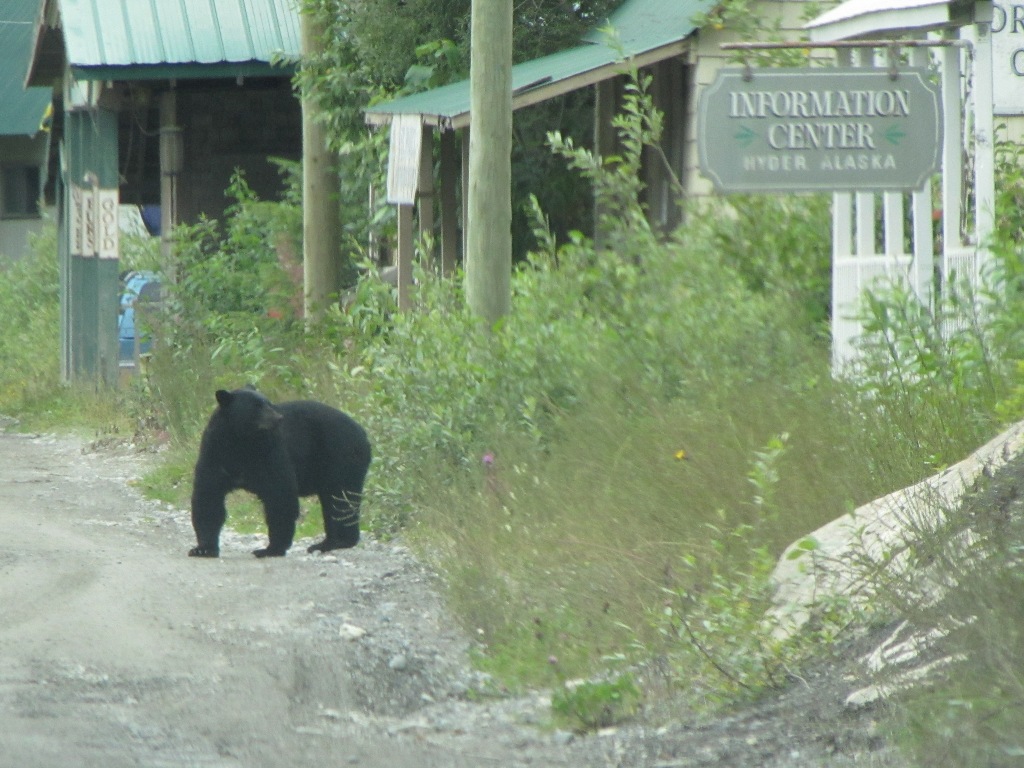 Unbelieveable!
I don't know what it was doing in the water, but it's nice to know they float! From there it was only a few short miles into Stewart. We decided to stay at Bear River RV Park. Very nice, we would definitely stay here again. It had full hook-ups and free internet service (depending on the weather and the satellite). We can handle that. Once we were set up in the park and put a load of laundry in, we were off to Hyder, AK. The only way to get there is to drive through Stewart. The "Milepost" magazine says the population of these two towns was 699 for Stewart and 100 for Hyder. And that is being magnanimous on their part, it's gotta' be!! Stewart is tiny and Hyder looks like a ghost town that has a post office!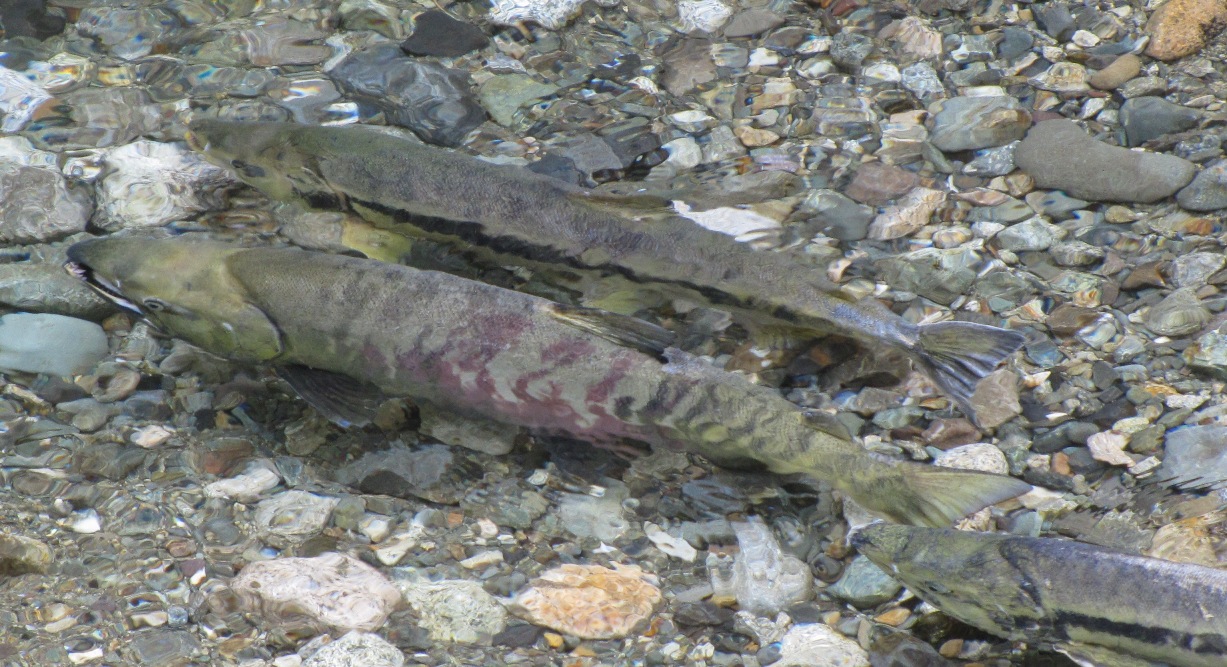 Anyways... the big draw to Hyder is Tongas National Forest where Fish Creek is located. It is here that the largest chum and pink salmon come to spawn, and the bears that come to feed on them in the creek. Now I'm talking major tourist attraction folks! they bring tour busses down here to see this. The road is absolutely horrible, and there are no guarantees that you will see anything. Exactly, WE DIDN'T SEE ONE BEAR! They were all in Hyder!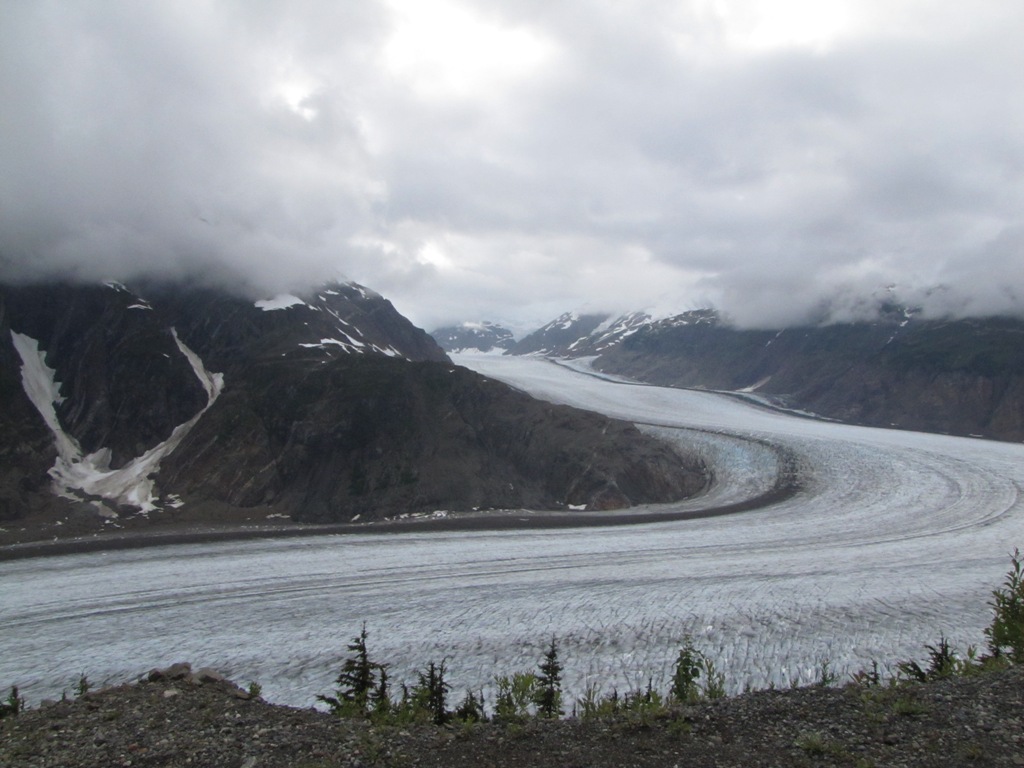 You can stay as long as you like, they are open from 6 am in the morning to 10 pm at night. When talking with some photographers there (I'm talking professional), with those long, long, lenses, they had been there since 7 am this morning and we got there about 4 pm. We waited for about an hour, but no Bears.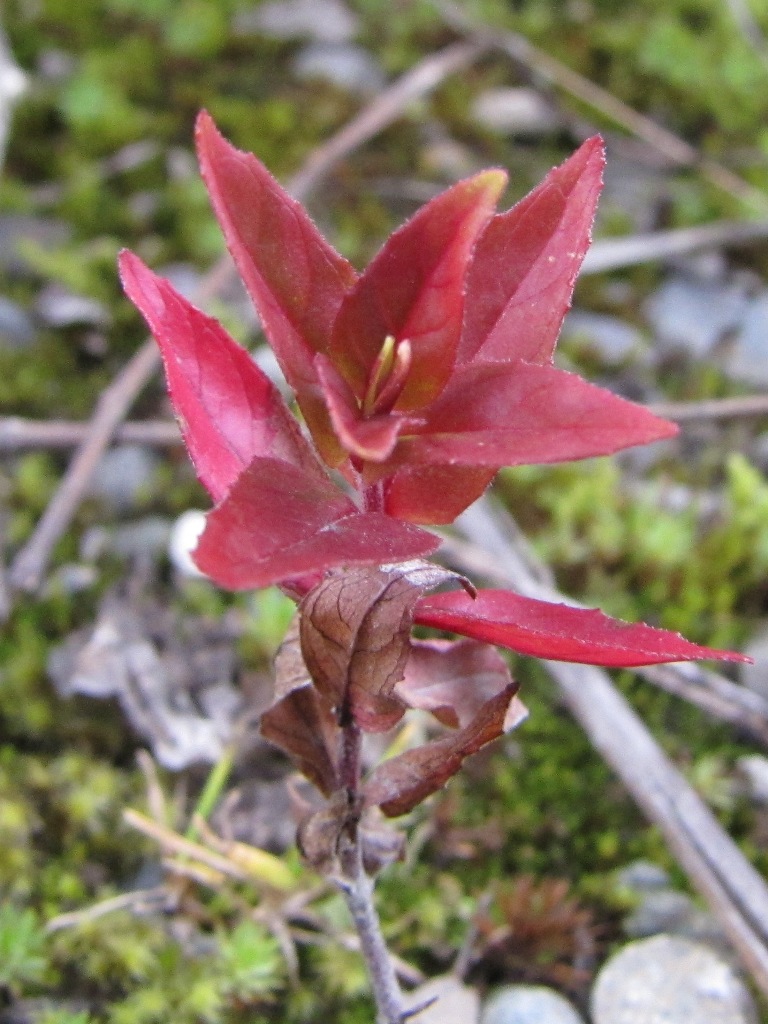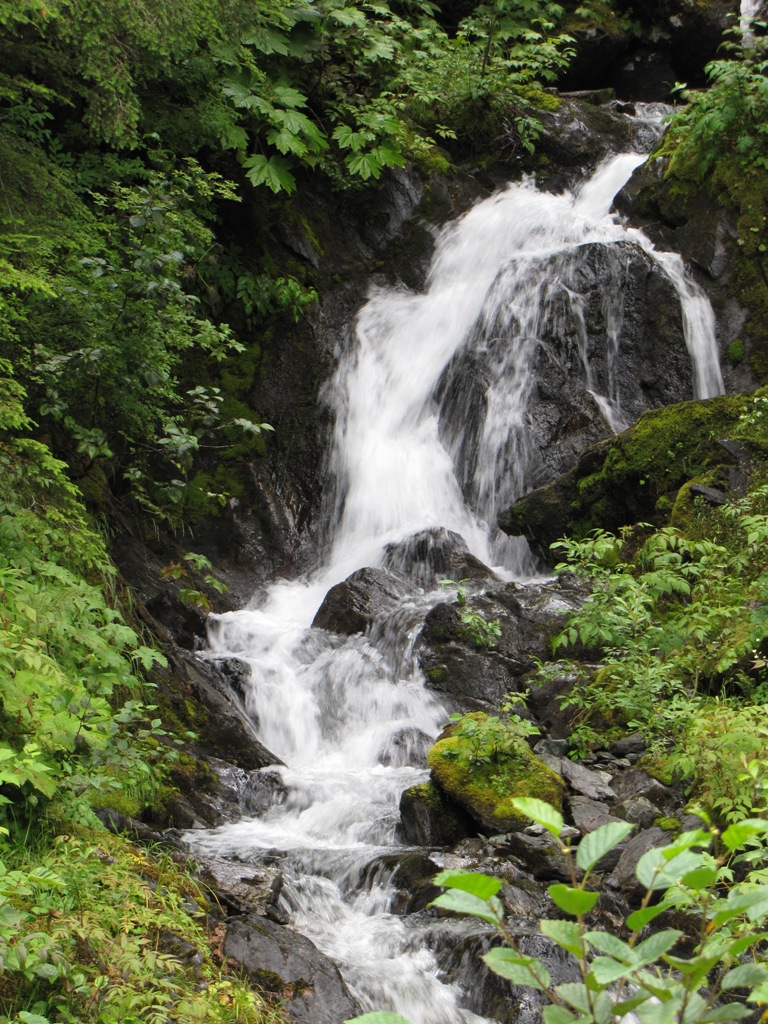 We thought it would be better to come back later in the evening, so we headed on up the road to go see Salmon Glacier.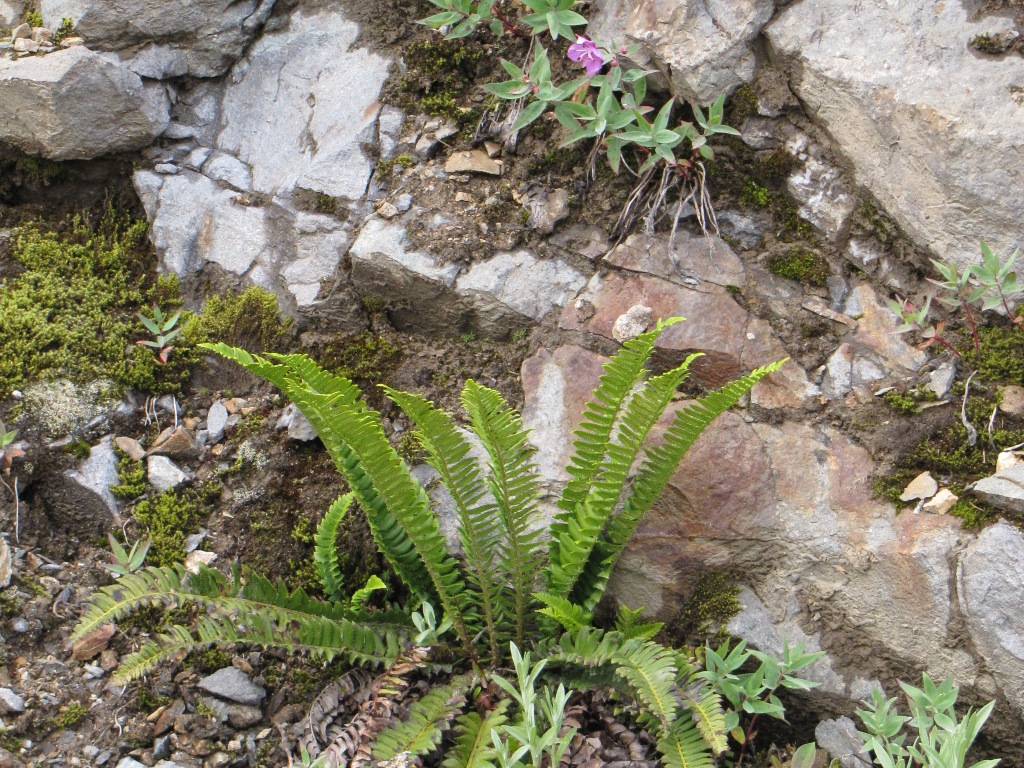 The ride was slow up the muddy, potholed road, but the trip was worth it. The glacier was spectacular! You can see it from the toe up to top. It is the fifth largest glacier in North America. To see how it goes around curves, left or right, amazing! It just disappeared into the clouds. What I was amazed with was to see these delicate flowers and FERNS, blooming up here in this alpine environment, cold, windy and misting!

| | | |
| --- | --- | --- |
| | | |
When we got back down to Fish Creek, we were told we had just missed the momma bear and her two cubs, discouraged, we went home to a late supper. Threw some more wash in taking advantage of the hook-ups. and called it a night.


Stewart is home to the logging industry. As we were driving back to the RV we could see these huge rafts of logs tied up waiting to be pulled I supposed to the lumber mill. We had just watched a movie not too long ago on the logging industry with Henry Fonda and Paul Newman, so we were sort of interested in this.
You know I could do three different books on Alaska; wildlife, glaciers, wildflowers. I think this photograph would make the cover of my glacier photo book.
Monday, August 15, 2011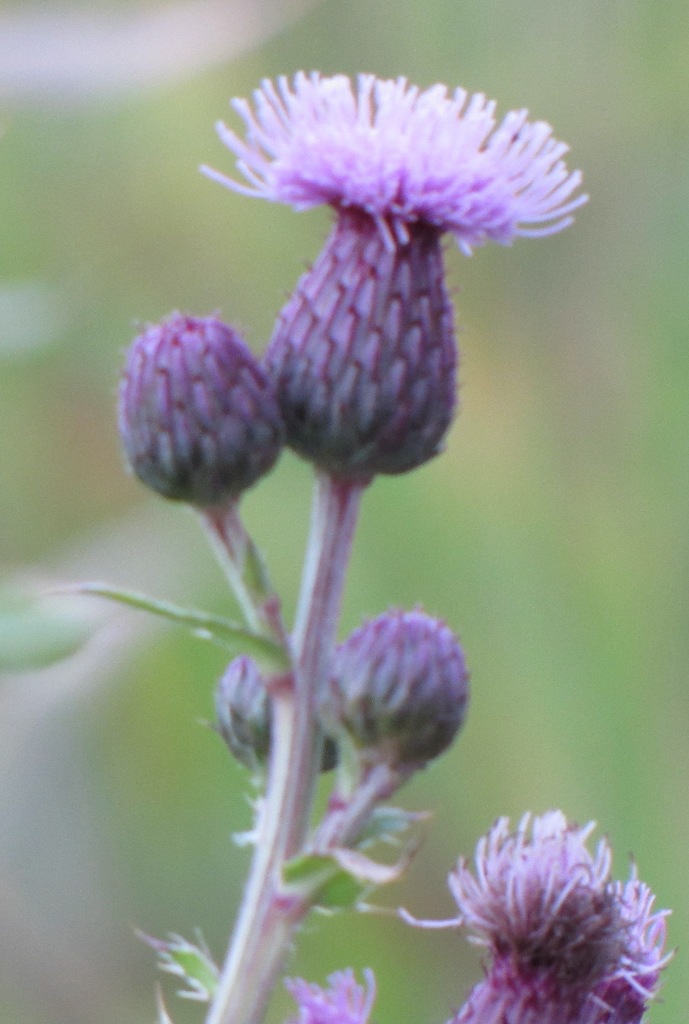 We took us a leisurely morning to cook breakfast before getting cleaned up and putting in another load of laundry. Took some time to catch up on emails, blogs and such. We decided to eat an early dinner before heading back up to Fish Creek to get another chance at seeing the bears.
BORING!!! We stayed there for two hours in the rain, before deciding it was another waste of time, even the photographers left early. They did a fish count today by walking down the river. Some people thought that may have been a reason the bears didn't show up. There had only been one reported sighting all day and that was 10am this morning. On the way back to the RV we stopped at their small grocery store to check out their supplies. Very good for a town of this size. They did have a Sears Catalog Store in the town. This place is too small, even for me. Will be glad to be on the move tomorrow.
And we're off. It's another traveling day for us. The clouds are low and hanging below the mountains. A wet miserable day, not good for seeing much of anything. We are on our way to Prince George. Driving through Houston, we came across the World's Largest Fly Rod located at their visitors center. It 61 ft tall and has a 300 pound test tip and weighs 300lbs. We thought it might take two days, but it wasn't good for sightseeing, so we kept on driving and make it in around 7:30 and parked in another Walmart. It said it was a superstore, but those words can be decieving. Believe me when I say, IT WAS NOT A SUPERSTORE.
Wednesday, August 17, 2011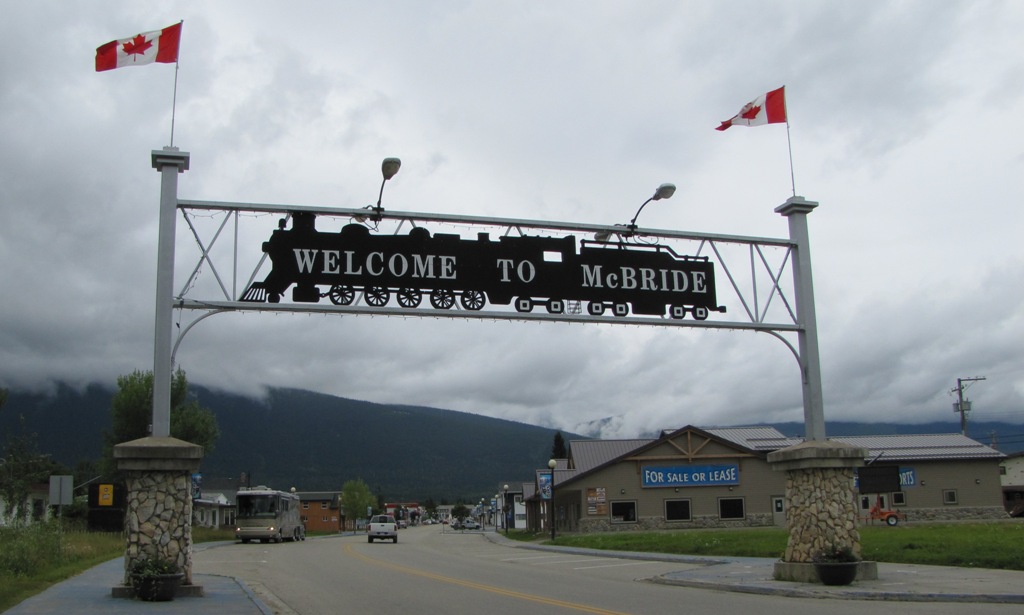 Still another traveling day. We are headed East on Hwy 16, the Yellowhead Hwy, still making our way to Edmonton. We stopped in McBride today around noon. Since we have no Internet or cell phone, Bob needs to find a place where they might have wifi service so we can get a zip code for our mail to be forwarded. McBride is a small town, but very clean and neat.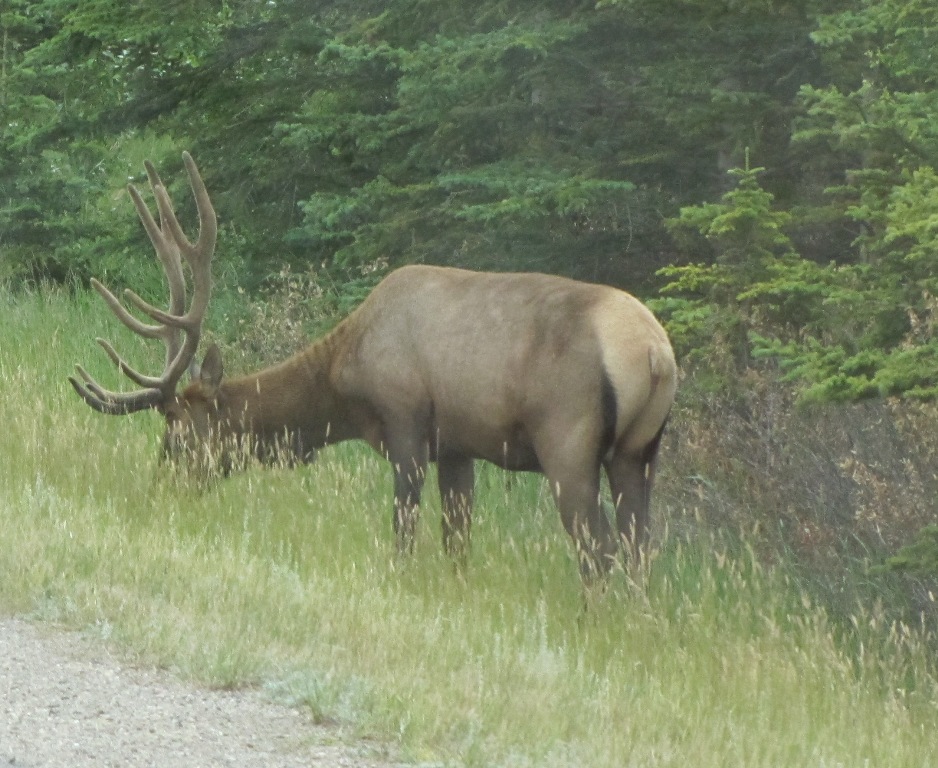 Their visitor's center is located inside their historic train depot along with a cafe that serves coffee and sandwiches. But we were on our way very quickly when we found out they wanted something like a $1.50 per minute for Internet service. Wow! Talk about expensive. Later in the afternoon as we passed through Jasper National Park, there were cars stopped on the side of the road. An elk was out eating a late lunch on the side of the road. He could care less if people were all around him snapping their cameras. The big rig drivers weren't happy I'm sure as the cars created a terrible traffic jam.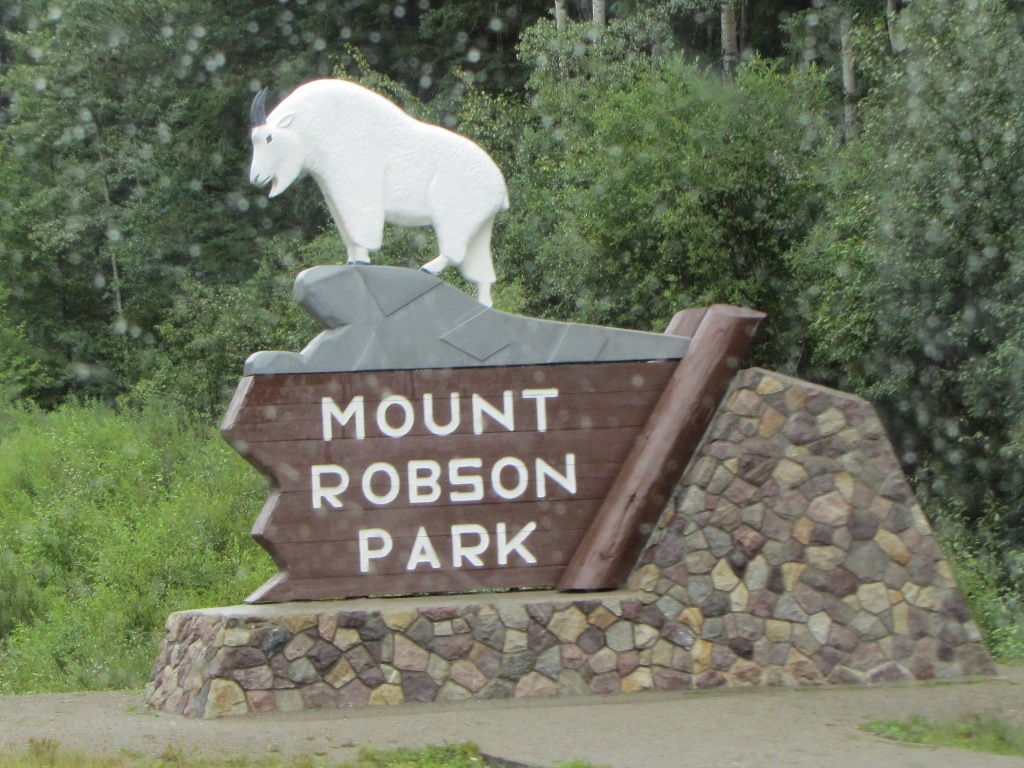 Before that we passed through Mount Robson Provincial Park. It includes Mount Robson, el. 12,972 ft. It's the highest peak in the Canadian Rockies. Not long after we arrived in Hinton, looking for diesel and wifi.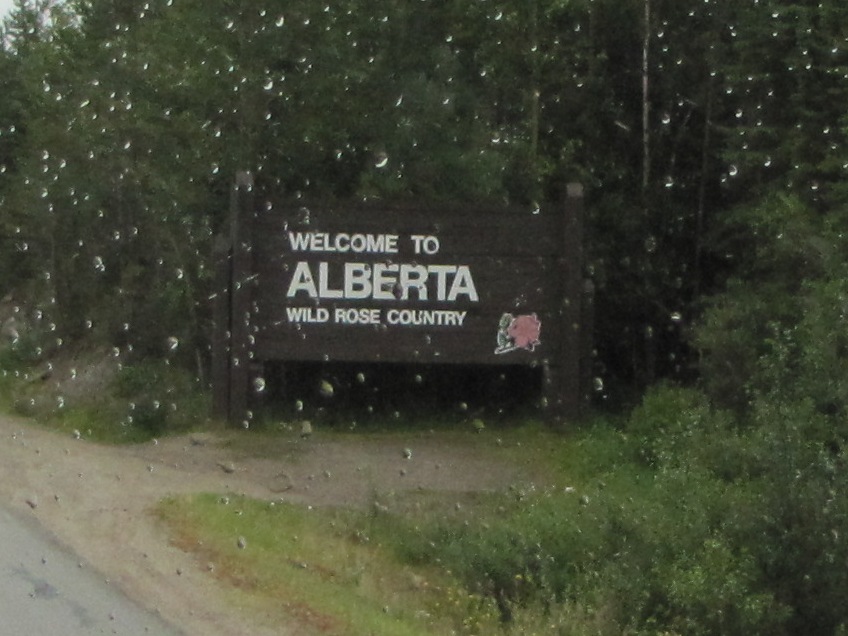 Stopping in front of a hotel gave us the wifi we needed to get our zip code, but we couldn't spend the night there. So we got our fuel and headed back to the Walmart where we had spent a night when we were headed north in late May almost three months earlier! It either rained or drizzled most of today. We got some sun right at sunset. After it got dark it rained again. We are now on Mountain time. Only two hours difference from home. Makes it a little easier to make phone calls.
Thursday, August 18, 2011
It rained all night in Hinton. By the time you get to Edmonton, you realize you are not in the Rocky Mountains any more, but on the prairie. We have passed fields and fields of rolled hay, placed neatly in long lines. There are also fields of Canola growing like wheat. This is where canola oil comes from. We are parked at another Walmart for the night. This is the first Walmart of any size we are used to in the states, including a FULL line of groceries. But they still don't carry the same things as we do at home. The weather was sunny and warm as we got out of the coach. First time we didn't need jackets in over a month! We got in early enough that we took off for the West Edmonton Mall, or WEM. All I can saw is WOW! It is the largest indoor mall in North America. And I quote, " over 800 stores and services, 100 eating establishments, 2 hotels and 9 theme park attractions. There is an enormous indoor water park, complete with wave pool, and over 12 water slides, a ropes course, full scale amusement park, with largest indoor roller coaster, ice skating rink, 2 18 hole miniature golf courses, (one of which is the neon Putt'n'Glow); bowling, billiards and bingo; bumper boats and a sea lion show and underground aquarium at Sea Life Caverns. Also there is a casino, dinner theater and IMAX 3D theater. Now I would not have believed all this possible if I hadn't seen it myself. First thing we did was eat; got some Chinese, as we haven't had any in a long while. Then we went to the amusement park which was right next to the eating establishments. There is no way I was going to ride those coasters after eating Chinese. The cost for riding the coaster was 7 tickets or $7 dollars! Ouch! Of course you can buy a combination pass (32 rides in all) but there was too much for us to see. For those of you who remember Kennywood, they too have the rides for the small kids so they will grow up wanting to ride the big rides. Then we moved on to the ice rink, and the wave park. It's HUGE! Reminds me of Carowinds, but with many more slides. My feet gave out before the feasting of my eyes did. Should have worn a pedometer. Walking back to where we came in we realized we had missed the theme streets, such as Bourbon St. and Chinatown. We are pooped!
Friday, August 19, 2011
We are heading for the states today. It's been almost 3 months and we are ready for reliable phone service, TV, and Internet. So we are bypassing Calgary to get back to the states. It is open prairie all the way. We are crossing the land of the Blackfeet and Crow Indians.

We could see the mountains of the Waterton Lakes National Park of Canada which is adjoined to Glacier National Park in the US. We had no problem at customs. One patrol officer boarded our RV and looked in our frig, but he didn't take anything and he didn't touch my houseplant that Bob got me for Mother's Day. As he left the coach he said, "Welcome Home". That had a real nice ring to it, ya' know? That''s not to say that Canada and it's people aren't wonderful, but there's something about "Home", that gives you that warm fuzzy feeling inside.
We drove into Glacier Park to see if we could get a space, not really expecting to. But Yay!, they had room for us, for 3 WHOLE DAYS. Wow. We parked the rig, opened the windows and drank in the fresh air to our coach. It's warm, it's sunny, it's wonderful. We also have phone service and wifi, at least here in the campground. Satellite also works now, yep, we're back in the USA.
Saturday, August 20, 2011
Last night after dinner, after dark, really, we went down to the visitor's center for an astronomy show. The sky was soooooo clear! The Milky Way was so visible it was beautiiful. The men giving the show are volunteers and retired professors of astronomy from Utah and Washington. One brought his 11 year old granddaughter with her own telescope that she got when she was five! She knows as much as he does, and thats A LOT! Did you know there is a tea kettle constellation in the sky?
Bob was totally fascinated, so much more than I. This show was dependent on the dark window between sunset and moon rise which was about 11:30pm. The moon will rise later tomorrow night, and Bob plans on going back.
Today we took the "Going To The Sun" road through the park. What a gorgeous ride! These mountains are unlike any others I have seen. Most have been formed by the glaciers. When the park was formed in 1910, there were over 150 glaciers, now sadly, there are only 26, and they are not in good shape. Climate change (remember, it's politically incorrect to say, Global Warming), is wrecking havoc on glaciers. Where glaciers once stood, there are now alpine meadows in full bloom. The best way to see this park is on foot, like most national parks.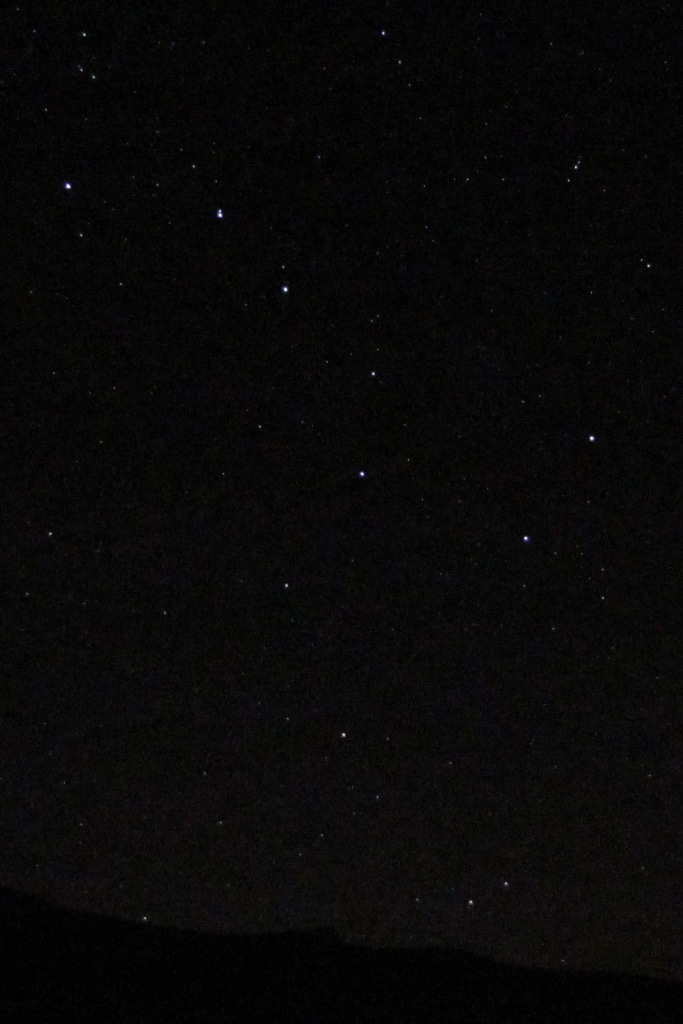 There are hundreds of trails you can take to get some of the most incredible views. I know Bob would love to go, but I can't hike like that anymore.
The road itself is a National Historical Engineering Landmark. Vehicles over 21 feet in length bumper to bumper are not allowed on the road due to tight curves and sheer sidewalls. It's 50 mile length is filled with pull offs with amazing views. I could go on and on, but you will just have to settle for my pictures. It took us over four hours to drive this 50 miles because there we so many stops we wanted to make. By the time we got back to the east side of the park it was 8:30.


We had planned on cooking some of our salmon, but it was so late, when we passed a place called the Whistlestop, we turned around for a quick meal of cheeseburger, BBQ pork and french fries. It really hit the spot after a long day.
Bob went back again tonight for the astronomy show. This time he took the camera and his tripod hoping to get pictures of the Milky Way. PS: He came home with just one picture of the Big Dipper. But that's okay, because he learned what to do when he gets the right camera. (Can you see the Big Dipper?)

Sunday, August 21, 2011
The sky was beautiful, but windy today. We rocked in the RV a good part of the day. Gave Bob his haircut, and I nibbled on mine a little bit.. We were supposed to leave tomorrow, but Bob found out last night, there might be an opportunity to see the Northern Lights on Monday night, so we signed up for another night. We just cannot believe how lucky we are to get this camp site for so many days, and not have to move. Bob also called Yellowstone National Park. We have got reservations there for three nights starting on the 24th. Unbelieveable! Reservations on such short notice. We must have a guardian angel somewhere to be having all this good fortune. We are on site 148 which is right next to the rest rooms. I figured this would have been a handicap site, but guess not.
Monday, August 22, 2011
Bob cooked breakfast this morning; bacon and pancakes, yummy! Our food supplies are getting low. We're not starving by any means, let's just say we're short on our favorites.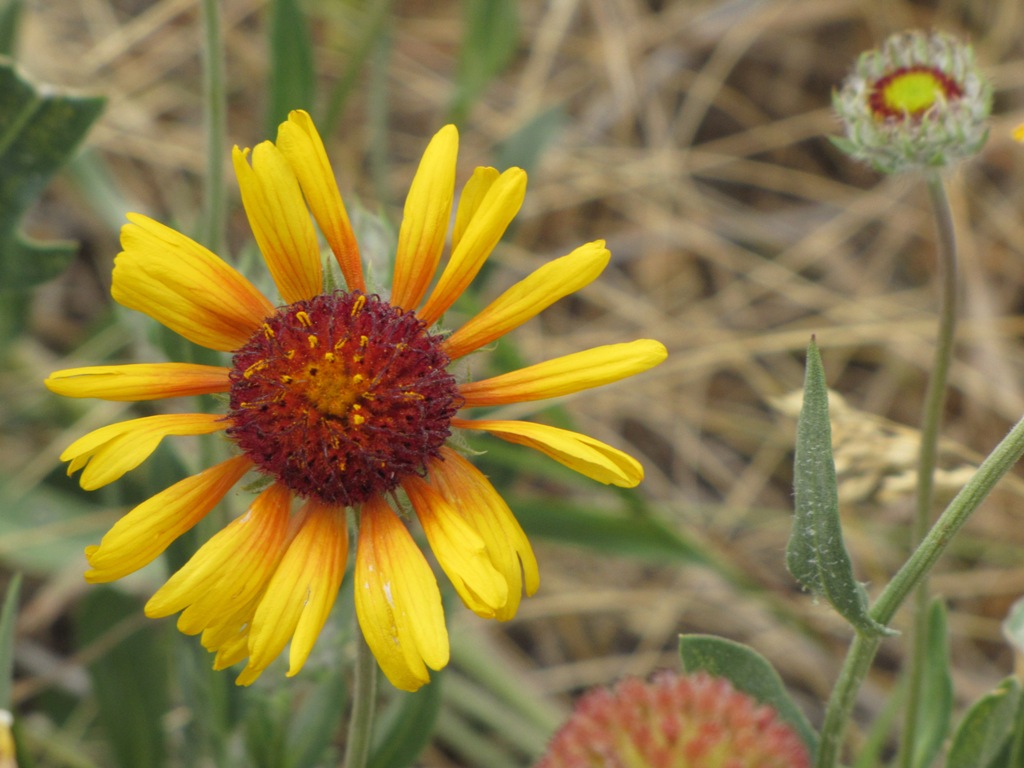 I mean, you can't complain when you are having steak and potatoes for dinner, with a salad and garlic bread. But it was our last steak, our last tomato, you get the picture. We have put off buying any groceries until we got back into the states, because everything was so expensive in Canada. We just haven't gotten to a real grocery store (Walmart) yet. We did drive around the small area outside the gates of the park. There is a small grocery that carries a lot, but again, It supply versus demand. If you want it you will pay for it. There is a lodge or two outside the park entrance but that's about it. This entrance is right on the boundary of the Blackfeet Reservation. They are also known as the Crows or the Kiowas'.
Before Bob went back to the astronomy show we skyped our grandchildren. I can't wait to see them. This is the longest I have been away from Rachel, and I'm not sure Kylie knows who Bob and I are yet. I stayed home this evening while Bob went to the show. The wind was still blowing, and there was a

wonderful warm breeze blowing in the windows. Felt good for a change, instead of being bundled up with a sweatshirt. The Aurora Borealis never materialized this evening, Bob was pretty disappointed. Maybe someday.
(This was the view out our front window)
Tuesday, August 23, 2011
We are on our way once again. We really did hate to leave Glacier, it's truly a beautiful place. We had to stop in Browning, MT, for our mail pick up. Browning is the largest town on the Blackfeet Indian Reservation.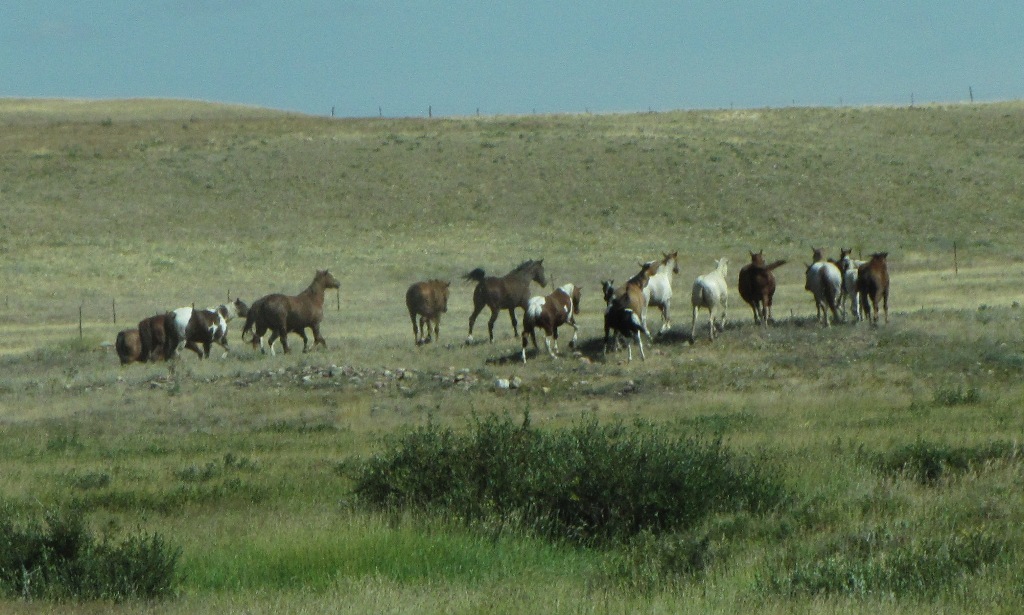 It's on a wide open prairie and about the same size as Glacier National Park. We saw groups of wild mustangs traveling down the road; what beautiful creatures. While we were there, we stopped to get sandwiches from Subway. Whoo-hoo, they have the $5 specials. What was even better, there was no sales tax. Just $10 for the two sandwiches. I found a stub from our Subway stop while we were in Alaska. Ouch! The same order came to $17.83! By the time you add in the exchange rate, it cost $18.00. What a difference a couple of days and a country make. I am never going to complain about the cost of food again. Americans are spoiled, and we just don't appreciate it.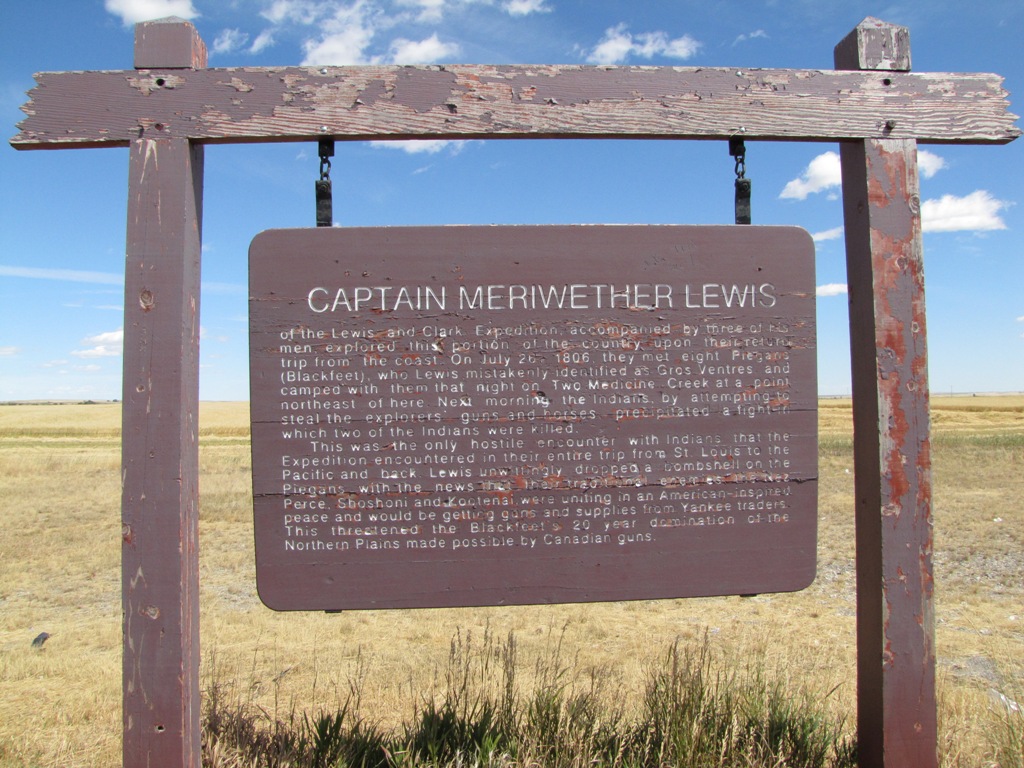 Anyways, I digress from our trip.... We kept on traveling south. We stopped at a Historic Point of Interest about Lewis and Clark. Another RVer stopped and asked if we had heard the big news about the East Coast. An EARTHQUAKE! Are you kidding me! Felt in New York, Washington D C, all over the place. We thanked him for the info and got back into our RV. I had Bob hook up our Internet service thank goodness we were in range). I looked up CNN for the latest news and found there had been a 5.8 earthquake 41 some miles NW of Richmond, VA and 65 miles SW of Washington, DC. Checked with my Facebook friends and sure enough, it had been felt all the way from Pittsburgh to Wilmington. I had to call Stephanie right away. She asked if we had heard the news, uh..yeah, on some back road in Montana. Boy, does news travel fast news,
Yes, she was working on the sales floor when lights started shaking. Her boss was in the back and her chair started moving. What an amazing day, and now it looks like Hurricane Irene is either going to hit Wilmington, NC or Norfolk, VA. When will the weather ever settle down.
Speaking of....it's getting terribly hot up here, its' about 90 degrees hot! When we got to Great Falls, Mt., first stop was Sam's Club. We have been holding off buying anything in Canada, because of prices. I think we over did our little buying spree, we had a hard time putting stuff in our freezer, and we still have to hit up Walmart. Bob filled up the car and the RV with fuel before leaving town. I kinda' wanted to stay in Sam's Club parking lot, but Bob wanted to be closer to Yellowstone so we wouldn't have to drive so far tomorrow. So...off we went into the sunset, literally. it was really beautiful, the sky kept getting redder, and oranger, (is that a word?) until there was just an afterglow. We were driving through miles and miles of unharvested dry wheat fields that were the palest shade of blonde and against the darkening sky, they seemed very reflective of the light. God does have wonderful lighting effects. The night got darker and darker and Bob was having trouble finding a spot where we could pull off. I felt that we were missing a lot. We passed a sign saying Scenic Byway. Finally I got him to pull over where we saw another RV. When we opened our windows we could hear the rush of water so we knew we were by a creek. It put Bob to sleep right away. It took me a little longer.

Wednesday, August 24, 2011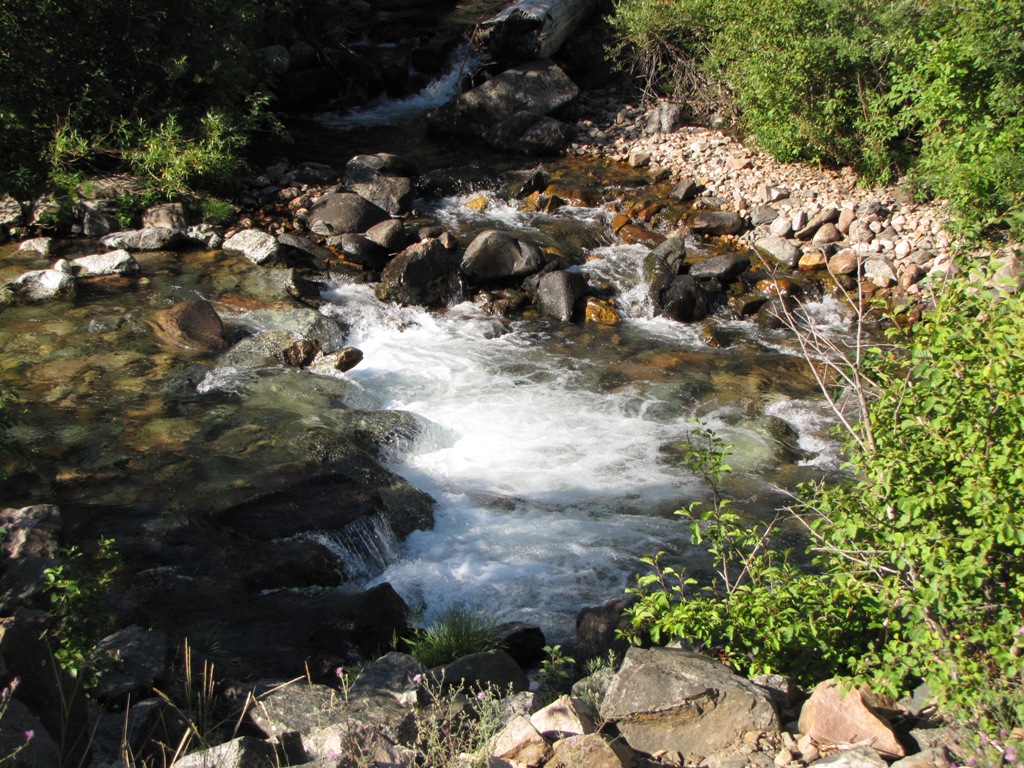 When we woke up, what a view! Unbeknownst to us, we had stopped beside a river that had tumbling rapids. it was beautiful, we were in the Lewis and Clark National Forest just outside the small village of Neihart, MT. The day was drop dead gorgeous and we had reservations for Yellowstone. Does it get any better? There were so many places I wanted to take photos, Sandy had to stop twice to clean the windshield. The bugs had absolutely nothing better to do today, than to get in front of my camera lens. We are also getting word of a hurricane named Irene, that is supposed to make landfall near Wilmington, NC. Why now?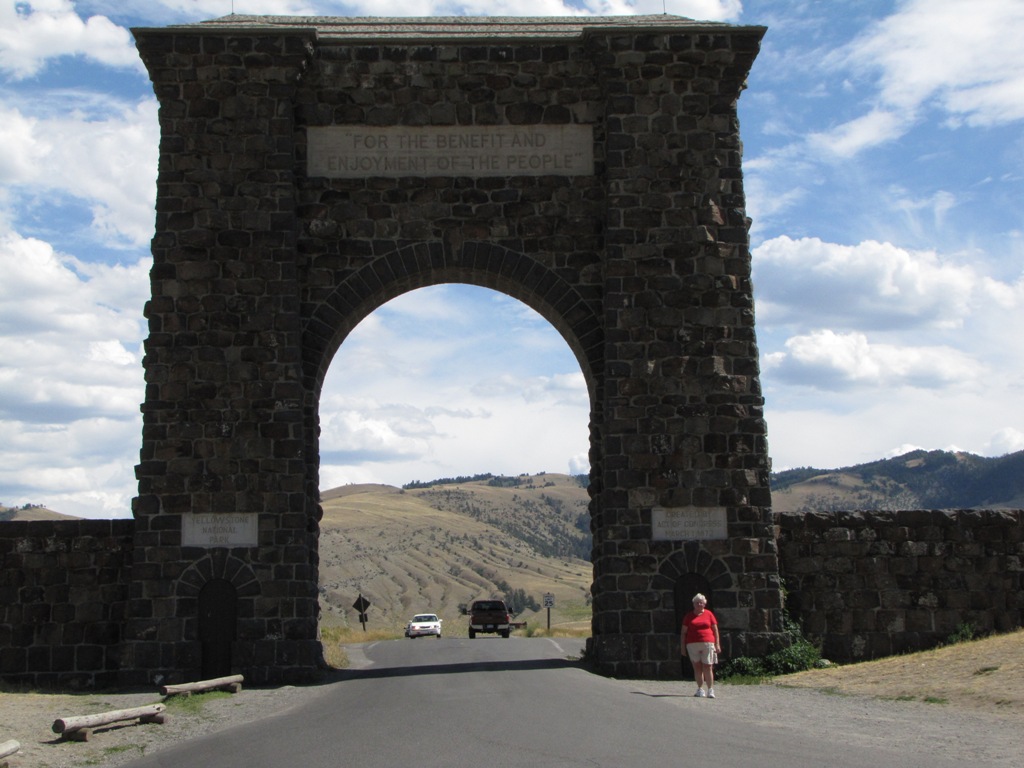 We finally reached the North entrance to Yellowstone around 2:45 pm. We said we would go straight to the campground FIRST, stopping only if we saw an animal. WELL, it was almost 4:45 before we made it there. We ran into the biggest Bison jam. Oh my goodness, they were everywhere, especially in the road! Got some really great photos. I think they really do like to stop traffic! It was wonderful. I am so glad we decided to come. We were going to do some sightseeing after dinner, but decided we had better rest up for the next couple of days of sightseeing we'll be doing while we are here. The last picture shown was our neighbor's coach across the lane. Very retro, very nice! We were also very lucky to get these great pictures of the bison as the next several days were cloudy and didn't produce shots as good as these.
Thursday, August 25, 2011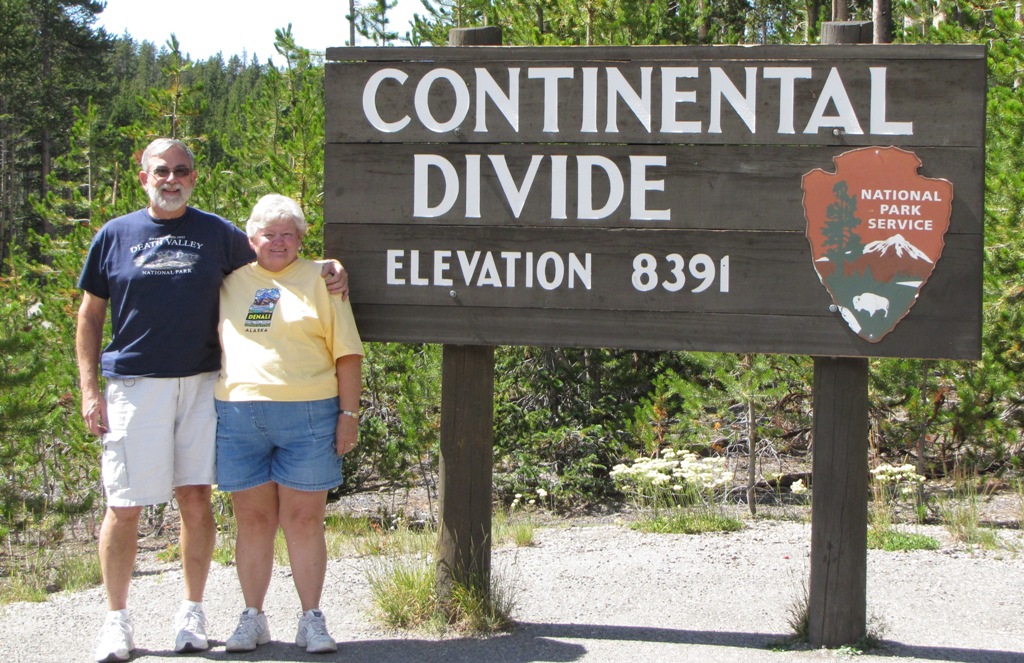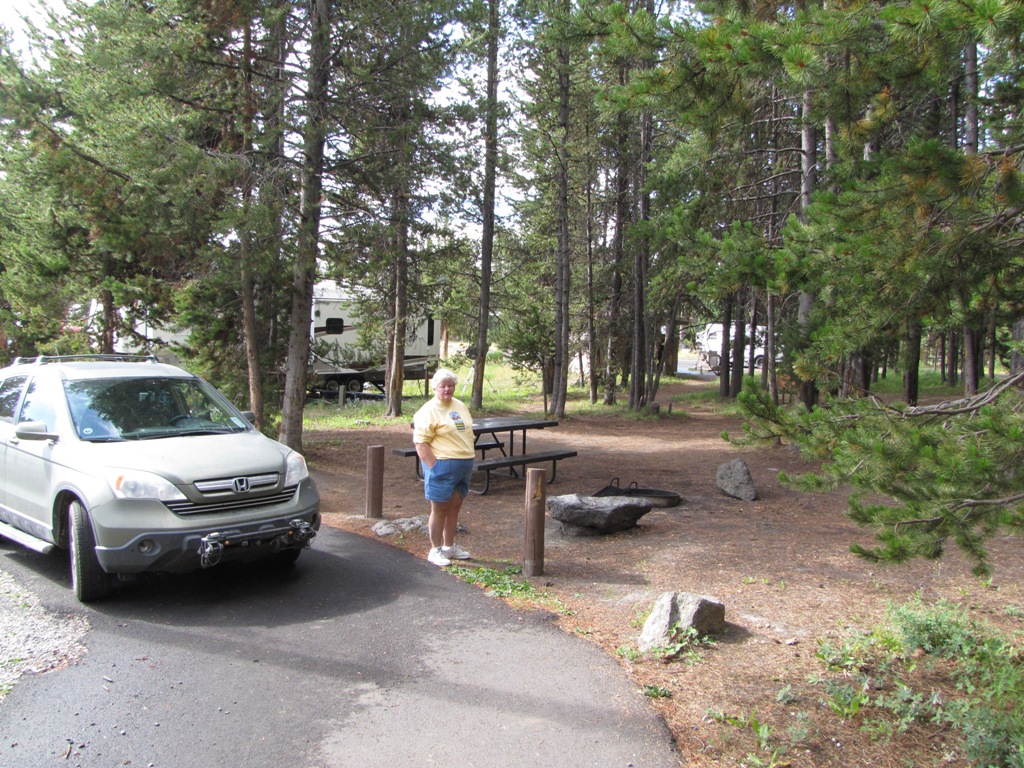 First thing this morning, we found our campsite from the last time we were here 20 years ago. The last day we were there, we woke up to find a rogue buffalo in the campground. We could not get Stephanie awake to see it. She thought we were just trying to wake her up to get her out of her sleeping bag! We had a good time that year.
Our first stop was at the Lower Geyser Basin on Yellowstone Lake. For the most part, it was the same, but I sure didn't miss the smell of rotten eggs! That's all I could smell the rest of the day, peeuw!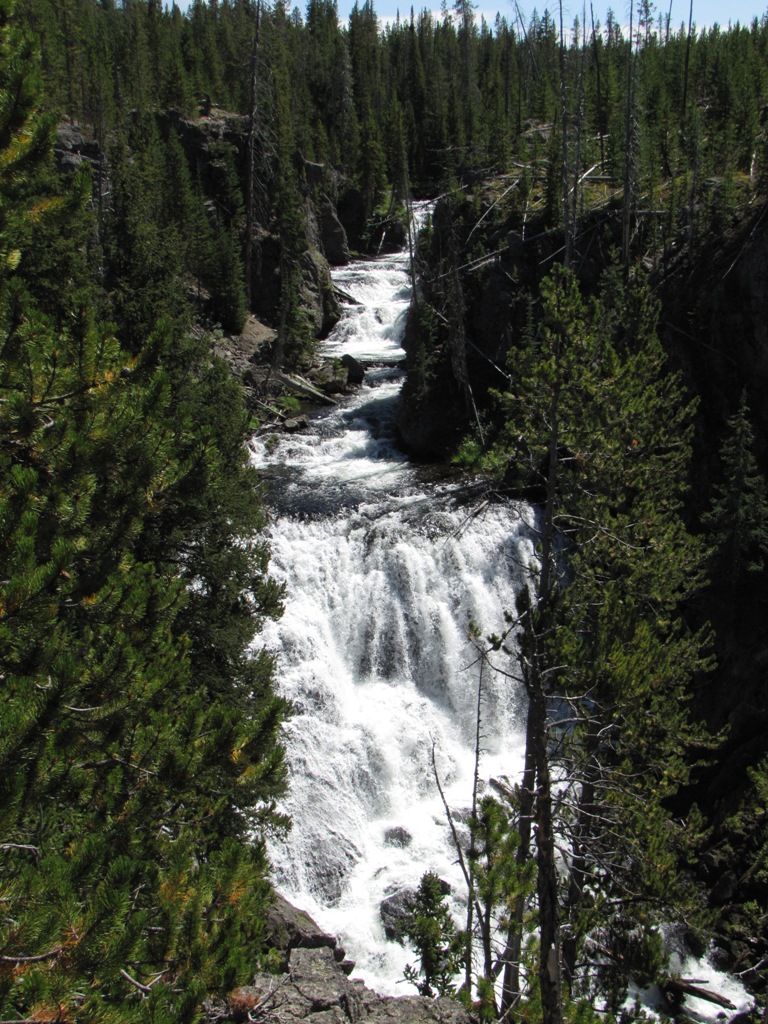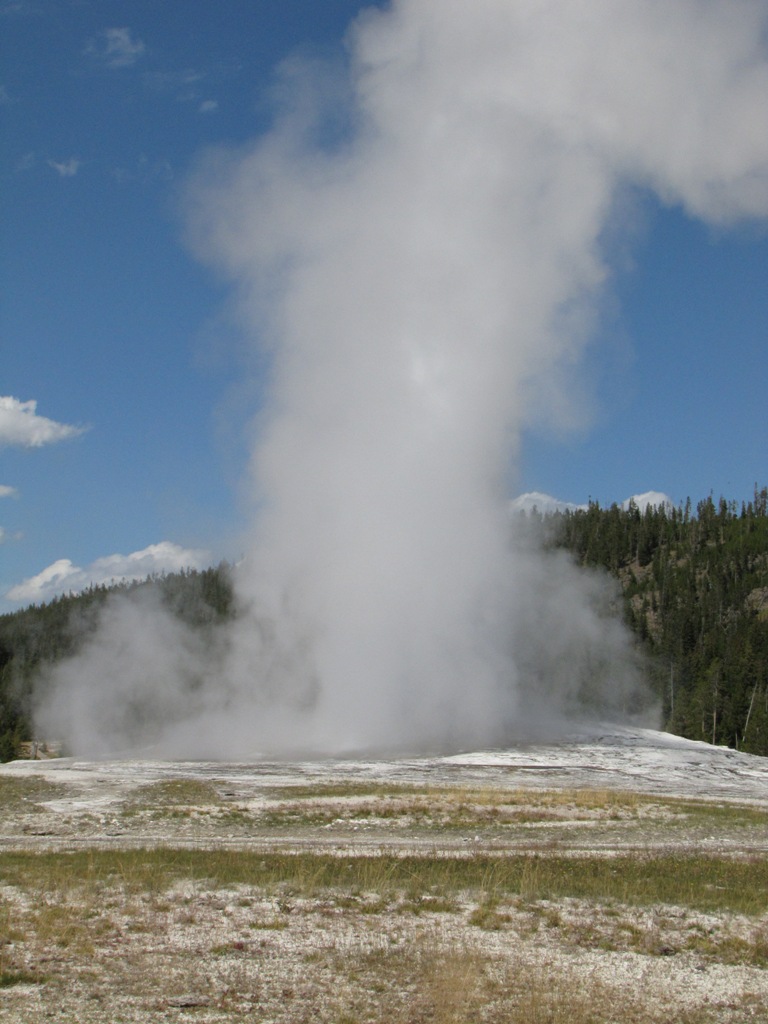 From there we headed over to Old Faithful. That was disappointing. When it erupted it wasn't very tall, and because there was not much of a breeze, you couldn't see the water for all the steam that was rising. We didn't want to wait around for the next eruption, so we moved on the the next exhibit. It was some waterfalls we had not seen before. the parking lot and walkways were all newly paved. From there we were going over to the Upper and Lower Falls of the Yellowstone River, but first we stopped at the Canyon Village to check on cell phone service so I could check on my daughter and the progress of Hurricane Irene. She is all prepared and not too concerned. Said she had been through much worse than this one.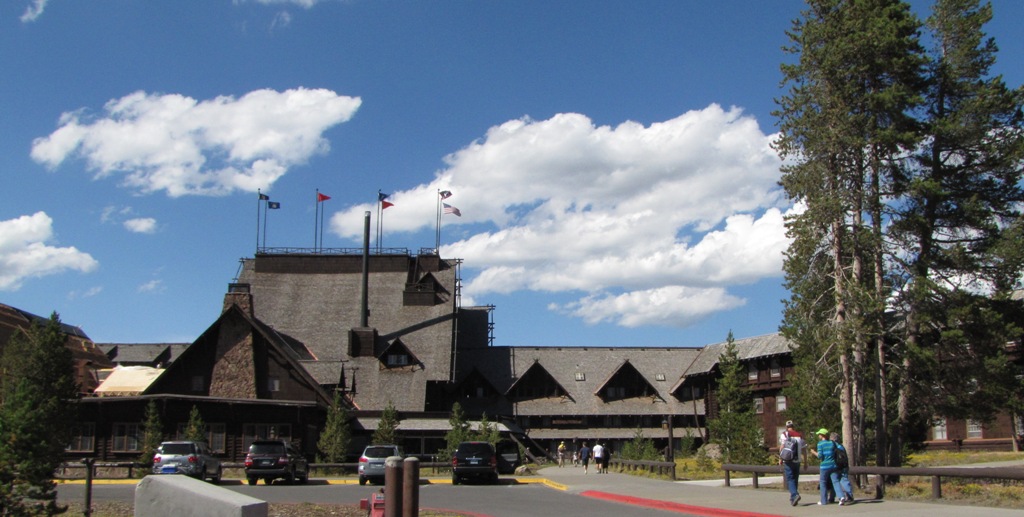 Then we got a call from my sister using her new ipad. It was getting late and it was starting to rain, so we wanted to get on the road. By the time we got on the main road, the rain pellets were huge, then they turned to hail. Then the hail started coming down so hard, it was covering the road. I was sure we were going to have dents on the car hood. It was coming down so hard and so fast, our windshield wipers stopped working so we had to stop in the middle of the road. We couldn't see where we were going, if we were driving off the road or not. By the time it slowed down, Sandy had to get out and clear the windshields by hand. The road was covered with over an inch of hail. We skipped the waterfalls and headed for home. We were glad we arrived yesterday. The buffalo in Hayden Valley were far away from the road, not good for getting any pictures. Before we arrived at the campground, Sandy stopped on the side of the road to get some downed wood so we could have a campfire tonight. What a wonderful day.
Friday, August 26, 2011
Saturday, August 27, 2011
Sunday, August 28, 2011
Monday, August 29, 2011
Tuesday, August 30, 2011
Wednesday, August 31, 2011